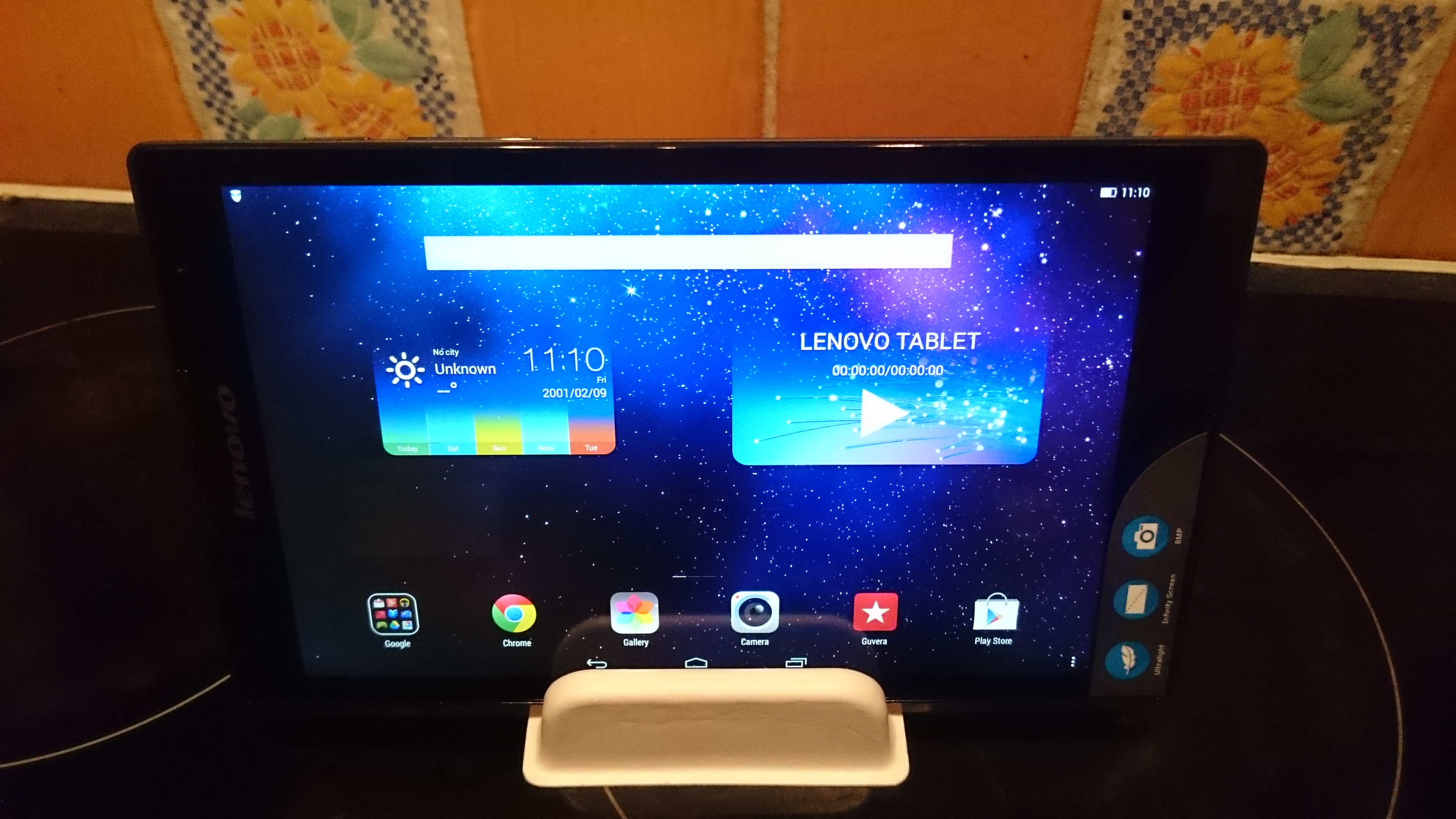 Today we have a wealth of tablets in all shapes and sizes. You can choose between Windows 8, Android or iOS 8. There's pretty much a flavour for anyone. I'm a fan of the smaller form factor and as a result I have swung toward the iPad Mini and the Nexus 7 in the past.
Whilst I have also owned an iPad 2 and both the Xperia Z and Z2 Tablet, they have always felt like a compromise in the wrong direction in terms of size against portability. When we started to see 8″ tablets filtering through from the big players such as Samsung, Sony and Acer, it started to get a little more interested. I have used most OS's on tablets but I keep being drawn back to Android as, for me it just seems to fit best. I cannot really quantify this but it just works for me whereas the others don't.
About a month ago I sold all my previous tablet devices after trying to find a good Windows 8.1 option and failing. It was around this time that IFA was happening in Berlin. During the show we had some major announcements from Sony, Lenovo and Acer about tablets so I got a little excited. Fast forward to last week and I was browsing my local PC World. Lo and behold I spotted the Lenovo Tab S8 on display. Moments later it was in my hands and heading home for the unboxing I did a couple of weeks back.
Now we can go into a deep dive and see if the purchase was worth it.
Design
I have to say I like it. Unlike the Yoga Tablet 2 that James has reviewed recently it is more of a "standard style" of tablet that we're accustomed to. The front is dominated by a large 8″ display which has a resolution of 1920×1200 and a PPI of 283, which is more than enough for most people. In the extra space afforded by the slightly odd ratio is the spot for the Android Keys. These are the usual fare that you'd expect on a tablet- the Back, Home and Mulitasking. All of the buttons have a strong haptic feedback so you know when you've pressed them. We also have some front facing speakers at either end of the device, which is a nice touch and puts it a step above the iPad Air 2 and the iPad Mini 3.
Lastly we have a front facing camera which is 1.6 megapixels. It can shoot 720p video for Hangouts or Skype but there's no high quality selfies here though.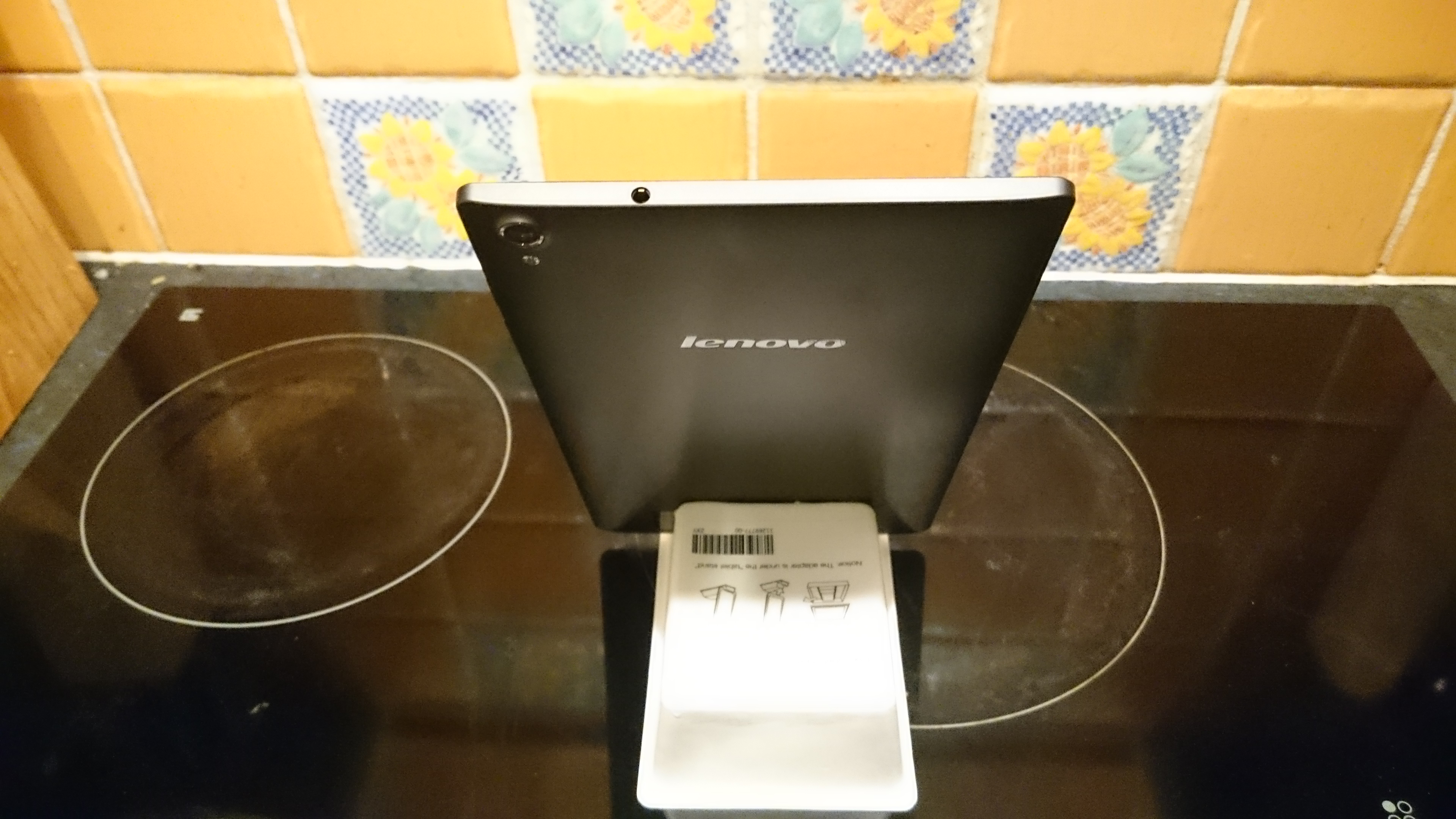 Out back the surface is a soft and slightly rubberised affair. THis gives it a nice feel and adds a tiny bit of grip. The rear camera is rated at 8 megapixels and will also shoot 1080p for video. You also get an LED flash which is a rarity on a tablet, so it's nice that Lenovo have added it here as they do on their Windows range.
Lastly is an Intel inside logo. Yep, you read that right Intel is the power here and I will go into that in a bit.
Around the edges, starting from the top, we have a 3.5mm headset jack which will support standard style headsets, both iPhone and Android based. It didn't like the Sony DNC ones I got with my Z2, which was a shame but understandable as they use a non standardised five pole plug as opposed to the more common 3 pole style.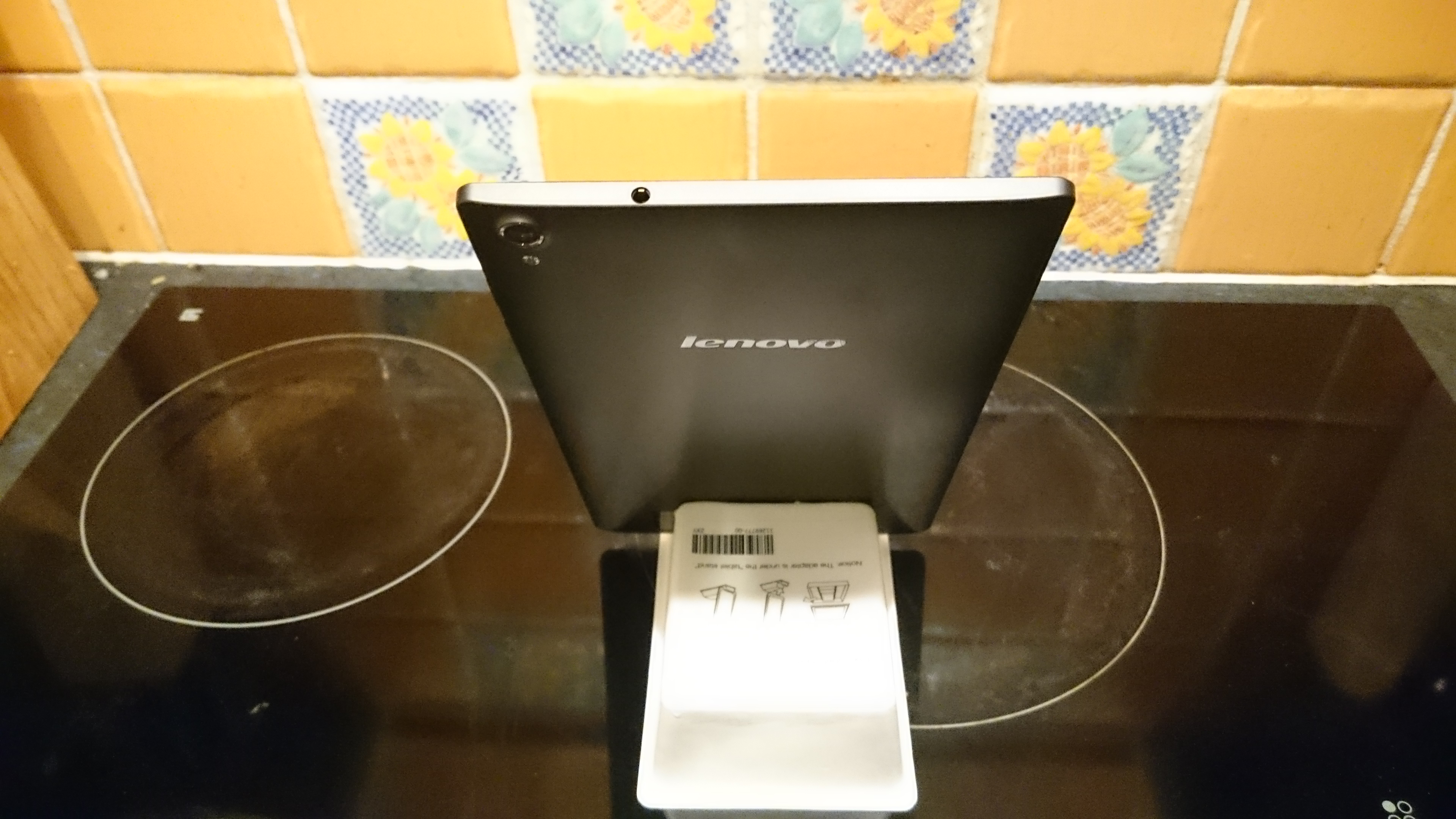 On the right is a power button / screen wake key. Below this is the volume key on a rocker. One end is flush to the side of the tablet allowing you to distinguish the difference when needed.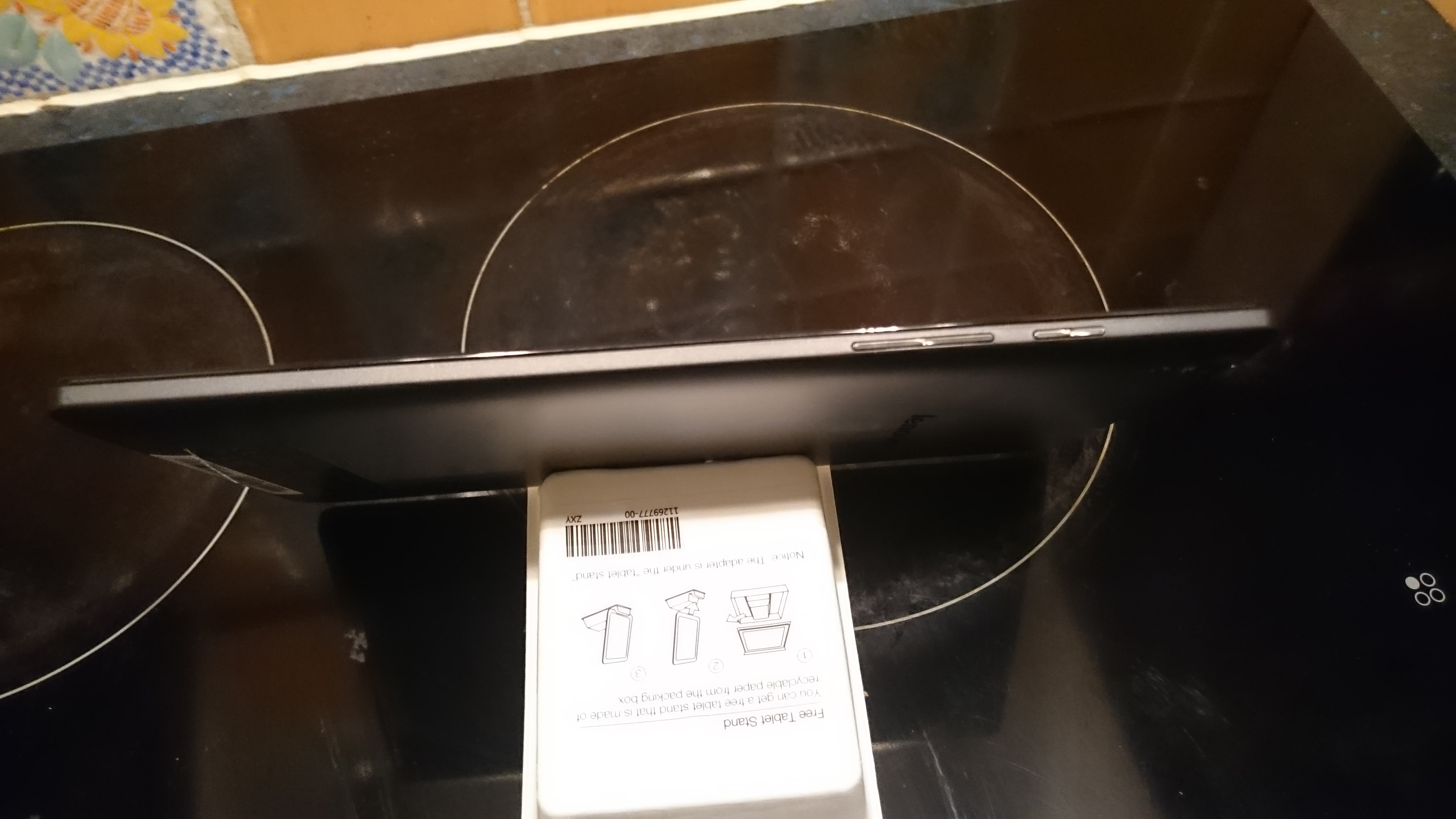 Onto the bottom and here we find a mic and the micro USB charging port. This is the only way to get power into the device as there is no wireless charger unfortunately.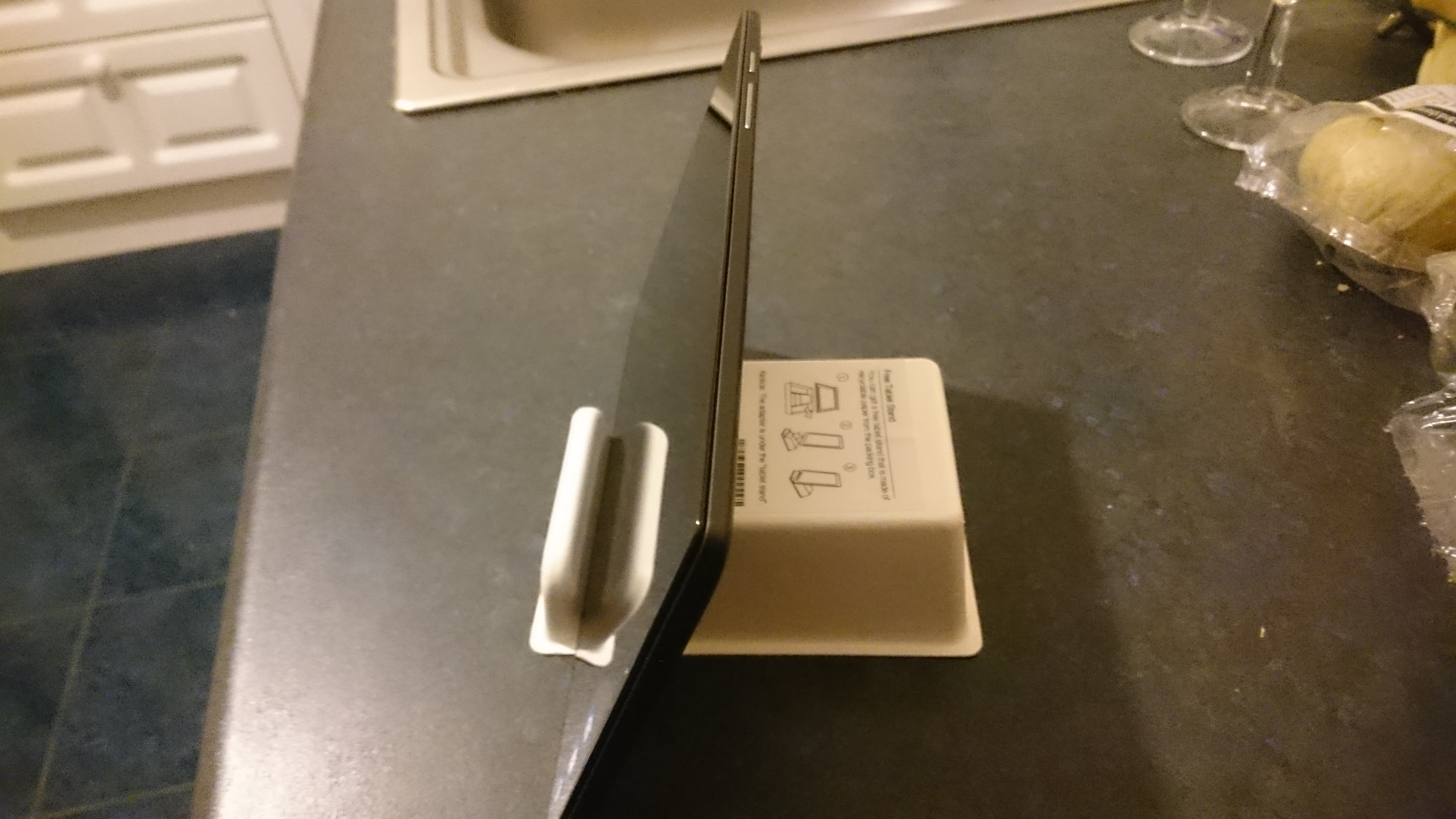 Lastly on the left is the slot for the microSD card. This will also support the SIM slot on the 4G version should it ever get to the UK.

Hardware
Here is a breakdown of the specs again for those who missed the unboxing piece earlier
Display: 8.0 inch, IPS LCD, 1200 x 1920 pixels, 283 ppi.
Processor: Intel Atom Z3745 CPU Quad-core 1.86 GHz.
Internal Memory: 16 GB.
RAM: 2 GB.
Micro SD up to 32 GB.
Dolby Digital Plus sound enhancement.
Bluetooth v4.0.
Battery: Non-removable Li-Ion 4290 mAh.
GPS with A-GPS.
Rear Camera: 8 MP, 3264 x 2448 pixels, autofocus, LED flash.
Front Camera: 1.6 MP, 720p.
Android 4.4.2.
WLAN: Wi-Fi 802.11 b/g/n.
Dimensions: 209.8 x 123.8 x 7.9 mm (8.26 x 4.87 x 0.31 in).
Weight:299g.
So I mentioned Intel Inside. This is a first for me. Using an Android tablet running on Intel. I have been pretty impressed. It does stack up fairly well against the other CPU's out there.
I mean, don't get me wrong this is no Tegra K1 or Snapdragon 801, but it will happily perform as well as a Nexus 7 (2013) edition which ran a Snapdragon 400. It is actually a little better than that system. I have run some benchmarks on the system as a means of trying to gauge its performance.
Lenovo Tab S8
Quadrant 13012
Antutu 31567
Sunspider 761.5 ms
Tesco Hudl 2
Quadrant 13922
Antutu 31319
Sunspider 814.4 ms
Xperia Z3 Tablet Compact
Quadrant 20803
Antutu 42117
Sunspider 1020.0 ms
Nexus 9
Quadrant 11943
Antutu 52481
Sunspider 995.1 ms
Xperia Z3
Quadrant 20971
Antutu 41181
Sunspider 911.7 ms
So we can see here that the Lenovo is the lowest performing of the bunch overall but this is not really a surprise as it is being compared with some very high end devices. The closet competitor is the one that shares that Intel chipset – the Tesco Hudl 2. It actually performed slightly better in the Antutu test. Benchmarking aside the device does generally feel snappy in every way. The animations flow with grace and the page transitions are smooth. Whilst playing Real Racing 3 I didn't experience any sort of lag at all. This is all good news as I was initially concerned as the device did seem to be lagging at first when I was playing 1080p video. This was resolved after a restart and never happened again.
I did however experience a disappointment with the screen. Whilst it is an IPS display it is clear that they are not all made equal. I was fine when viewing content from the side but when I was looking down from above the unit or from underneath I did notice some rather bad white fringing causing the display to distort. This was a big shame as the screen was otherwise very good and felt better to use with regard to the layout and DPI than the Xperia Z3 Tablet Compact.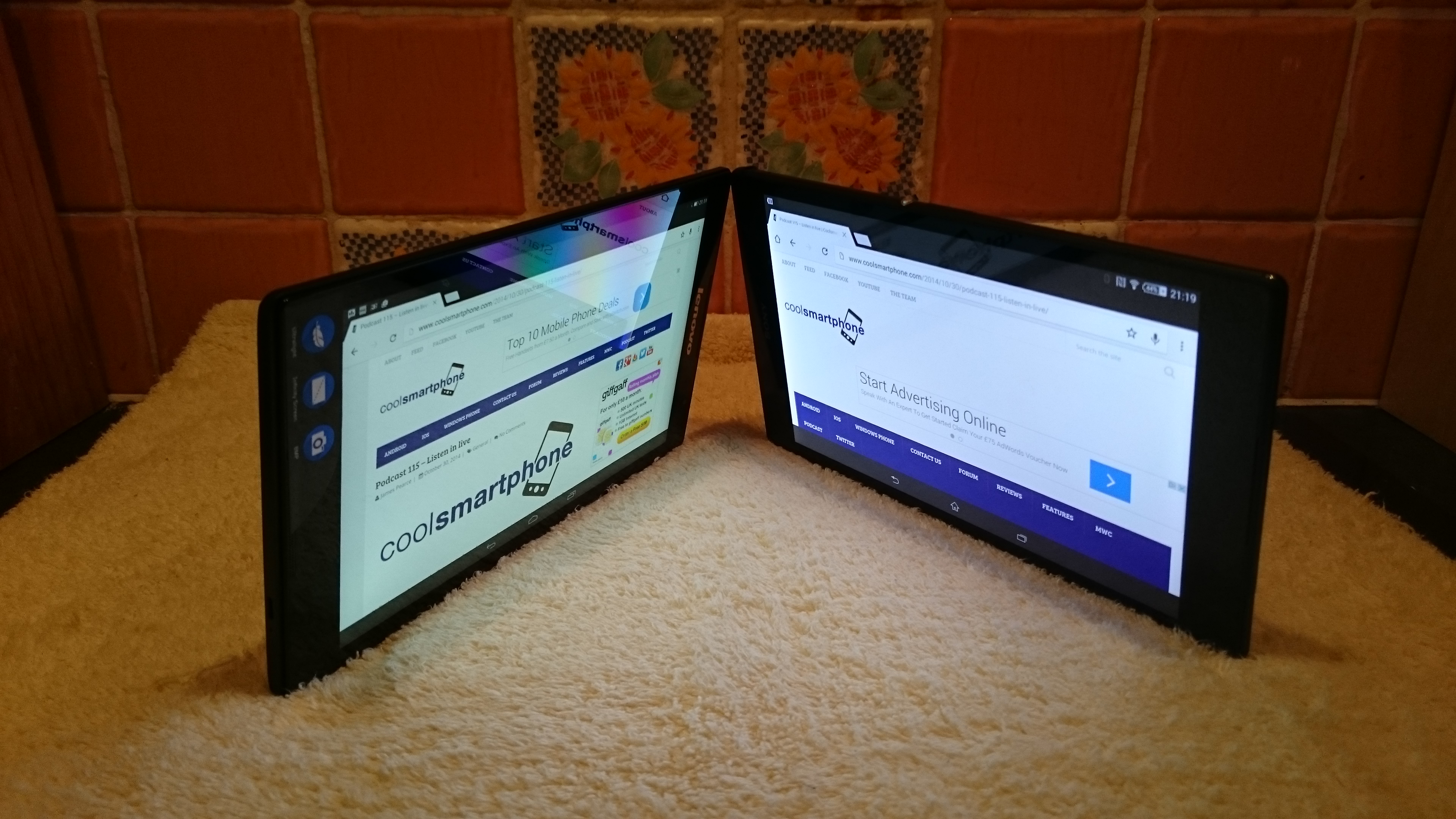 I have used the Intel Atom on Windows 8.1 and it feels a lot smoother on Android so it is clear Intel have really worked hard to make this migration successful.
Software
Regardless of a device having good hardware the whole package can be ruined by a simple thing, and that is software. The Lenovo runs Android 4.4.2 out of the box with no clearly indicated upgrade path being outlined by Lenovo yet. However, with the acquisition of Motorola I can't see this being an issue.
On top of the Android goodness Lenovo have decided to add a heavy custom UI which changes the tablet very significantly. I have made my feelings very clear on customs UI's before and I will state I am not a fan, but nevertheless there are a few features that do stand out.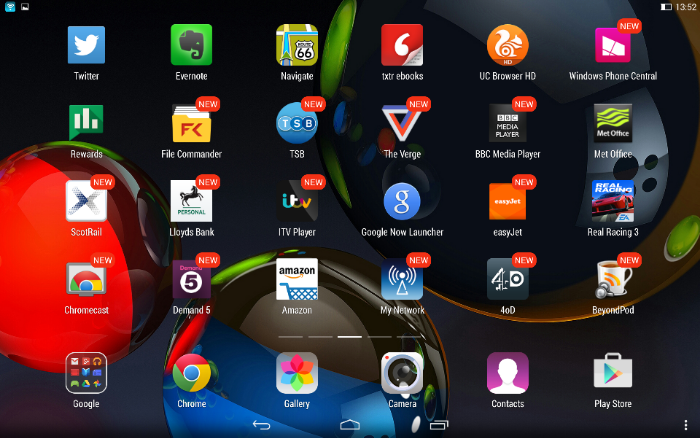 There are some benefits in the custom UI. For example the video player has some cool controls to let you tweak the brightness and volume by swiping the screen on either the left or right. It is a nice touch. There is however, a lot of duplication of apps here. A brilliant example is the browser situation. There's three of them. The ASOP Browser, Chrome and UC Browser.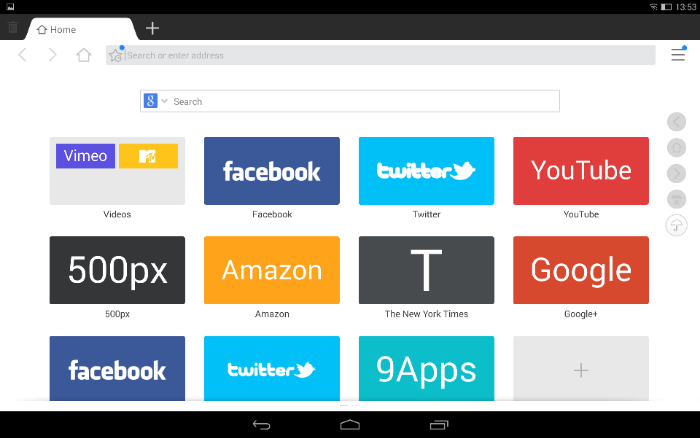 There really is no need for this as it adds nothing to the experience apart from creating clutter. Also included is a Games app which is really just a launchpad for going to the Play store.



The calendar has also been hit by the duplication bug, with a custom version that doesn't really add anything over the Google version.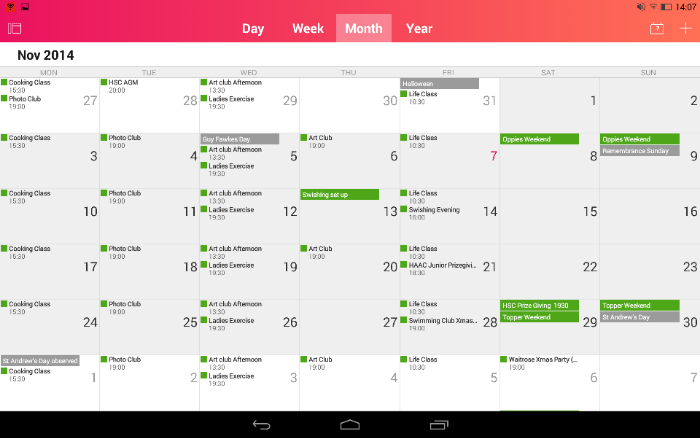 These are just a few ones that are genuinely useful. One is the file manager app which lets you really optimise your storage on the microSD card.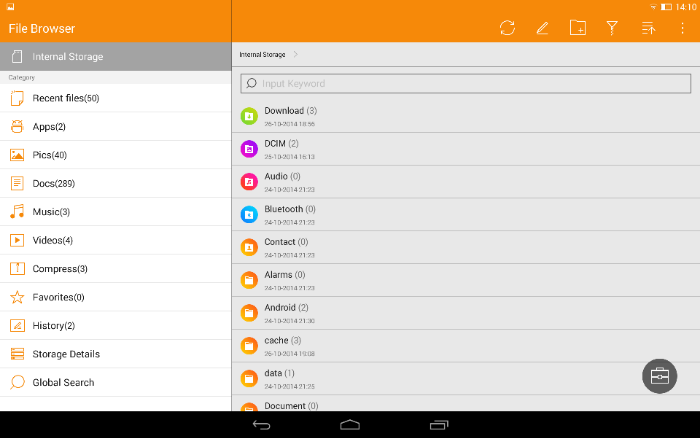 Here are some more pics of the UI in Lenovo guise
If however you don't want to use the custom UI then you can always load up another launcher. I used the Google Now Launcher and the tablet felt very much like a Nexus again so I was happy.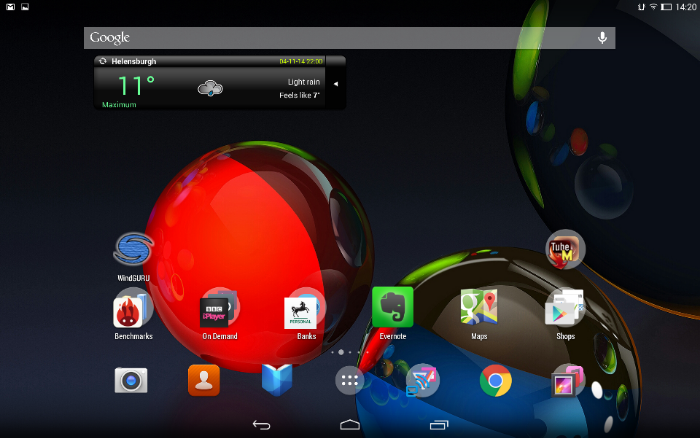 Camera
There's two cameras on the Lenovo. A front-facing one at 2 megapixels which will do 720p video, and a rear with an 8 megapixel resolution and 1080p video. The rear one features all the things you would expect from a modern camera sensor. The camera UI is pretty much pure Google and is therefore very basic in its operation, but really if you are wanting to use a camera then do yourself a favour and use a phone instead being that guy with the tablet!
Here are a few pictures that I took show the camera quality.
Here's some selfies from the front facing camera (it ain't pretty)..
I think you can agree that the results are fairly average and nothing earth shattering here. They will serviceable for Facebook posts and the like but not really print quality.
Roundup
Overall I have been very impressed with the whole Lenovo Tab S 8 package. It really does pack a lot in for a relatively low price.
OK, I know you can get the Tesco Hudl 2 for less money. However you are getting a slightly better spec with the Lenovo in terms of the cameras and the dimensions. I would also be inclined to think that it will be updated to Lollipop sooner than the Hudl 2, but that will be a case of watching this space.
If the screen had been better then it would've been a real competitor to some of the higher end tablets, such as the Samsung S Tab 8.4 or Sony Xperia Z3 Tablet Compact.
If you want a cheap but light tablet then I can highly recommend the Lenovo Tab S8 over the some of the other cheaper alternatives that are out there. Just be aware of that custom UI.
Lenovo Tab S8
Design - 65%
Hardware - 50%
Software - 55%
Price - 85%
Good entry level tablet if the budget is tight.