Lenovo are capable of big things, they are involved in many different areas of modern day mobile technology. Be it phones, Android tablets, Windows tablets, hybrid laptops, Chromebooks and even just plain old laptops and desktop PCs. Each and every year they push out new and updated devices and their most recent new device is the Lenovo Yoga Tablet 2. You know the one with the rather funky kickstand on the back! Yes the one sort of endorsed by Ashton Kutcher

I've been using the 10" Android yoga Tablet 2 for a few weeks now, so it's prime time to bring you my review of it. Starting of course with my good and bad points.
Good Points
Great design.
Bright colourful screen with decent viewing angles.
Really useful kickstand including hook hole.
Intel chip gives a really fluid feel to the whole UI.
Micro SD slot.
Front facing stereo speakers provide a nice clear sound.
Huge great battery seems to last ages.
The battery bulge can be used as a handy grip in portrait mode.
Bad Points
Cylindrical battery whilst unique looking gives the device and odd weighting.
Plastic backplate is quite flexible.
Angles for the kickstand are limited.
Built in Lenovo launcher is a bit basic.
Rear camera awkward to use.
Bloatware is a little annoying.
Auto brightness and graphic equaliser apps are rather annoying.
Design
Design wise the Yoga Tablet 2 is great looking piece of kit, it's made almost entirely in a silvery plastic with a few real metal accents here and there. When you see the Yoga Tablet 2 for the first time your eyes are drawn to the cylindrical edge/end which really does dominate the entire design. The bulge is many things, it houses the power button, the headphone socket, two front facing speakers, a wall bracket mount and of course a great big old battery. It does however also add weight, along one edge which makes it a little fiddly in use and sort of forces you to use the tablet in landscape format to avoid having to hold the non symmetrical device aloft. After a bit of practice I realised that if you held the tablet in portrait mode and you used the battery bulge as a grip the whole was really stable, this worked in both my left or right hand, grip with one hand and jab at things on the screen with the other. The bulge does as I mentioned earlier house the power button, which when you are charging it flashes, you can also set this light to light up when notifications arrive. I left it charging beside my bed one night to wake up a few hours later to what seemed like a light show coming from under the bed.
The front of the tablet is basically just the huge big display and the front facing speakers, in the bezel above the screen lives the sensors and the front facing camera. The sides are made of plastic and are rather thin, they only really have the volume rocker and Micro USB port. The back of the tablet is made of plastic with a very fine textured finish, it only really bares the Lenovo and Intel branding. The Kickstand hides the Micro SD slot and the kickstand also where the hole to hang it up on is. The kickstand has four modes, closed where you use it like a normal tablet, open at 90° and you use the kickstand to raise the tablet about 2″ off the surface providing a better for typing on. The third mode has the kickstand at the same position and you raise the tablet up giving you and ideal position to watch some sort of multimedia, this angle is also good for use whilst gaming with a gamepad or something. Lastly and rather strangely is hole in the kickstand which allows you to hang the tablet on a hook.
Hardware
Hardware wise the Lenovo Yoga Tablet 2 10.1 is pretty decent, it is similar to the Hudl 2 I looked at the other week, albeit in a more fancy looking shell and with a cool kickstand. The Intel chip used on the Hudl is a Z3735 but it's clocked higher. Here is what you get.
Processor: Intel Atom Quad Core Z3745 Processor (1.33GHz 1066GHz 2MB).
GPU: Intel HD Graphics.
Operating system: Android 4.4.
Display type: 10.1″ IPS LED LCD Touch 1920×1200 224 PPI.
RAM: 2.0GB LPDDR3 1066 MHz.
Internal Memory: 16GB (about 10.75 GB free out of the box).
Network: 802.11 abgn WLAN.
Bluetooth: Version 4.0.
Warranty: One year.
Battery: 9600 mAh 3 Cell Li-Cylindrical Battery Life Up to 18 hours.
Dimensions: 255 x 183 x 3-7.2 mm
Weight: 619g.
Rear Camera:8 MP f2.2 with auto focus and advanced BSI-2 sensor.
Front Camers:1.6 MP 720p video.
Speakers Front-facing, large-chamber stereo speakers with Wolfson® Master HiFi™ audio processing and Dolby® surround sound ports.
Micro USB port with USB OTG , Micro-SD card, 3.5mm audio jack.
Intel processors and Android seem to flag up warning signals for most people, a few years ago that was true as many app developers hadn't included the relevant code to cope with the Intel chipsets meaning that some apps just weren't compatible. Nowadays Intel chips are used in allsorts of tablets and developers could potentially loose money if they didn't include Intel compatibility. I didn't come across any apps that didn't work whilst testing out the Yoga Tablet 2.
The display was nice bright, colourful, with great viewing angles. But sometimes I spotted a few stretched pixels, at 1920×1200 it is over 1080p and I'm kind of used to the 534 PPI display on the LG G3 which is over twice as dense pixel wise. I keep spotting apps that don't look great on such a low PPI. Don't get me wrong the screen is great, just in this day and age I feel it's a little low res for a 10.1″ display.
Software
Lenovo have gone down the path that many manufacturers from the Far East go, that of theming their phone or tablet to look a bit like an iPad, iPhone or even one could say it's a bit like the Xiaomi Miui skin. Lenovo have skinned several different areas of the Yoga Tablet 2. They have skinned the Launcher, the Lockscreen, the Notification drop down, the power settings slide up and a good few of the core apps too. Lenovo have also pre-installed a few apps that they "think" you'll actually use.
The launcher is basically just a see of icons and some widgets, all new apps get added to the list regardless of your settings in the Play Store. There isn't an app drawer, so it feels very much like iOS which is famed for that lack of functionality. Here it just becomes annoying as you know it could be so much easier. It is easily remedied though as the Google Now Launcher is easily installable and soon brings you a Nexus ish experience.
Lenovo have also tinkered with the notification area and the navigation bar. Quite why I don't know really, the notification bar is a bit like what you get on Miui whereby the notifications bare the relevant apps icon and has a "X" to clear notifications as well. It is accessed by swiping down on the status bar. The power toggles however are on the bottom bar accessed via a swipe up, you get the standard options plus easily changeable brightness and shortcuts to the camera, the lockscreen, take a screenshot, Lenovo Smart Switch, toggle Multi Windows on and off and also to try and work out how the Dolby Equaliser works.
Widgets are added by long pressing on the homescreen, adding wallpaper is accessed by swiping upwards on the homescreen or hitting the three dots on the navigation bar at the bottom.
Screen gestures are present in the Lenovo launcher, you can swipe up, down or double tap. Each action being mapable to the desktop menu, opening notifications or locking the screen. These actions are quite handy on a large screen device.

Multi Window mode is something we've been seeing on large screen devices for a while now, somewhat thanks to Samsung and somewhat thanks to Microsoft. Lenovo allow you to use up to four apps from a rather small list, but you can move the panels around as you see fit. It is quite a nice implementation really, it's just a shame you aren't allowed more apps in the list.
Lenovo have a range of their own apps that help you backup, clear out old stuff, manage your files, listen to music, watch videos, adjust the sound EQ, change the screen brightness depending on the angle of the kickstand, download some games. Lenovo also include a few apps like Facebook, Twitter and of course most of the Google suite.

The File Manager app is handy to have if you use a Micro SD card in the Yoga Tablet 2. Basically a manufacturer has to include a file manager as a system app to be able to access the SD card. A third party file manager would not be able to write to the card without Root access, annoyingly that's the way Google decided it should be.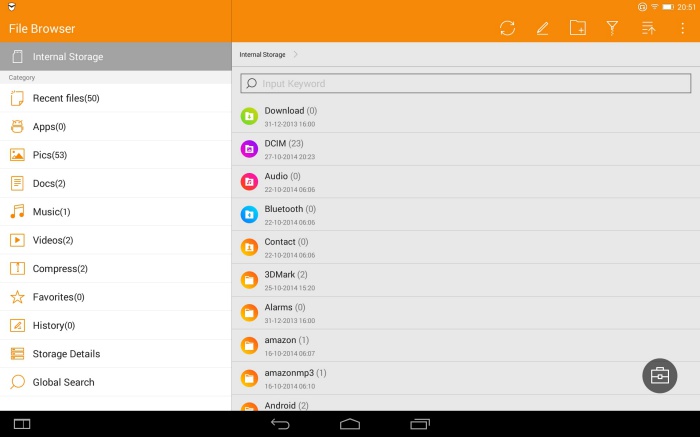 The Yoga Tablet 2 runs Android 4.4.2 and as it is a 10.1" it runs in full on tablet mode, so proper tablet optimised apps will actually use the extra screen wisely. Apps like Gmail, Plume, Expedia, Netflix, Amazon, Asda to name just a few apps that I've noticed split in multi panes. It's nice to see more and more apps work well in tablet landscape mode. Apart from Instagram that still forces itself into portrait mode.
A few things Lenovo have added are quite annoying, the graphic equaliser app is a nightmare to use; similarly the app that governs the brightness of the screen depending on the kickstand position also is a bit flakey, often resulting in sudden brightness changes.
Whether or not the Yoga Tablet 2 Android tablets will be updated to Android 5.0 Lollipop remains to be seen, I imagine for such a new range of devices they will be. Especially in light of devices like the Nexus 7 (2013 edition) and the Nexus 9 being prime competition. Overall I quite liked the software on the Yoga Tablet 2, it took a bit of getting used to, but the landscape orientation really works well these days, not often do I find apps that need fixing.
Other notable stuff
Cameras
Cameras on tablet aren't ever really that good, despite what that guy at a concert with his iPad Air in the air tells you. The cameras on the Yoga Tablet 2 were quite surprising.
The rear camera Quality wise the 8MP with "f2.2 with auto focus and advanced BSI-2 sensor" is pretty good, for a tablet camera that is, in decent light it focuses as you'd expect, adapts to different lighting conditions and surprised me to be honest. The weighting of the device does make taking pictures a little fiddly though, it'll take you a few attempts to find a nice way to hold it and snap a photo.
The front camera is positioned on the left hand bezel if held in landscape and on the top bezel if held with the bulge in your left hand, taking selfies often results in your hand obscuring the lense. Again with a little trial and error you'll find a reasonable position to hold it in. The 1.2MP lense is pretty basic and doesn't take that detailed a picture. It's better than some tablets out there though.
Video quality with the tablet is ok, it focuses reasonably quick with options for 1080p or 720p recording. I took a quick video in 720p whilst out on a dog walk, nothing astounding just slightly better than I would have thought.
Video sample from the Lenovo Yoga Tablet 2:
http://youtu.be/CB-3-0NHhIQ
Sound quality
The front facing speakers on the Yoga Tablet 2 are one of the main features you spot when eyeing up the tablet. They are quite good, unfortunately they don't have the sub-woofer the higher end model has so they are just basically fairly loud speakers without any bass. They are louder than most devices I tried them against, I didn't have a HTC Boomsound device to hand but I can tell you it's nowhere near as loud or clear. They are perfectly usable to listen to music, the radio or a podcast.
Plug a pair of headphones in and your subjected to a fairly bland sound, just flat really. To fix this you have to use what is possibly the strangest graphic equaliser I've ever seen in my life where it has presets for movies, music and games along with 2 custom modes where you adjust the EQ and it briefly uses your adjustment and then goes back to what it was doing. It just made for a frustrating experience trying to listen to music. Shame.
Benchmarks
3DMark – 15774
Antutu – 33086
Quadrant – 17620
Conclusion
Overall I felt that the Yoga Tablet 2 10.1 was a great piece of kit, ideal for use as a multimedia device, a productivity device or even as a gaming device. The kickstand really helps out with the way you use the tablet, allowing you to position the tablet at a more ergonomic angle for either typing or media consumption.
You can pickup the Yoga Tablet 2 at various retailers and from the Lenovo site itself, where you can choose from either 16GB, 32GB or 16GB + LTE you can also get a Windows 8 version. Prices starts at £249.99 for the model I tested out. I feel that the Yoga tablet 2 offers quite a bit more in terms of functionality and design over some of the other recent budget tablets, although if the price was closer to £200 I think they would have a really successful device on their hands.
Lenovo Yoga Tablet 2 10.1 - Review
Design - 6.5
Hardware - 7.5
Software - 7
Battery Life - 9
Camera - 7
Screen Quality - 8
7.5
Overall I felt that the Yoga Tablet 2 10.1 was a great piece of kit, ideal for use as a multimedia device, a productivity device or even as a gaming device. The kickstand really helps out with the way you use the tablet, allowing you to position the tablet at a more ergonomic angle for either typing or media consumption.