After almost a month, my Google Cardboard has turned up. This self-assembled version was ordered some time ago from dx.com and cost just over £2 in the end. Oh yes. I'm reviewing some cardboard construction that costs less than a pint of beer. I think I've made it now. This is the high life. This is the pinnacle of my blogging career baby.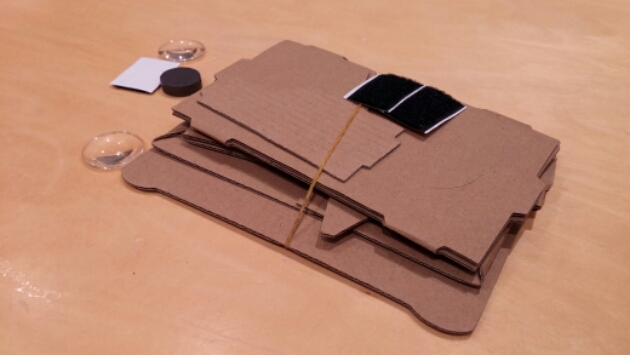 It arrived in a bag and without any instructions. This was a bit of a problem as the cardboard pieces were separate and I couldn't quite fathom how it all pieced together. Luckily, with the help of some random YouTube videos which showed a slightly different version, I managed to get the thing constructed.


It needed a bit of sticky-tape to keep together and the version I have here has Velcro to keep the front flap (which holds the phone in). The two plastic lens pieces slot into the cardboard, although they do have a tendency to slide around a bit so I ended up sticking them in place with a bit more sticky-tape.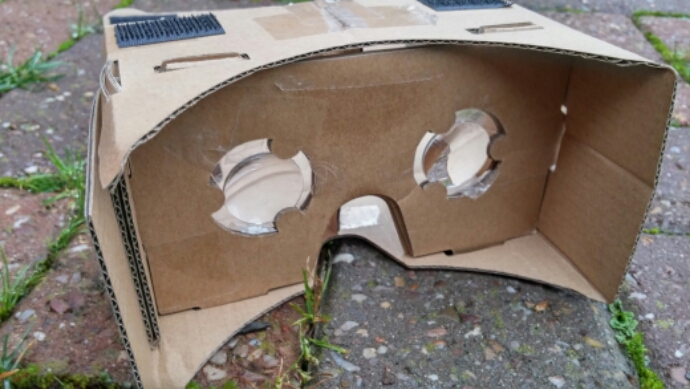 On the side there's a magnet which helps you interact with your phone. Push it down and it'll effect the magnet on the inside of the cardboard and will change certain aspects of the phone. This bit is quite clever and still lovably low-tech.
After you've constructed the Cardboard you'll need to download the Google Cardboad app. It has a range of fun and interesting experiences, including a Google Streetview experience, animated 3D cartoons, Google Earth, YouTube and more.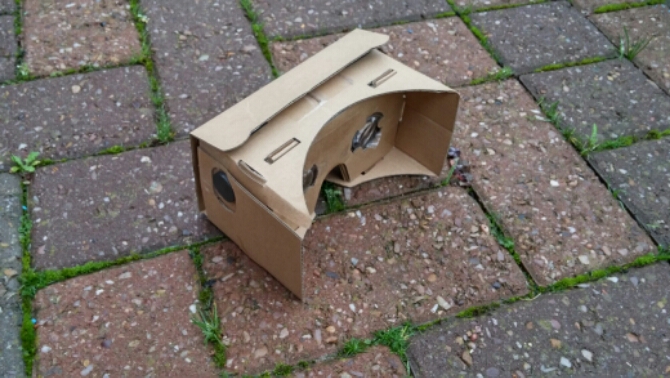 It's at this point that you start to forgive the cheap and somewhat crude "glasses" that you're holding up to your head. Sure, there's no real focus and things might not gel together perfectly on the menu screen, but the whole experience is really fun. I can see what they're trying to achieve with this, even if some phones don't quite fit right and you need to repair it with more tape every now and then. The possibilities, using your own phone, are quite spectacular. Imagine getting a "virtual" tour around a home you're looking to buy. Instead of travelling hundreds of miles, you may find that a clever estate agent turns up with his phone and a bit of cardboard so that you can have a virtual 3D journey around a prospective home in a new town.
Overall, I liked this quite a bit. Considering the bargain-basement price and the fun you can have, plus little touches like going back to the menu simply by tilting the phone, it's all good. The YouTube experience was one of my favourites. You initially start looking at a cinema screen and, if you look up, down, left or right, you can see other YouTube videos which you simply select by looking in that general direction and flicking your magnet. It seemed really "natural" in a way and again, quite enjoyable.
Here's a look at the interface, but you can download the app here and try it out yourself. Sure, it's all a bit of a plaything at the moment for most people, and your phone might not quite fit properly, but it is quite a laugh.
I yet again call it the "Chrome" here. Sorry. This was all filmed before I had a coffee.
Just to confirm, the one I have here is available extremely cheaply from dx.com, provided you don't mind the short wait to get it (OK, long wait)..