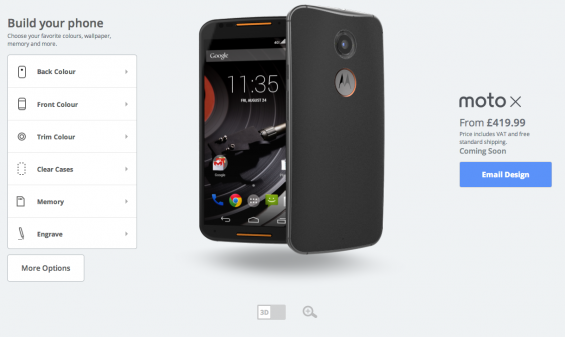 Hot on the heels of the Moto Store opening virtually in the UK, Moto Maker has now become available here in the UK too.
As predicted when the store opened up, Moto Maker, Motorola's online phone customisation tool, has become available to us here in the UK. As of right now you can build yourself a Moto X making it as wonderful or as hideous as you desire. Plastics, wood (£20 extra) and leather (also £20 extra) make up the options for the back of the device while a plethora of colours are available for the phone trim. You might also want to factor in an extra £40 to trump for the 32GB version since this phone has no memory card slot. Shame.
Once you've got the phone the way you want it the only thing you can do right now is email yourself the design, you can then load the design back up at the end of the month when the Moto X actually goes on sale.
Starting at £419.99 do you fancy one?
Source – Motorola 
…just a side note, you can't have rude words engraved on the phone…I checked.