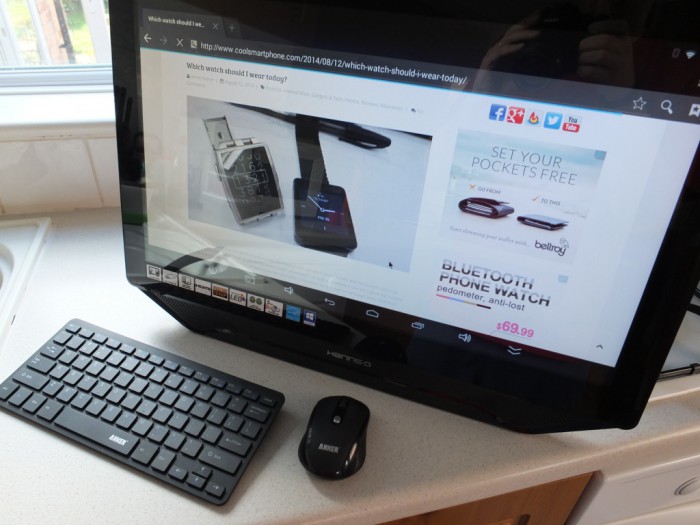 The lines between devices are becoming blurred these days, what with phones getting bigger, tablets getting smaller, laptops trying to be tablets, desktop PCs trying to still be relevant and Android and Windows 8 both trying their hardest to work well on all of those devices. I have been a long time advocate of a desktop PC, it is probably the most powerful and expensive gadget I have and as such I use it for every possible task going. Be it Music, Video, Photo Editing, Recording out podcast, Web Browsing, Shopping, Web Design, Blogging, Social Media, Gaming and a few other things I can't think of right now. But I am still stuck on Windows 7, I've used Windows 8 on my laptop and that works well thanks to the touchscreen but I'm unsure how it would translate to a large dual monitor setup like my desktop.
The one thing that keeps grabbing my attention is these All In One devices, they're basically a large touchscreen monitor with the OS and the PC hardware somehow built into the monitor. Meaning cables and mess would be at a minimum. Intriguingly a few Android device manufacturers make Android All In One devices and Hanspree have sent me one to review. So I should hopefully get a feel for how the whole All In One thing is going to work. Starting of course with my good and bad points.
Good Points
A 23″ touchscreen is always good fun.
10 point multitouch.
Google Play Store is installed on it.
Micro SD Slot.
The monitor has HDMI and DVI inputs for use with other devices.
Bluetooth, WiFi, Ethernet and Miracast help the All In One stay connected.
Adding a USB hub to the USB port extends usability.
Combined with a Mouse and Keyboard it is really quite usable.
Bad Points
It is basically a 23″ touchscreen monitor with a Android box attached to the back.
The output resolution of the box is only 1280×672 which stretched across a 23″ 1080p monitor doesn't look the best.
The wiring is a little fiddly.
Colour reproduction on the monitor is a little off.
The screen is a fingerprint magnet and very reflective.
Speakers pretty basic.
Some apps don't like Ethernet connections as a data source.
Controlling it entirely with touch is rather laborious.
Design
Imagine a large 23″ touchscreen monitor (which I actually reviewed here ) and attach a small Rockchip based box to the back with some Velcro. You got that? Good because that's exactly what this is. The monitor part is as I said a large touchscreen monitor, that has a kickstand at the back that actually conceals into the back of the screen. The monitor also has VESA mounting points on the back so you could mount this on a wall somewhere around your house. The monitor itself has a few ports on the back, it's got HDMI, DVI, VGA, USB device for connection to the Android box, power and a few audio jacks for connecting speakers.
The Android part of this package comes from the small separate box that comes in the box. The little box has quite a few different ports for connecting it all together. Hannspree thought I'd struggle to work it out so they thoughtfully labelled every cable, port on the box and on the monitor. The box has a Micro USB port for powering it, an RJ45 Ethernet port for wired data connection, an HDMI port for connecting to the monitor and a full size USB port for connecting to the touchscreen display. The box also has an antenna for Wi-Fi connectivity and it seems to have some sort of IR receiver for controlling it, although it seems Hannspree haven't gone with that method.
Hardware
The spec of the All In One is as follows:
Display: 23" 10-Point Touch LED.
Operating System: Android 4.4.2
CPU: Quad Core 1.6GHz Rockchip RK3066 ARM Cortex A9.
GPU:Mali-400 MP.
Memory: 1GB RAM.
Storage: 8GB NAND Flash.
WiFi: Wireless LAN 802.11b/g/n.
Bluetooth: 2.1+EDR.
Monitor Active Contrast: 80,000,000:1.
Monitor Resolution: 1920 x 1080 (16:9).
Terminal Resolution: 1280×672.
Monitor Viewing Angles: H/V 170°/160°.
Monitor Inputs: VGA, HDMI, DVI (HDCP).

Android

Box I/O Ports: Micro-SD Card Slot (supports up to 32GB external storage),  USB host (used for monitor connection), Micro USB 2.0 (OTG), Ethernet, HDMI.
Built-in Stereo Speakers.
Stand: Tilt -10°~60°.
VESA Mounting 100 x 100.
A few things in the spec list didn't initially appear to me, firstly I read that it was a 1080p device, which is true of the monitor. The resolution of the Android box is 1280×672 which is just a bit lower than 720p, which in my opinion is too low to be used on a large monitor, it makes most apps, graphics, web pages, album art and pretty much anything you look at, look a bit stretched and a bit low res. The next thing that was annoying is that they've split the small internal memory (about 6GB out of the box free) into two partitions, so at some point you'll have to start removing apps to install new ones.
A few other niggles rose their heads as time went by. BBC iPlayer doesn't recognise Ethernet as a valid data source, so it forced you to use Wi-Fi instead. The screen colour reproduction was rather weird, leaving me to fiddle with the monitors brightness and contrast controls to try and balance it out. The speakers were a bit tinny with no bass as such. The CPU and GPU felt a bit sluggish at times, trying to load up YouTube caused some initial lag, it's mainly things that use the CPU and GPU. It coped with Angry Birds OK though.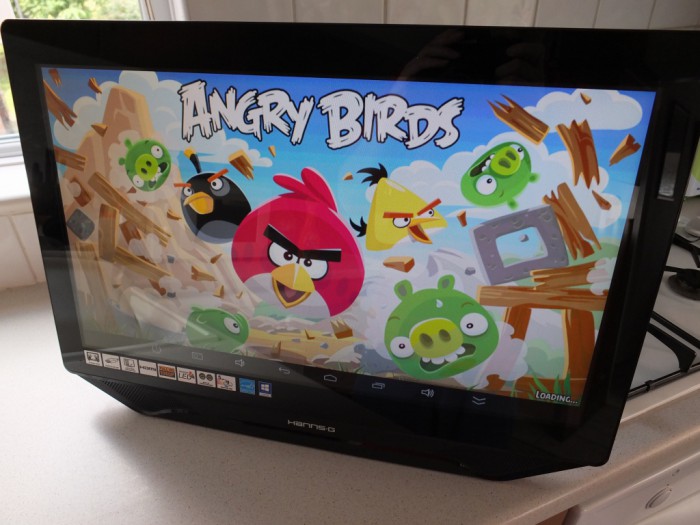 Software
Software wise the Android All In One runs Android 4.4.2 and Hannspree have added a few little touches to make the experience a little better for the consumer. They have basically added a load of extra soft keys to the navigation bar, so you get a power button, a screenshot button, a colume control, back, home, recents and standby. These help as the functions for volume etc are hidden deep within menus normally. The Android box doesn't have any volume controls so there had to be a way of adjusting the volume with software instead.


Hannspree didn't really amend anything else, you're left to your own devices really. No fancy interface, no fancy skin and no bloatware so to speak. You really do get a blank canvas to play with.
Android on a phone works well, you can deal with all elements of the UI using your hand, or in the case of tablets two hands. On a larger Android tablet a lot of the user experience comes from which specific apps you've got installed and whether or not the developer of the app could be bothered to code the app to work with the given space on a tablet, many apps these days do work nicely with tablets and it's just a matter of finding them. That's the case with this device, you'll need to try a few apps out first to see if it looks ok on the display, Twitter for instance, the official app looks awful stretched across the screen, but instead I'd use Plume as it gives you multiple columns on screen to use.
I wanted to try out using it as a PC replacement, so I thought I'd use a keyboard and mouse with it, I had a 2.4gHz Wireless set that used a USB dongle, so I popped a USB hub into the Android box and it gave me four USB host ports that the box could recognise. Once set up using a mouse on the display felt a lot more intuitive than just using touch and the keyboard was a lot quicker at entering text than the huge onscreen keyboard was.
The BBC iPlayer app was a pain, it didn't recognise the Ethernet connection as a valid data source, meaning that I had to switch to Wi-Fi to watch the latest episode of Tumble. I guess most people will be ok with using Wi-Fi I just thought the extra bandwidth offered by Ethernet would be useful watching iPlayer.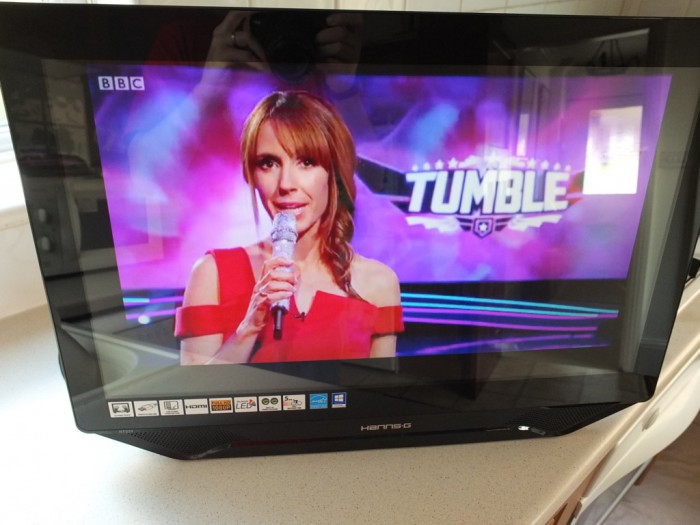 Other notable stuff
The aren't many of my normal "other notable" items to cover here, as I normally look at the battery life, benchmarks and the camera.
Benchmarks
Antutu X – 23667
Quadrant – failed to load
3DMark – 2129
So it comes out low on 3DMark and average on Antutu. Benchmarks eh? They only really give you an idea of what's happening, in real life the All In One felt like one of those budget tablets you get, where everything takes a split second longer than it should to load and sometimes apps such as YouTube or BBC iPlayer seem to stall on loading the video.
Conclusion
Overall the Hannspree Android All In One is a device that could have been something really quite cool. It would easily fit into family life attached to the wall in the kitchen, as a calendar, organiser, web browser, recipe browser or many other things. It would also be useful as a second monitor in a home office, basically running the same apps as on your phone or tablet and using the same data stored in the cloud. With a mouse and keyboard it actually became quite usable as a productivity device.
The Hannspree Android All In One can be bought here for £225 from Amazon. The monitor itself doesn't cost a lot less than that, so you can guess how much the Android part cost. It does just feel like an after thought of a device, aimed to compete with the higher price Windows All In One devices. Yes it costs a lot less, but it doesn't really compete. Let down by basic hardware and lack of software actually designed for such big displays.
Lastly a big thanks to Hannspree for lending us the Android All In One.