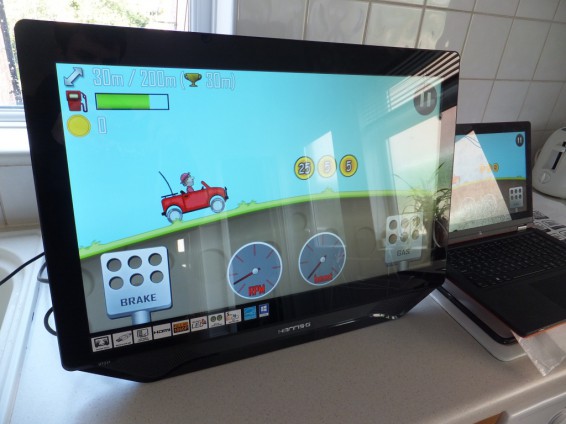 Touchscreens have become part of my life, be it in my pocket, on my wrist, my laptop, my tablet, trying to order foreign train tickets on holiday, controlling the music in my house and amazingly up until now not on my desktop PC. Well sort of anyway, as Hannsg announced a few new large touchscreen monitors the other week and they nicely sent me the 23″ model to have a play with. So let's have a look at what it can do, starting as usual with my good and bad points.
Good Points
Nice responsive 10 point multitouch touchscreen.
Windows 8 is ideal for touchscreen input in places.
HDMI, DVI and VGA inputs.
Stereo speakers.
Bad Points
Colour reproduction.
HDMI input only.
Speakers a bit basic.
No Windows button.
No USB host ports
In this day and age everything comes with a spec list and so does this monitor.
• Touch Screen LED Backlight Monitor
• FULL HD 1920 x 1080 WUXGA Resolution (23″ Diagonal viewable screen)
• 80,000,000:1 Active Contrast
• 5ms Fast Response Time
• Low Power Consumption
• Multi-Video Modes : PC / Movie / Game / ECO
• Windows 8 Compatible
• VGA+HDMI Compatible Inputs
• Tilt
Design
The monitor looks nice, it's a large chunk of highly reflective and highly fingerprint covered plastic. On the front you only really get the stereo speakers, some branding and the screen. On the right hand back edge you get a big old pile of buttons for power and adjusting various settings. On the back right hand edge you get the sockets and ports dealing with power and the various inputs.
The back also has an adjustable kickstand allowing you to rest the screen at a variety of angles.
Overall it looks nice, once you've cleaned the screen of fingerprints anyway.
In Use
As I don't have a Windows 8 desktop I set it up to work with my Lenovo laptop, which has a full size HDMI port on it so they seemed ideally paired. The monitor also has DVI and VGA ports so you can use them instead if you want, the monitor does however need a USB connection to allow the touchscreen to work, which again my laptop has so that was easy to sort. Upon powering the thing up Windows 8 appears as you'd expect with a swipe up to unlock and much to my amazement no lag either. The onscreen keyboard was rather large though which I soon adapted too.
My main interests in the large screen were touchscreen gaming and multimedia. So I set about installing some games and setting up my Google Music player. Upon loading up Cut The Rope the background music attracted my wife and she quickly took over, the prospect of cutting ropes to feed Om Nom on a 23″ touchscreen was just too much for here. After a quick bout of games we tried out some music, the speakers predictably lacked depth and were basically just monitor speakers.
I set the screen up with a separate mouse and keyboard and using the setup as a normal desktop PC worked quite well, with the touchscreen being used to do the gesture stuff you need to do on Windows 8. When sat beside my laptop I did notice that colours on the display looked a little dull. Especially noticeable on the orange homescreen I've set up. Viewing angles were good which allowed me to adjust the screen angle around and not have to worry about distortion.
Conclusion
Overall I liked the large touchscreen experience, I don't think the ever so slightly disjointed Windows 8 is 100% suited to being used with a large touchscreen, in conjunction with a mouse and keyboard it's a bit better.
To improve the Hanns.G HT231 23″ monitor I'd add a few USB ports round the back, improve the speakers and sort out the colour reproduction. But as usual that would make the price a lot higher.
The last thing remaining is to say a big thank you to Hanns.G knowing full well I'd probably not like it that much, but overall I was quite impressed. So if your impressed you can get the screen here from Amazon for under £200 which is pretty reasonable.