Ask someone to name a Motorola phone and they'll probably say the Moto G. Whether it was the dirt-cheap original model or the 4G one, they both proved popular and you can probably still find them kicking around on shelves for even less money if you look hard enough.
They were so well received that Moto have now announced a newer version – the Moto G 2nd Version. Best of all, it's only $179.99 and it's available immediately.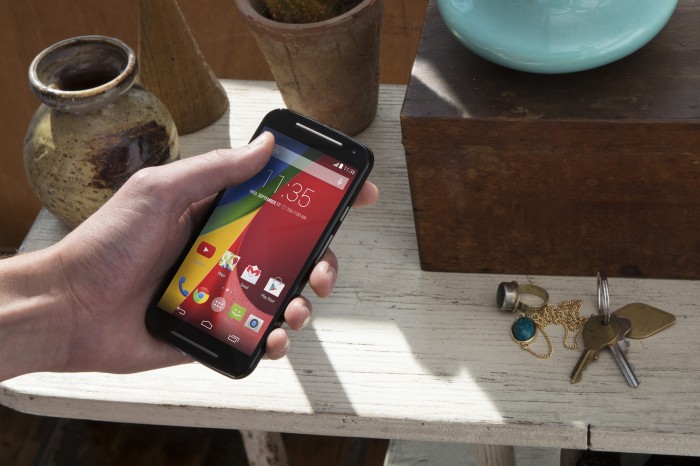 What's that? $179.99 ? That's a mere £110.35 at todays' exchange rates. Start the stampede!!
Wait, unfortunately (due to the "interesting" way that us Brits get ripped off continually have tech kit priced) it's slightly more here in the UK – but at just £144.99 from Expansys and elsewhere, it's still not badly priced. Motorola tell us that the battery will, wait for it, last for a full 24 hours continuous use(!)
Plus, unlike the new low-priced Lumias, it's available for immediate sale, unlocked. No 4G though from what I can see
The new model has a 5″ 720p screen and is available in black and white. Amazon will be stocking it from September 5th too, and there'll be a range of funky shells from October. It runs Android 4.4.4 KitKat, and there's 8GB and 16GB versions. It has a microSD card slot, an 8 megapixel auto-focus rear camera, 2 megapixel rear shooter and it's powered by a 1.2GHz quad-core CPU with an Adreno 305 GPU.
The Moto G 5″ has 1GB RAM, WiFi, Bluetooth 5.0 and a 2070 mAh battery. You get 50GB of Google Drive storage free for 2 years and there's even an FM Radio too. See it in action below..
https://www.youtube.com/watch?v=D–bEp8i_tc
Want more information? Head to the press release or the product details.