Budget Android phone. Those three words for many years have basically meant that somewhere in the phone there will be a compromise. A compromise that was so badly thought out you'd think it was made by a child or a large rock. Over the years many many many budget Android phones have ended up on my desk, all with a compromise somewhere. Be it a dodgy screen, a dodgy camera, tiny internal memory, bad build quality, cheap materials, old versions of Android, etc etc. The list goes on, we've all been there, having bought what we thought was a bargain and what turned out to be a dud.
Motorola decided they wanted to change all of that, which in my opinion is a good move. Budget Android devices have given the platform a bad name. So Motorola announced the Moto G, kind of like the US exclusive Moto X but cheaper and not available in fancy colours oh and without any of the fancy software either.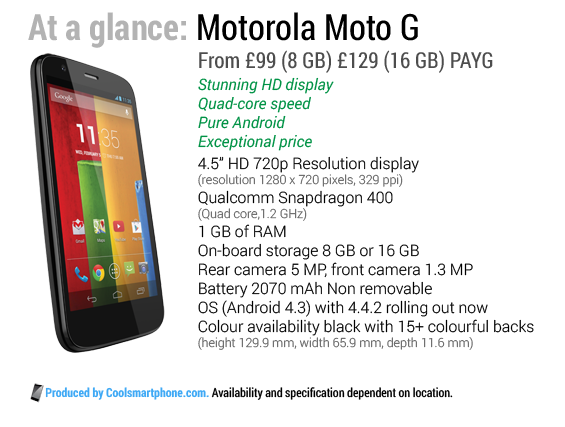 I've had the Motorola Moto G for a few weeks now and it's probably a good time to bring you my review, starting of course with my good and bad points.
Good Points
Nice and compact size.
Pretty much stock Android.
720p display looks great.
Performance of the device feels great.
Nice range of coloured shells and accessories.
Easily rooted.
Decent battery life.
Some great prices around.
Bad Points
The camera is not the best.
Lack of memory on the 8 GB model is limiting.
No SD card slot.
No NFC, 4G or Wireless Charging.
It is a little bit small.
Design
Motorola in the past have had some genre defining designs baring their name and logo, take the original Motorola RAZR ie the flip phone, that phone was an obligatory accessory in the early 00's. Jump forward quite a few years and we have the US Moto X and the Moto G, both pretty basic designs. With the Moto G things couldn't be more understated if they tried, out of the box you basically get a black phone, a black shell and a USB cable that's it really.
The Moto G has a basic design, which works well. It's what the designer probably called ergonomic, in that it first perfectly into your hand and also that you can operate it easily with just one hand.
The shape of the backplate creates most of this feeling, as it is curved. The backplate also has the Motorola logo in a recessed dimple, which creates a place to rest a finger in whilst holding the phone. The camera, camera flash and the speaker are all placed on the back as well.
The Moto G is almost a phone of two halves, the front half is just the screen and a nice gloss black bezel, the back half is the replaceable shell. There are a wide range of different colour shells available, two flip cases and also some grip shells that add extra protection to the sides of the phone.
The sides of the Moto G are slightly curved along the length, the left hand side has no buttons or ports, the right hand side has the volume rocker and the power button. The bottom has the Micro USB port and a microphone hole and the top edge has the headphone socket and another (presumably noise cancelling) microphone hole.
It's a nice design overall with little fuss and it really comes into its own with a coloured backplate. I look forward to seeing future generations of devices from Motorola if they keep the same designers employed.
Hardware
Motorola have made the Moto G to hit a specific price point and because of that the spec has suffered in certain areas but they have included decent parts in the areas that matter. Here is the spec for the Moto G.
Qualcomm Snapdragon 400 Quad-core 1.2 GHz Cortex-A7.
GPU – Adreno 305.
Mobile Network – 3G, HSDPA 850 / 900 / 1900 / 2100.
Micro-SIM.
Dimensions – 129.9 x 65.9 x 11.6 mm.
Weight – 143g.
Display – IPS LCD, 720 x 1280 pixels, 4.5 inches, 5 point multi touch.
Corning Gorilla Glass 3.
Internal Memory – 8/16 GB.
1 GB RAM.
Wi-Fi 802.11 b/g/n.
Bluetooth 4.0.
Camera – 5 MP, autofocus, LED flash.
Front Camera – 1.3 MP.
Android 4.3 upgradable to 4.4.2 (KitKat).
GPS -A-GPS support and GLONASS.
Noise cancellation with dedicated mic.
Battery – Non-removable Li-Ion 2070 mAh.
As I've mentioned earlier the Moto G has good bits and bad bits, the lack of NFC, 4G and Wireless Charging are the most obvious omissions, the camera is also a slight down side with it's low light problems. However the screen is amazing with decent viewing angles, the processor handles pretty much everything you can throw at; only really struggling if you try multi tasking between half a dozen different apps. Sound quality using headphones is surprisingly good, although Motorola have added equalizer profiles instead of a proper graphic equalizer, the speaker is a little weak as well, compared to my Nexus 5 speaker it sounded less bassy and a little tinny.
Software
Motorola made quite a big deal about the upcoming KitKat update and lo and behold it arrived whilst I had the phone, the update only really added transparent status bar and navigation buttons, an improved dialler, a new framework better suited to lower spec devices (which makes the benchmark scores seem odd) and some slightly different icons. It feels like a mini Nexus 5 now.
This is how the homescreen looked with Jellybean.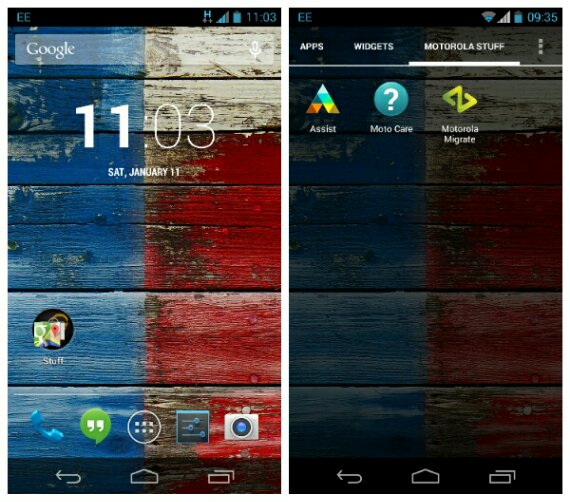 And how it looks with KitKat.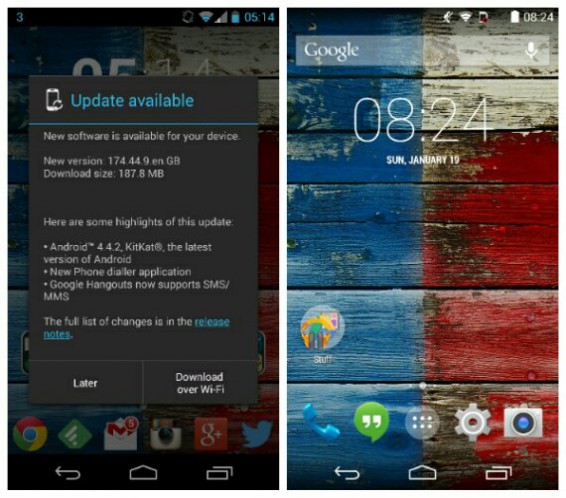 Motorola have done a good job on leaving Android alone, no fancy icons, no pointless bundled apps, no weird lockscreens. They have just left it alone, choosing to install one or two apps to help with voice recognition, import stuff onto the phone and handling your Motorola account.
I like stock Android but I always end up using an alternative launcher, mainly to change the size of the icon grid and to enable notification badges on icons. Little things like that REALLY bug me so I have to change it. Oh and I'd recommend installing Dashclock and adding it as your lockscreen clock widget, it has expandable details as seen below.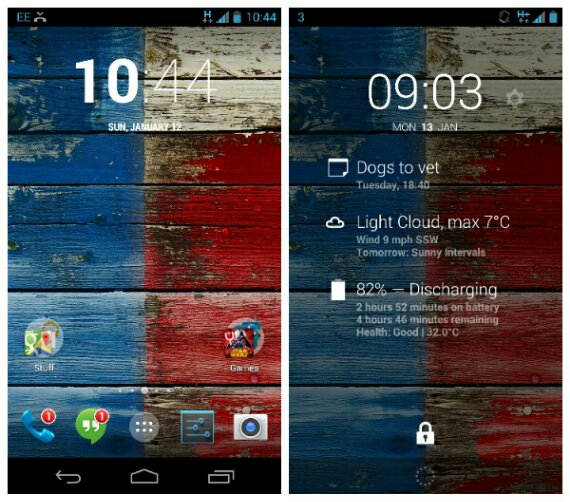 Other notable stuff
The camera
The Motorola Moto G makes some quite bold claims in its marketing material on the Motorola website. They basically say you can capture the moment with the Moto G, well to tell you the truth I struggled. The app is overly fiddly, manually focusing is fiddly, finding settings is fiddly, viewing the gallery from within the camera app is fiddly. I guess it's just fiddly. In decent light you can get a good shot, but in low light the shot is likely to end up unfocused and noisy.
Here are some examples of shots taken with the Moto G.
Benchmarks
The Moto G comes out alongside a few flagships from yesteryear such as the Galaxy S3, the Nexus 4 and the HTC One X. Which is amazing considering the price of the Moto G, in real life though it feels as fluid as my Nexus 5.
The Moto G benchmarks as follows running Jelly Bean.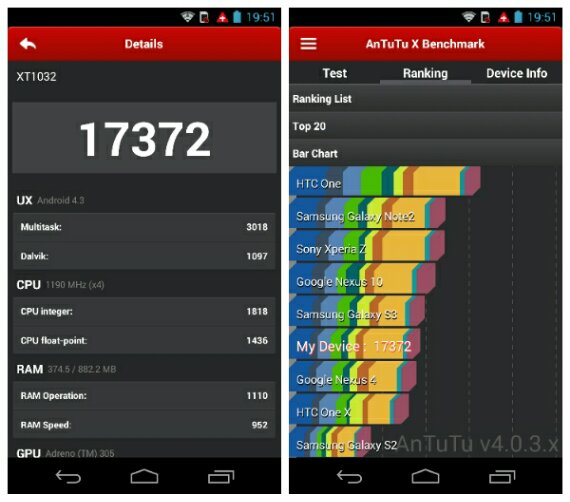 And as follows running KitKat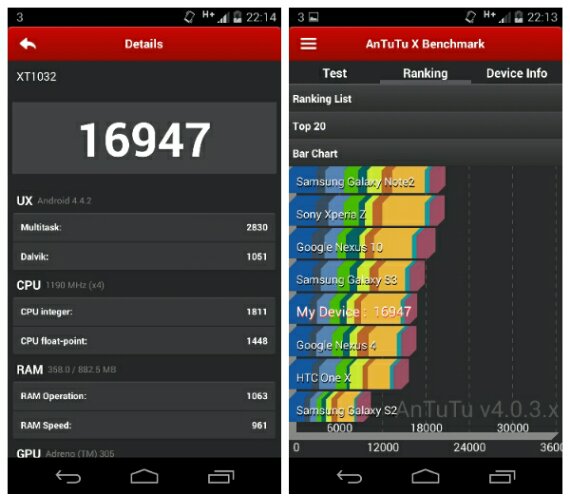 Which is randomly lower than before the update. Benchmarks aren't everything though, as personally I'd say that the Moto G feels smoother after the update.
Battery Life
Battery life on the Moto G was quite surprising, I set it up to fail, I decided I use it to replace my Note 3, which gets an absolute hammering during the day. I was really surprised that it got through the whole day and a little bit into the next day.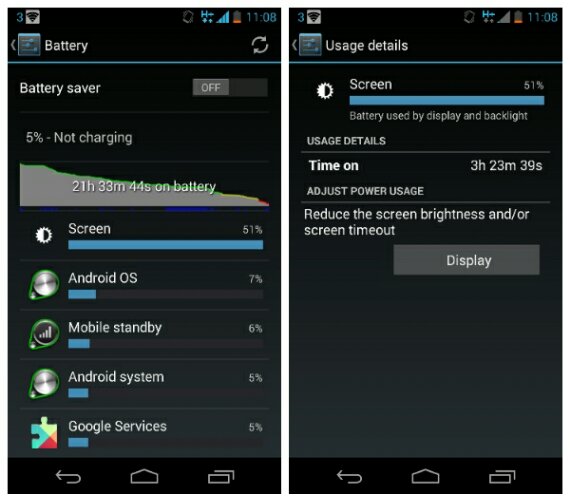 Accessories
Motorola at the launch event showed off a range of cases, shells, bumpers, headphones, speakers and battery packs. Only the flip cases and standard replacement backs are available so far. I'm looking forward to the bumper cases being available as they offer more protection to the Moto G.
Conclusion
In conclusion I think the Moto G is an amazing phone, for the price of course. Tesco mobile are selling the 16GB model for £129.99 which if used sensibly could last you for ages. I'm going to pick one up for use as a holiday phone or for interim periods between buying and selling phones.
Yes Motorola could have put a better camera in, yes they could have put a Micro SD slot in, yes it could have a better CPU / GPU, but these would have bumped the price up and the the whole point of the Moto G is about the price.
Motorola and Google have done a good job with the Moto G, they have shown the world that a sub £150 phone doesn't have to be pants, they have shown the world that you don't have to spend £300+ on the latest Nexus phone or way more for the latest HTC or Samsung. I guess the ball is firmly back in the others court now, it will be interesting to see how the other manufacturers respond to this.
Motorola Moto G - Review
Design - 6.5
Hardware - 6.5
Software - 9
Battery - 8.5
Camera - 6
Screen - 7.5
7.3
Motorola and Google have done a good job with the Moto G, they have shown the world that a sub £150 phone doesn't have to be pants, they have shown the world that you don't have to spend £300+ on the latest Nexus phone or way more for the latest HTC or Samsung. I guess the ball is firmly back in the others court now, it will be interesting to see how the other manufacturers respond to this.