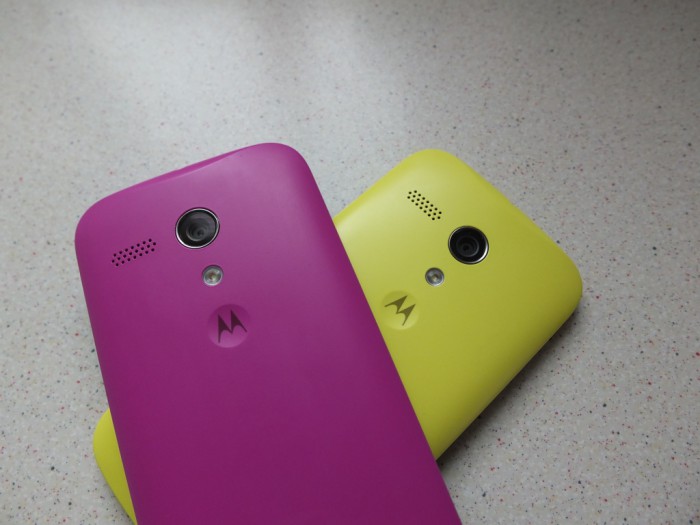 The Motorola Moto G will go down in history as a genre redefining phone. It was designed to be as fluid and functional as a flagship device and yet cost a portion of one. I've owned mine since about last November and absolutely loved it, the review is here, so when Motorola announced the new Moto G equipped with 4G and a Micro SD slot I was interested. Could those two new spec additions once again redefine a genre? Well I've had one for the last few weeks and here is my review. Starting of course with my good and bad points.
Good Points
Small and compact.
Feels great in the hand.
Stock Android 4.4.3 with a handful of Moto apps.
Micro SD slot.
4G capable.
Nice range of compatible accessories.
Decent battery life.
Strangely fluid and nippy throughout the UI.
Bad Points
The 5MP camera is a little weak.
At times the Snapdragon 400 processor struggles.
The screen isn't the brightest around.
8GB internal memory (approx 5GB out of the box) leaves limited room for games.
Design
The Motorola Moto G is a pretty basic device in terms of spec and design. Design wise it's only when you start adding the fancy brightly coloured cases and shells that the device comes to life. The design of the new 4G model is identical to last year's model, which is nice as my collection of shells still fit.
The right hand side of the device has the volume rocker and power button. A recent update to the Motorola Camera app added the feature to use the volume rocker as a shutter button for the camera, which is actually quite useful.
The top edge has the headphone socket and the secondary microphone and not a lot else.  The bottom edge of the Moto G houses the Micro USB port and the primary Microphone. Sound quality using the headphones isn't amazing but it certainly suffices, especially if you have a fiddle with the Equalizer settings.
The front of the Moto G is devoid of branding, almost in a Nexus style, all that is visible is the earpiece, proximity sensors and the front facing camera. The back of the phone is possibly the most interesting with the camera lense, the flash, the loudspeaker and the dipped Motorola logo. The logo dip is actually nice to rest your finger in, not in a long term weird kind of way, just in a "my finger needs somewhere to briefly rest" kind of way. The loudspeaker is fairly loud but it isn't the most defined or clear at volume.
Inside things are a little bit different with the new 4G model, where the SIM card used to be is now where the memory card lives and the SIM card goes in the bottom left hand edge.
The main reason I like the Moto G is because of the range of shells and cases, once you've bought a few you'll never have the same coloured phone from day to day.
Hardware
The spec of the Moto G 4G is a bit basic, but it just doesn't need a high spec. It is as follows:
Qualcomm MSM8x26 Snapdragon 400 Quad-core 1.2 GHz Cortex-A7.
GPU – Adreno 305.
Mobile Network – 3G, HSDPA 850 / 900 / 1900 / 2100.
Micro-SIM.
Dimensions – 129.9 x 65.9 x 11.6 mm.
Weight – 143g.
Display – IPS LCD, 720 x 1280 pixels, 4.5 inches, 5 point multi touch, 329 ppi.
Corning Gorilla Glass 3.
Internal Memory – 8 GB.
1 GB RAM.
Supports removable micoSD cards up to 32GB.
Wi-Fi 802.11 b/g/n.
Bluetooth 4.0.
Camera – 5 MP, autofocus, LED flash.
Front Camera – 1.3 MP.
Android 4.4.3.
GPS -A-GPS support and GLONASS.
Noise cancellation with dedicated mic.
Battery – Non-removable Li-Ion 2070 mAh
Network Bands – 4G, CDMA: 850/1900, UMTS: 850/900/1700/1900/2100 , GSM: 850/900/1800/1900.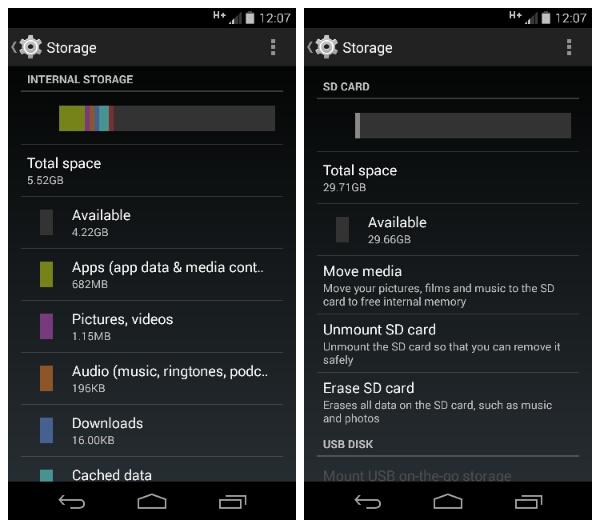 Software
The Moto G is famed for its plain, uncluttered Android experience and the new Moto G is no different. It now runs Android 4.4.3 which offers a few slight differences to the original version that was released last year. The most exciting for me was the fact you can remove the network name from the status bar.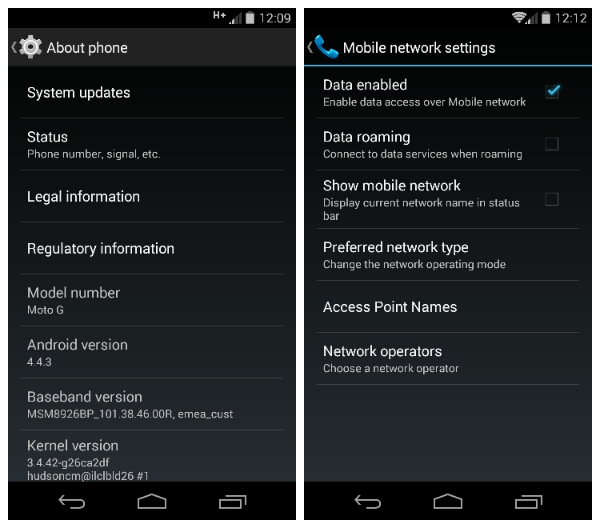 Motorola have confirmed their commitment to the next Android update which at the moment is called "Android L", which is reassuring to hear regarding a budget device, having used Android L on my Nexus 5 it will be interesting to try it on a cheaper lower spec device.
Motorola have a range of nice and pretty apps that they pre-install on their devices. They also have a new wallpaper on the 4G model.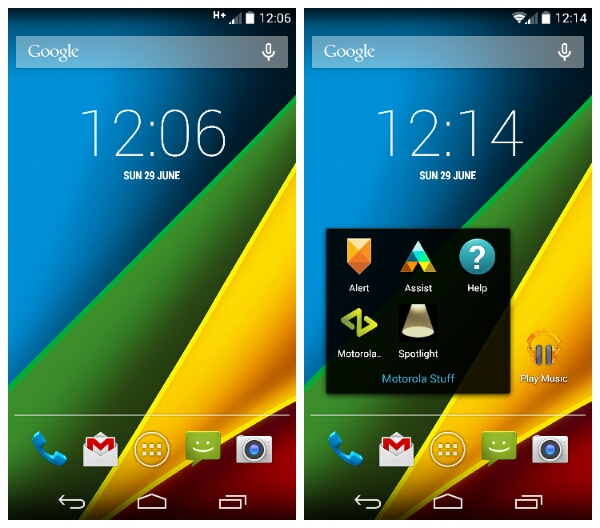 Migrate is a useful tool that transfers messages and files across from an old device seemingly using a QR code to scan and some temporary online storage area. However it does it, it's quite useful.
Motorola Assist first appeared on the Moto X and it does things like muting your phone during calendar meetings or at night.
Google Search voice listening isn't always on, which is a shame and the Google Now Launcher also isn't available for the Moto G. Although it can be sideloaded if you're that way inclined.
Overall the Moto G 4G is nice in the software stakes, the fact that the internal memory is limited to 8GB means that you'll not be able to install many huge games. I'm guessing most users will rather fill up the memory card with music, videos and pictures instead. It should be noted that if developers code their apps correctly to handle SD cards the Play Store will install a large chunk of the app/game to the SD card. So you may have problems with the memory or you may not, it's almost random.
Other notable stuff
Battery life
Battery life on the Moto G 4G is as good as it was last time round. You can easily get a day out of it with a good few hours of screen on time, including a bout of my wife playing Bubble Shooter .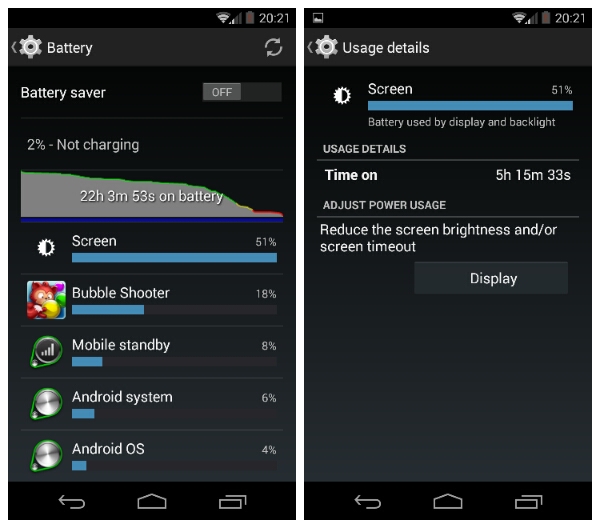 Benchmarks
The benchmarks put the Moto G 4G quite behind the modern flagships, but it certainly feels a lot faster and smoother than you'd imagine.
Antutu X – 17335
3DMark – 4700
Quadrant – 8997
Camera
The camera on the Moto G is pretty basic at 5mp which if you use in widescreen 16:9 setup it actually takes 3mp shots, to get 5mp shots you have to change it to 4:3 mode. The Motorola camera app is a little fiddly, once you've got your head round the swipe gestures to get settings and gallery your set.
In decent daylight with no glare and a steady hand you can get some nice shots. Here are a selection of shots taken on a recent holiday with HDR mode on, which actually made for some interesting shots. Low light is a no no.
Conclusion
Overall the Motorola Moto G with 4G is a nifty little device. It basically has most things you'd want in a budget device and it has a user experience that feels like something costing twice the price. Once again hats off to Motorola for creating the Moto G. This new 4G version of the Moto G keeps it relevant for another 6 months and the inclusion of a Micro SD opens it up to many people who want a small cheap device with expandable memory.
Whether or not it offers good value for money when compared to some of the other budget 4G devices is another matter. The likes of the Lumia 635 or 625 and the EE Kestrel are all cheaper, but I'd say that the whole user experience is better with the Moto G.
Whether or not you should get one of the newer 4G models or snap up a deal somewhere on one of the older modes, it really depends on your use case. If you're installing a load of apps I'd get the older 16GB model, if you're wanting to listen to lots of music and take millions of pictures I'd go for the new model. If you live in a 4G area and you have paid for 4G data, well I can guess you imagine the answer to that one.
Lastly a big thanks to Clove for lending us the Motorola Moto G 4G you can get a SIM free model from them here for £159.99 including VAT and delivery.
Motorola Moto G 4G - Review
Design - 6.5
Hardware - 7.5
Software - 9
Battery Life - 8.5
Camera - 6
Screen Quality - 7.5
7.5
Overall the Motorola Moto G with 4G is a nifty little device. It basically has most things you'd want in a budget device and it has a user experience that feels like something costing twice the price.