The Moto G and the follow up 4G model, have made a good impression here at Coolsmartphone, being very affordable and having above average specs for the price range. Therefore, it should come as no great surprise that Motorola have a successor in development – the XT1063. Don't worry the actual release will no doubt have a snappier name, the G2 or G+1 have been suggested, that is just the number Motorola have assigned it.
So what do we know about it? According to the GFXbench benchmarks the phone will have a 5″ 720p HD screen which will support multi-touch with at least 5 fingers, and be powered by a quad-core 1190MHz (1.2GHz) processor with an Adreno 305 graphics chip for support. RAM wise 0.8GB translates as 768MB, and 4.5GB of user storage is respectable for low end handsets if it has a micro SD card slot was well – if not it is on the low side.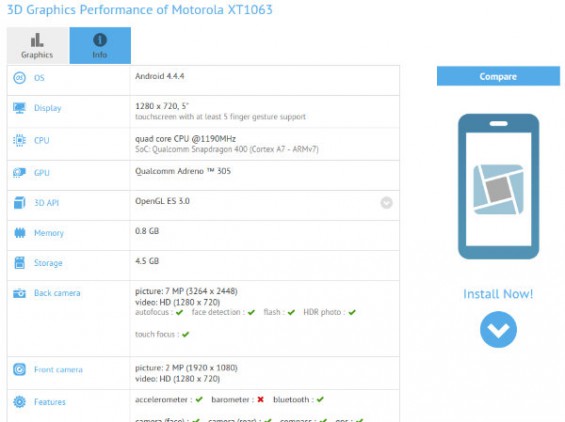 Camera wise, the original was a little lacking with just a 5MP snapper, this has been boosted to 8MP on the back and 2MP on the front, with 720p video recording from both front and back. All running the latest version of Android 4.4.4, if this is priced as low as the first it could do very well. It is expected that the phone will be announced in September.