With the Smart 4 mini now available (and our thoughts on that here), the older Smart Mini is now a tad cheaper "up the Asda".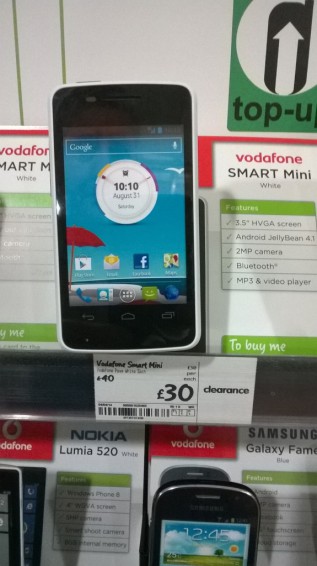 As you can see, it's now only £30. Of course, this isn't exactly this highest spec phone in the world. A 3.5″ HVGA screen (320×480 @ 165ppi), 4GB of on-board storage (plus a microSD card slot) and a 1 GHz CPU are on board, and it runs Android Jellybean 4.1.
The usual dollop of WiFi, GPS and FM radio are included, plus it has a 2 megapixel camera. At that price you could either use it as a back-up phone, holiday phone, a phone for the kids or perhaps one to use as a CCTV camera.
Though, if you really want an emergency phone, how about paying just 99p for this? Sure, there's the small matter of a £20 top-up, but .. that's proper cheap.