It wasn't too long ago that the bright green screens of our Nokia 3310s were displaying the blockish graphics of Snake. Nowadays, after huge strides in technological advancement and a wave of new and creative developer studios, the game has quite literally changed. Now we can launch the App Store in our new iPhones and bring a library of hundreds of thousands of game titles straight to our fingertips.
Snake first hit our screens back in 1998, signalling the start of a new era in gaming. Since then, better connectivity, improved devices and a massive overhaul in graphical quality has led the mobile platform to boom year after year.
A new Global Games Investment Review by research firm Digi-Capital found that mobile gaming could grow at a massive 23.6% annually. This means that the mobile gaming sector would account for 60% of the global gaming software industry by 2017, when it is expected to be worth $100 billion.
Mobile gaming has become so competitive in the industry, that content on the iOS App Store and Google Play are outselling dedicated handheld console revenue. According to a report by App Annie and the IDC, the combined sales of both flagship app stores were three times higher than titles sold on devices such as the PlayStation Vita and Nintendo 3DS by Q3 of last year.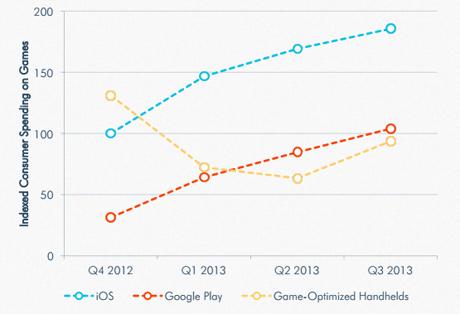 "Smartphones' ease of use, low price point (due to subsidies), and multi-functional use as gaming and primary communications device have given them a ubiquity across a broad demographic that portable consoles will never have," said App Annie's Vice President of Corporate Communications, Marcos Sanchez.
"Add apps that are fun and engaging, and that deeper penetration can equate to big dollars for game app developers."
The mobile platform offers huge opportunities to developers, with hit titles such as King's Candy Crush Saga generating as much as $900,000 a day in revenue. And it's not just app developers that are feeling the benefit.
Although users are now able to access free or affordable titles at the click of a button, entertainment is just one benefit that comes with such a vast and easily accessible mobile gaming market. These apps are being used in a number of different ways, with implications in everything from education to psychological treatments.
It seems that the multi-billion dollar industry has evolved significantly from its 8-bit infancy. With companies like Oculus Rift and Google now pioneering experiences in virtual reality and head-mounted displays, there's no way to know what incredible changes mobile gaming will see in the future.