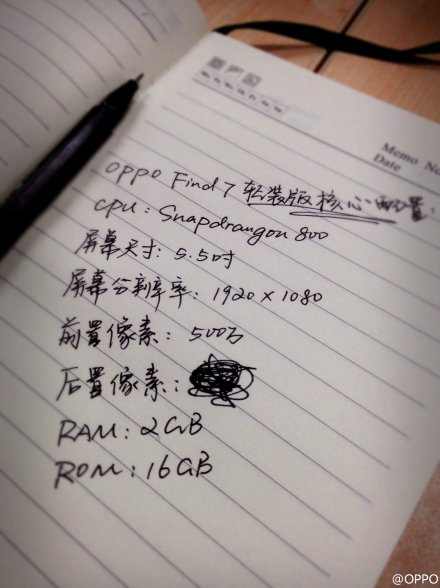 Oppo may as well just announce its latest flagship now, because it seems like it's hell-bent on leaking all its own data before the launch event on 19th March in Beijing!
In the latest development we see confirmation of the key specs of the Find 7 scribbled on a notepad (as if it's been photographed in the design lab).
As you can see from the image above, it's going to have a Snapdragon 800 processor, a 5MP selfie sensor, 2GB of RAM and 16GB of internal memory. No surprises there, but it mentions a screen size of 5.5-inches and 1080 x 1920 (1080p) resolution.
Hang on a cotton pickin' minute, we were expecting two screen size options of Find 7: a 5-inch version with a 1080p display and a 5.5-inch version with a 2k display! Please don't tell me that the 2k display has been scrapped, because if it has there's going to be a lot less interest in this device.
There's also no mention of that 50MP camera that nobody believes exists. Hmmm…
Other rumours in the micro-blogosphere are that it will cost around CNY3,000, which equates to about £293 in real money. That's not a lot of moolah for these kind of specs, and will almost certainly be less than the Samsung Galaxy S5 or the new HTC One are going to cost.
Source – Oppo on Weibo
Via – GforGames