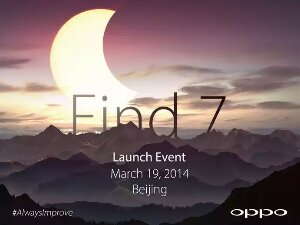 Oppo, has today announced that it will be launching its Find 7 flagship smartphone on March 19 in Beijing.
This is a little disappointing as it was originally rumoured that the device was going to be released during Mobile World Congress this month.
The Find 7 follows in the footsteps of the Find 5 and the N1 ( both of which have been owned by our very own Ronnie).
Leaked specs for the Find 7 are, 5.5-inch QHD (2560×1440-resolution) display, a 13-megapixel camera and a Snapdragon 800 or 805 processor.