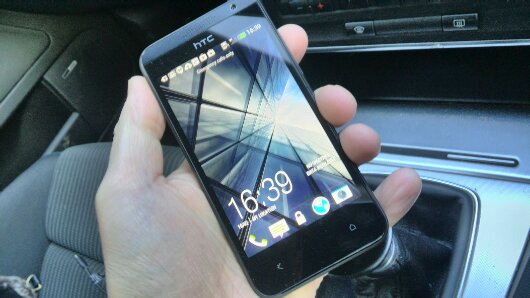 Remember our HTC Desire 500 review? Well, this is the Desire 300, and it's a …. bit… different. The Desire 500 has a quad-core 1.2GHz CPU, an 8 megapixel and 1.6 megapixel camera. This Desire 300 has a dual-core 1GHz CPU and a 5 megapixel shooter with a VGA one up-front.
The specs are a little lower than the 500, but it's cheaper too. At the time of writing you can bag one for around £145.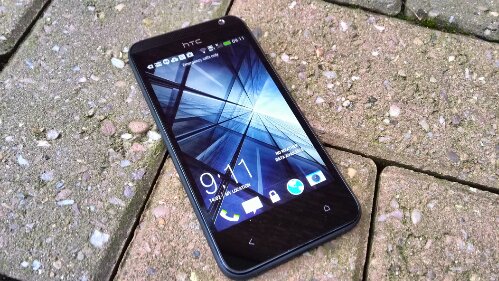 For your money you're getting a 4.3″ WVGA screen, the HTC Sense GUI, GPS, WiFi, 4GB of storage, 512MB of RAM and a microSD card slot. Compare that 512MB RAM to the 1GB of RAM in the Desire 500. You also lose DLNA, but there's a 3.5mm audio port, Bluetooth 4.0 and a 1650mAh battery powering it all.
HTC have stated that they're going to push into the "mid-tier" market again, after targeting the high-end with the HTC One, so handsets like this have seen them re-enter a now crowded market which contains cheaper handsets like the Moto G, which has a bigger and higher resolution screen, faster CPU, more RAM, more storage on-board and it's cheaper too.
So how does the Desire 300 perform?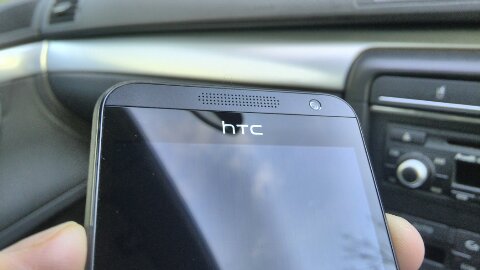 The dual-core chip does show an element of lag when you're using the OS. Some of the screen transitions an, when you're scrolling a screen full of content, it can get a little grippy at times. Browsing around heavy content-rich sites seems to be OK, but loading up a few backgroup tasks (like TuneIn Radio etc). You can also tell the speed difference between this and the Desire 500 when you're snapping photos, where there's a slight-but-noticeable pause when snapping shots. Especially in low light.
That leads me nicely onto ..
Camera
The 5 megapixel unit does a fair job of taking photos, although in low light you will have to hold quite still when snapping away. The HTC Zoe "video montage" feature hasn't really made it to the 300 either, and you instead get a fairly normal gallery system. That said, there is a pretty funky slideshow system with added background music and some nice transitions, plus your photos are organised into events. So although you're not getting the full-on MTC Music video-style re-packaging of your photos, it's decent enough.
You can share pictures easily and add a range of special effects on your shots. There's also a Macro mode, landscape mode, self-timer and a range of scenes and video modes. There's no HD video recording.
Here's some shots we took on the handset..
These outside shots came out rather well indeed. The macro shots were good too, but without a flash the shots inside suffer a little. Don't get me wrong, you get a lot of light on the shot, but you do have to hold the phone very still and take care snapping shots.
Outside
Although there's a small whiff of "HTC One" about the earpiece and front camera, the Desire 300 definitely feels light but well put together. This is especially true and put to the test when you try to remove the rear panel, which wraps around the edge of the phone and, like the Desire 500, is a bit of a pain to remove. It's safe to say that you're probably only going to do this once or twice to access the battery, SIM and microSD card. The best method of removing it seem to involve putting your thumbs in the very centre of the rear, on the HTC logo, and then pulling at the bottom.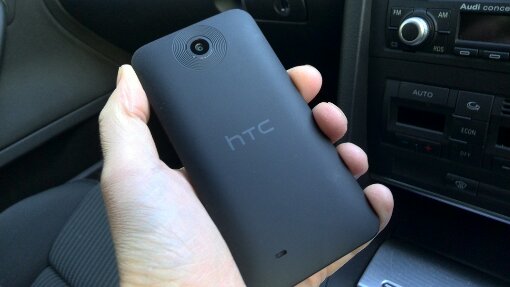 The rear panel is a soft rubber and a soft plastic construction – something you're glad of when removing that back panel. The camera hole is just that, a hole, and there's a small gap at the bottom for the external speaker.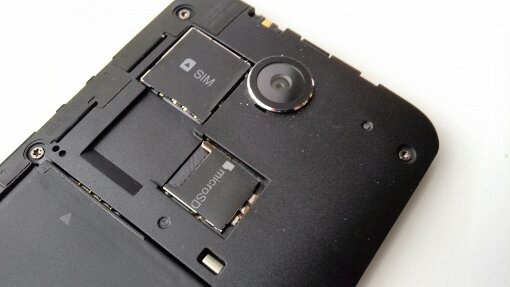 Around the edge there are the buttons and cut-outs that connect up with the inner chasis of the device to make everything work. That back panel, being a soft-rubber, is very grippy and gives you added confidence when held in one hand.
The main camera sits bang in the middle at the top, and you'll notice here that there's no flash.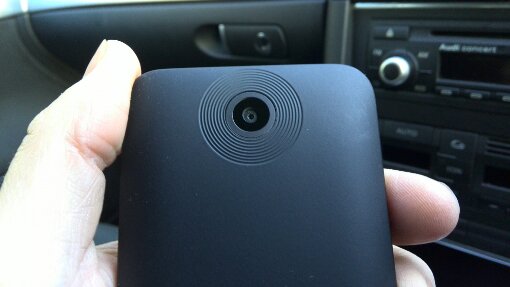 On the right side there's the usual volume up / down keys..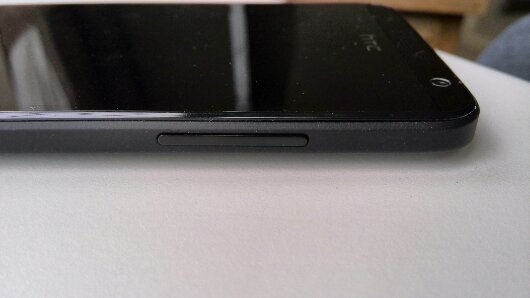 ..and up-top the 3.5mm audio port and easy-to-locate-and-press power button. You'll be pressing this a lot.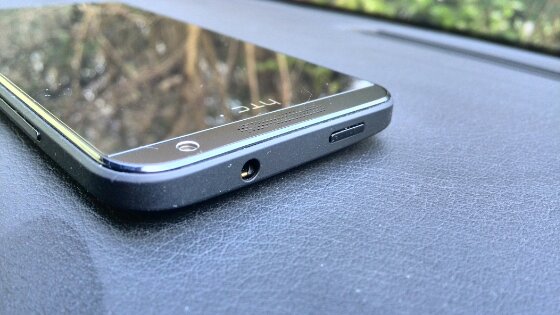 The left side of the phone has no keys whatsoever, whilst the bottom has the microUSB charge / sync port.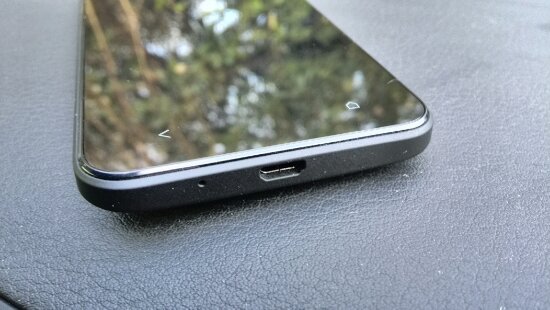 It's a very tidy design and the side panels are unashamedly flat and distinctive. Up front, two capacitive buttons sit beneath the 4.3″ WVGA (480×800 pixel) screen. They'll take you back and home, so the on-screen drop-downs have to get you into the menus you'll need. This section of the front panel is a polished black plastic but, up the top, the earpiece and front camera bring back memories of the HTC One.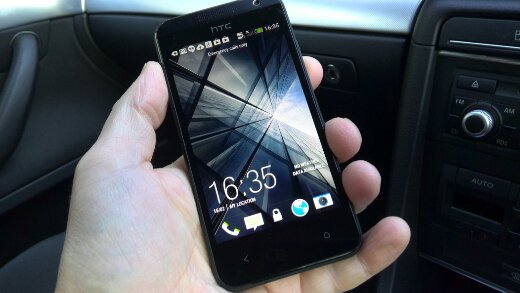 Inside
That screen isn't too bad, considering, and has pretty vibrant colours and deep blacks. It was decent enough to use in daylight, although if you are "switching down" from a high-end smartphone with a higher resolution screen, you will find some of the icons a little large.
Here we have Android 4.1.2 and HTC Sense 5.0. The Sense interface helps to give a bolder and simpler interface, with your daily dose of news, sports and other updates flowing through the HTC Blinkfeed system, which offers a selection of predefined topics and news sources. Sadly you can't add your own feeds in here.
Although Blinkfeed can't be disabled, you can switch your main screen to a different panel and you can drag any app on and have it laid out your way. Widgets and folders, as with most Android devices, can be added onto these panels – of which there's three. You can add more panels by going into Settings, Personalize and then "Customize".
As with the HTC Desire 500, we found the keyboard to be pretty easy to use and, as with all Android devices, you can switch to Swype or another keyboard if you want to use a different one.
Apps include the weather, a voice recorder, Dropbox (for storing your shots and other files in the cloud) plus there's Polaris Office so you can open and edit documents like PDF's, Word and Excel documents on the move.
The usual Google tools are included here, including Maps, Hangouts, Gmail, Google+, Voice Search and the Chrome browser, so you can switch between the internal Android browser or this one. Both browsers are good, but I've ended up defaulting to Chrome do to force of habit and the fact that my desktop uses Chrome too. Chrome will let you switch tabs, search directly from the address / URL bar and you can browse in incognito mode for those "special" moments. Chrome will also let you re-flow text to fit on the screen better and you can specifically ask for the desktop version of a website with just a quick switch of a setting within the browser.
All the tools and apps are neatly filed away in folders, and in the "Media" folder you've got some more Google products, including YouTube, Play Books and Play Music. There's also the FM radio so you can bop along to your favourite tunes without using any data.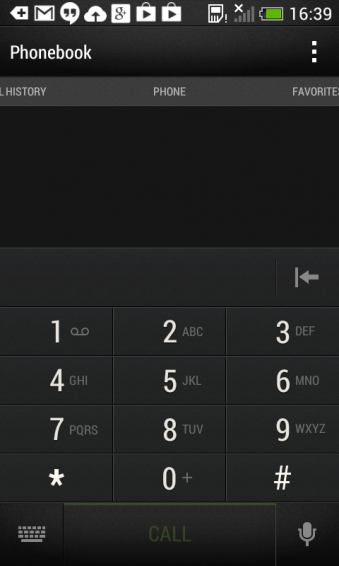 Texting is fairly simple and calls can be made by simply starting to type out a name or number. It'll automatically recognise who you're trying to call and, as this is an Android device, you can choose to store all your contacts, calendar appointments and other details in the cloud. This will mean that you can transport to other phones easily and your apps, books, people and documents (if you use Google Drive) will go too. Again, with it being Android all the apps are hooked together so, if you install Twitter as an example, you'll suddenly get the ability to share pictures to Twitter from the Gallery app etc.
Conclusion
Not as well designed or as classy as the Desire 500, the 300 has a slower CPU and no flash for those all-important indoor shots. Although browsing a number of sites seemed OK, I did experience a bit of slowness once I had Twitter and Facebook pulling down updates in the background and GMail doing its' thing.
The 300 doesn't have hi-definition video recoding and, if I'm honest, handsets like the Moto G, which is available for a lot less in some places, perform better. As an example, the Moto G has a 720×1280 pixel screen, the Desire 300 has a 480×800 pixel one. Sure, the camera is the same resolution, but there's more on-board storage and the Moto G has a faster CPU.
That's not to say I didn't like the Desire 300. I love HTC Sense and how simple it makes everything, but I did feel like I was using the basic model in the range. It's almost that feeling you get if you look in your car manual and you see all those features your car doesn't have. The camera is decent enough, but there's no flash and it's got a lag that can annoy. I hate to keep banging on about the Moto G, but that's got a flash, and it's quicker.
HTC Desire 300 - Review
Design - 8.7
Hardware - 8.1
Software - 8.3
Value for money - 8.3
Camera - 7.9
8.3
A good low-end handset, but there's better competition out there already, and they're trampling all over this.