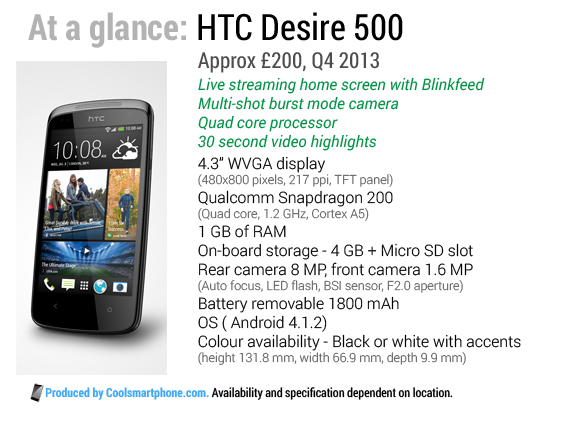 It's got many of the HTC One features, but it's much cheaper. Currently you can pick one up unlocked for less than £200, so does the HTC Desire 500 perform?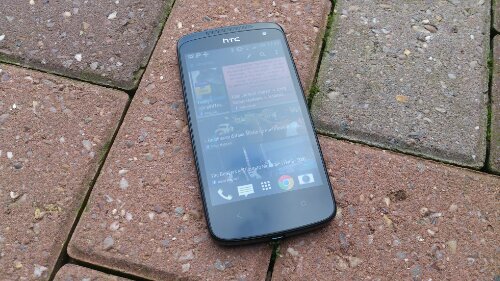 Specs
Weight – 123g
Dimensions – 131.8 x 66.9 x 9.9mm
Display – 4.3″ WVGA
CPU – Quad-core 1.2GHz Qualcomm Snapdragon 200
OS – Android with HTC Sense and HTC BlinkFeed
Storage – 4GB plus microSD card for up to 64GB additional storage
Network – 3G / 3.5G
Connectivity – GPS, 3.5mm audio port, Bluetooh 3.0 with aptX, WiFi and DLNA
Sensors – Accelerometer, Proximity and Ambient light sensor
Sound – Beats Audio
Camera – 8 Megapixel with auto-focus, LED flash, BSI sensor, HTC ImageChip, F2.0 apeture and 28mm lens. Slow-mo video recording, continuous shooting and 720p video recording.
Battery – 1800mAh
The Desire 500 is definitely a shiny affair and it feels almost pebble-like in the hand. The screen itself feels almost curved when you're using it (even though it's not) and the rear panel slopes away at the bottom and sides in a polished curve. I'll confess that I spent far too long shining the thing up and, from the rear anyway, it's a beaut.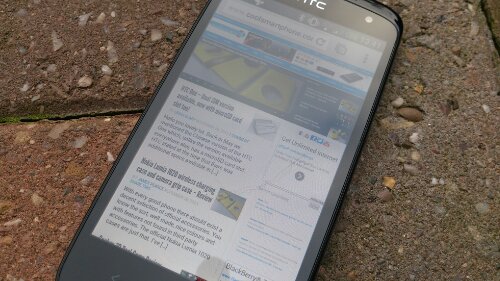 The front of the handset, at first glance, looks a little too simplistic. The fact that there's only two soft-keys and a lot of frame (particularly at the bottom of the screen) gave me the wrong first impression. I thought "basic". I thought "no frills", but to be honest I was pleasantly surprised when I started using it more.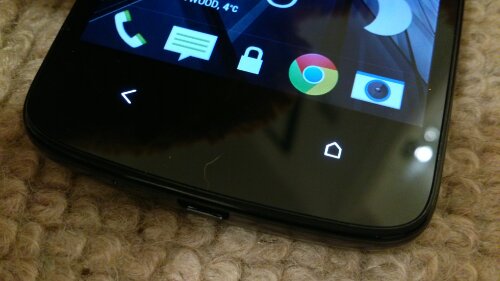 The first thing you'll want to do is plonk your SIM and microSD card in. Getting into the thing to do this takes a fair amount of determination. The rear panel wraps over the top and sides of the handset, so you have to try and push the lower section down and out. In practice, with a shiny device and nothing to grab hold of, you can end up bending the device quite a bit. When you do get the rear cover off you'll find that those outer buttons (which are actually on the back cover) push onto other buttons on the handset itself.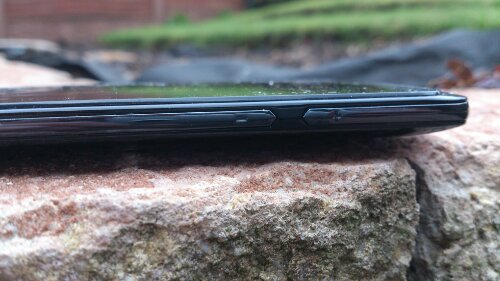 Looking around the edges of the phone you're met with a shiny silver rim which has a blue hue about it in the sunshine. It tapers off on the left and right side, stopping to create the volume up and down button on the right side. As beautiful as this is, I found the flat and rather understated volume keys a little hard to locate and press at times. There's no dedicated camera button.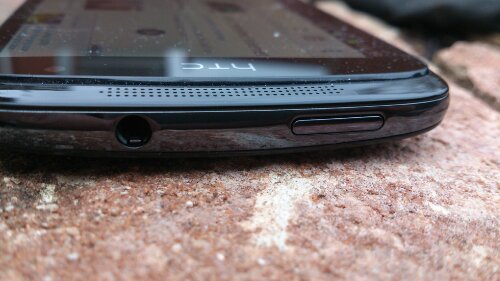 Up top, the power button. This also doubles as your "wake" button when you want to use the phone. It sits next to the audio port but, after a week using the Desire 500 as my main handset, I found it a little soft to press.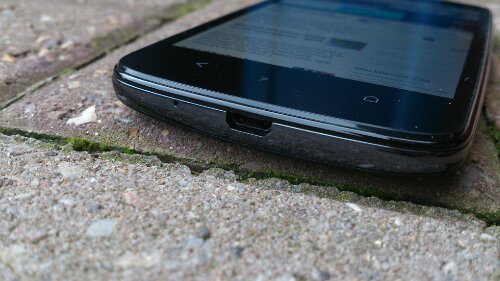 The bottom of the handset has the microUSB port and microphone. I couldn't locate a second microphone (for the noise cancellation magic).
At the rear, and jutting out just ever-so-slightly is the camera and flash. I'll jump straight into this in a moment. It sits above the HTC and "Beats" logo, plus the external speaker.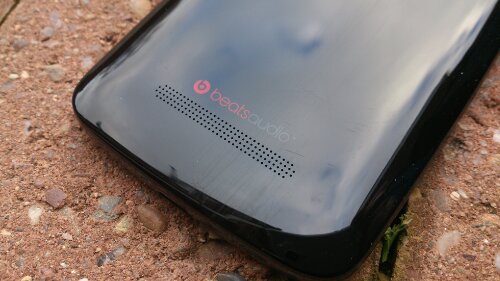 Although there's no sign of BoomSound (the HTC tech which pounds music out from two front-mounted speakers), the Beats technology was a very welcome addition. Don't expect to see it in many, if indeed any more HTC handsets as the two companies have ended their agreement. With the headphones on I absolutely loved the Beats technology, which kicks in when you're playing audio automatically.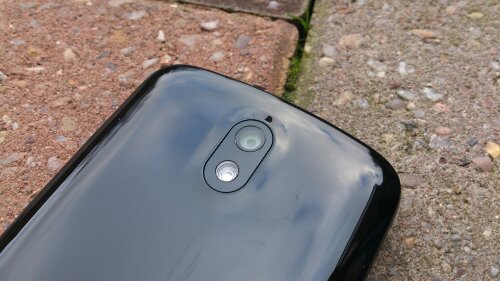 Camera
The first thing I noticed (and liked) about the camera on the Desire 500 was the sheer fact that the HTC Zoe video creation system was included. This makes a funky and fun video montage using snaps you've taken. Simply going to the park, snapping a few photos and then grabbing a sandwich suddenly turns into an entertaining mini-film of your day, accompanied by music, filters and transitions to liven it all up.
Not only that, but the gallery system has a number of options for sorting your shots. You can sort by Albums, Events, Locations or Friends (using Facebook and Flickr shots with tags) and add online galleries (Facebook, Flickr, Dropbox etc) plus media servers too.
The 8 megapixel resolution, unless I'm going mad, seemed to be the default resolution and not changeable. To be honest, who cares? You're going to want to choose the best possible resolution. The full specs of that rear 8 megapixel camera include an LED flash and BSI sensor. There's also a f2.0 apeture and 28mm lens, plus you can do some rather spiffy slow-mo video recording in 720p HD.
The camera includes a lot of filters and fun tricks to keep you amused, including a selection of Instagram-style filters plus some of those tilt-shifting and retro-style lens options which I've shown off below.
The camera also has smile detection, GPS location tagging, anti-shake, a self-timer, cropping options and ISO adjustment setting. Sadly the HTC Zoe features aren't here, but the photos I took below all seemed to come out OK. I must mention, however, that the HDR mode was on for most of these and it did a great job – especially when snapping scenic shots containing a dark ground and light sky. Once you took the shot it magically boosted the darker portions and balanced out the bright sky.
Here's an example..
Without HDR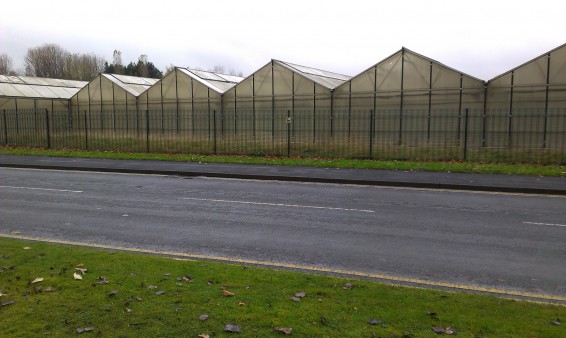 With HDR
Notice how the clouds in the sky are now visible…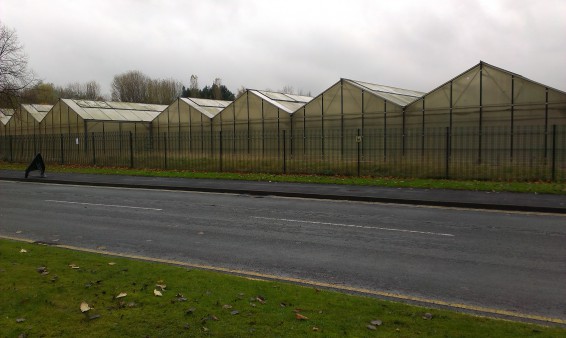 Here's some more example photos from the camera…
Software
The review handset here was running Android 4.1.2 with the HTC Sense 5.0 extras. A "Kid Mode" from Zoodles will provide fun and educational apps and a parental lock with a dashboard to control access. It prevents little ones from using the rest of the phone and installing who-knows-what.
Given the power of the processor and the rather lovely screen, everything moved around effortlessly and there was no hint of lag. The Sense interface is slightly different to use than stock Android, and you might well find the default 3×4 layout on the app tray a little "roomy" but that could be easily changed to a 4×4 grid in the layout settings. It worked well and the HTC BlinkFeed interface is actually something I'm starting to like a little more now.
As with most Android handsets, you can create shortcuts, folders and add widgets to a selection of home screens, sweeping left and right to add further items. Changing the background, lockscreen, ringtone, message tone, brightness, alarm, font size and more is really easy.
Out of the box there's a selection of apps and tools which are neatly sorted into categorized folders. Within "Tools" there's a Voice Recorder, Torch and Weather app (to name just a few), whilst in "Productivity" there's Dropbox, Polaris Office (for those pesky Word and Excel documents), plus a PDF viewer and more. In the "Media" folder you've got the likes of YouTube and an FM Radio, whilst the "Google" folder contains Search, Google+ and Gmail. It's all easy to locate but you can also add your frequently-used apps onto the main Homescreen as a shortcut if you want.
The on-screen keyboard doesn't have the Swype-style data entry enabled as default, but you can turn this on and words will pop onto the screen merely by gliding your finger over the required letters. I tend to use this as my preferred choice, and you can easily add new words to the dictionary or quickly change those that have been predicted incorrectly.
The browser worked well, but out of habit I quickly ditched in and switched to the Android Chrome version. I also swapped the shortcut on the app tray (which you can have at the top or bottom of the screen) to be Chrome instead of the default browser. That said, I found that pages rendered quickly, formatted correctly and there was hardly any slowness. I also liked the driving mode, which provides some super chunky buttons to press, even though strictly speaking you shouldn't really be pressing them 🙂
As usual, your contacts, appointments and data is kept in the cloud and – whether you stick to a Google account (with Google Drive etc) or go with Dropbox, Facebook or Twitter, you get to instantly share and (with BlinkFeed) access those updates and pictures directly. As you install apps, the ability to share propegates the menu system in the appropriate places, meaning that you can click on a picture, video or file and send, upload or share it with the people you want on the service you want.
Overall
For your money, this is a pretty excellent device. You're getting a lot of the features of the more expensive HTC One (including Beats and the fun video montage feature that is created from your photos). It took me a short while to get used to just the two soft-keys up-front but I didn't feel that I was using a "budget" phone in any sense of the word.
The Desire 500 boots quickly, it has a screen that looks good from any angle and you'll find yourself fondling the smooth glass-like finish quite often. Inside, aided by battery-life management and a helpful how-to system, it was a trusty and easy-to-use phone which had all of the good points of the original Desire.
The Beats tech is definitely something I'm going to miss if this is indeed one of the last HTC / Beats devices. Even with the cheapest headphones it provides a rich and full sound which I absolutely loved.
Sure, if you need an IR port and the BoomSound stereo speakers, shoot for the HTC One. Yes, I wanted a bit more than 4GB storage and – although it's quad-core – it did slow down a little after I installed a number of apps. However, if you want to spend less money, this really isn't that much of a compromise.
HTC Desire 500
Value for money - 9.6
Design - 9.2
Speed - 8.9
Camera - 8.4
Battery life - 8.6
8.9
A beauty with speed under the bonnet and many of the bits I loved from the HTC One. At this price point, I'm won over.