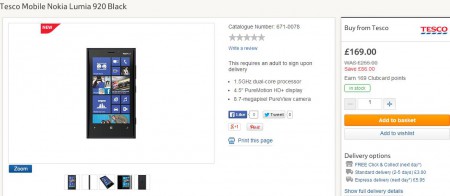 Alright flower? How goes it? Fancy a cheap mobile? How does £169 for a Nokia Lumia 920 sound? Good yeah?
The 920 is powered by Windows Phone 8 and has a Qualcomm Snapdragon S4 at its' heart. There's an 8.7 megapixel Pureview camera, 4.5″ WXGA (1280×768) screen (332 ppi), NFC, WiFi, Bluetooth 3.0, DLNA and a 3.5mm audio port. Wireless charging too. If you're sitting on the fence, have a read of our Lumia 920 articles, such as this overview or our review. It's all here.
This is a Tesco Mobile deal and you can earn Clubcard points by buying it (plus it's 4G compatible). It does appear to be showing as a "Tesco Mobile" handset, so we're guessing it'll be locked to the network. The original cost was £255 and there's free "Click and Collect" delivery, so you can pick it up when you're getting that tub of vasoline.
Seen a deal that we should be mentioning ? Give us a yell, hit the contact button. Go on, you know you want to.