I've been a follower of Nokia for years now. At one time I actually ran my very own Nokia dedicated website and attended many launches. Their hardware was top quality and phones like the N95 were market-leading in terms of specifications and features. Slowly they began to find it harder to compete. Phones like the iPhone appeared and people switched away, whilst Android scooped up even those entry-level Nokia users.
Depending on how you look at it, Microsoft have now come to their rescue. The new Windows Phone 8 OS supports much more hardware than the older version and allows for new and exciting ideas to be brought to market. The combination of these two companies should work, but it's not been a wild success as yet and the decision to switch to a newer Windows Phone OS and ditch the older version 7 wasn't easy.
[yframe url='http://www.youtube.com/watch?v=2Ntv0WQunsw']
Now onto the specs….
Windows Phone 8
4.5 inch display
8 Megapixel Camera
DC-HSDPA 42Mb/s
LTE 100Mb/s
1.5Ghz Dual-Core Processor
Bluetooth, WiFi & GPS
32GB Storage
2000mAh Battery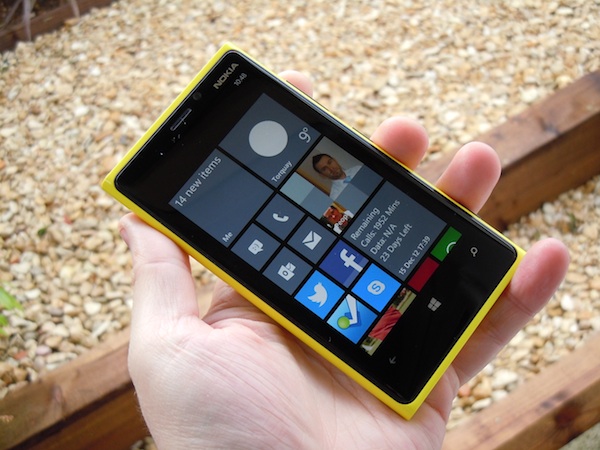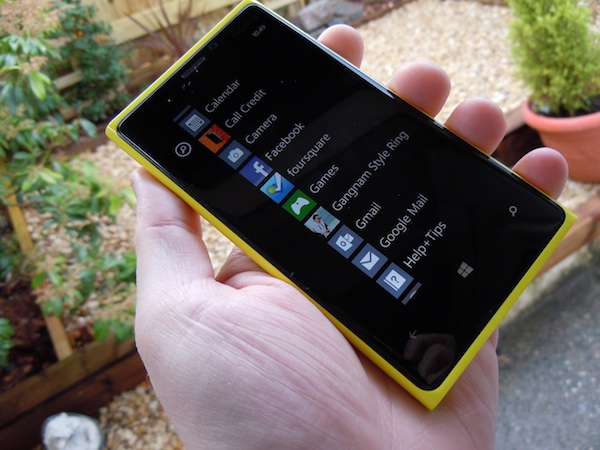 Ever since the partnership was announced it was clear that Nokia were key to the success of the new OS. Whilst the Lumia 800 was a good start, it still lacked that killer feature to make it stand out. The introduction of Windows Phone 8 meant that manufacturers were on an equal specification-footing with competitiors.
First up, the 920 casing is beautiful and you can get it in many different coloura. We managed to get the yellow one which many other sites wanted to get hold of. The polycarbonate body makes worrying about scratching a thing of the past and it blends perfectly into the Corning Gorilla Glass 2 screen. This is really tough so you may not need a screen protector either.
The best way to show what the Lumia 920 has to offer is to show you the lead designer at Nokia talking about the product himself….
[yframe url='http://www.youtube.com/watch?v=fY1K1VF_83A']
Storage is fixed so not expandable, but with 32GB available that should be more than enough for most people to live with.  
A 1.5GHz dual-core processor and 1GB of RAM runs everything smoothly and the OS doesn't suck resources for everyday tasks either.
Something also worth pointing out is that this device is not exactly on the small or light side.  
Its rather large and comes with an extra bit of weight, which I assume is due to all the tech built into the phone.  The Lumia 920 weighs in at 185g which, if you compare to the 112g on the iPhone 5 or the 139g on the Nexus 4, will be a bit of a shock when you first pick it up. However, after a little while you hardly notice the difference.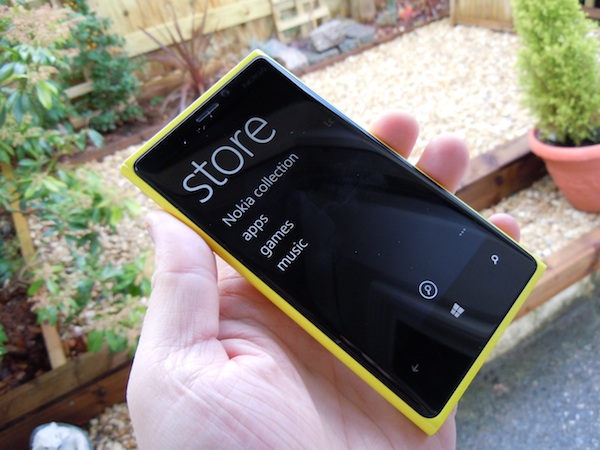 On the front of the 920 above the screen are the light sensors. These adjust the backlight depending on your conditions. This helps save that all-important battery life for other things like calls or using the camera.
The earpiece sits in the middle and produces good audio. The Lumia 920 also supports HD Voice if you're on a network which has rolled this out.  EE sell this phone on their network and Three also use HD Voice but do not officially support the phone.
Next to the earpiece is the front-facing 1.3 megapixel camera. This works great for video calls over Skype or other supported apps such as Tango.  Whilst the front camera isn't as good as the PureView one on the back (and doesn't have an LED flash), quality for video calls is more than good enough. Just ensure that you're in a well-lit area.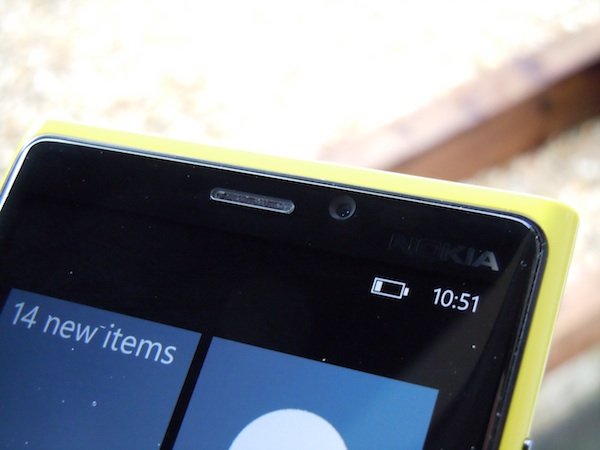 The stunning 4.5 inch display features CBD technology (Clear Black Display) and PureMotion HD+. This tech is used by Nokia to help improve the colours and brightness without causing a blur when you're scrolling.  The screen has to be one of the best I have ever seen on a mobile phone, and coming from someone who has used hundreds, that's a big statement.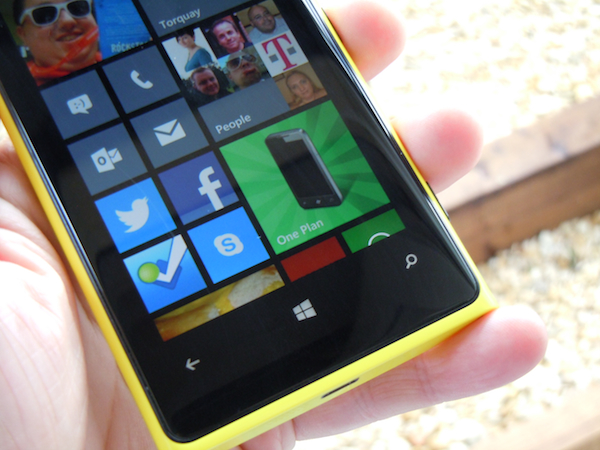 Three main navigation buttons sit under the screen. A back arrow which will take you back a screen or, if you hold onto it, you get the multitasking view which lets you easily move between all your open apps. The Windows key takes you back to the main screen no matter what application you're in. If you hold onto this you get the voice assistant. The search button takes you to the "Bing search" function.
The rear-mounted 8 megapixel camera has LED flash and full 1080p resolution HD video recording. There's some sample photos and a sample video to check out below.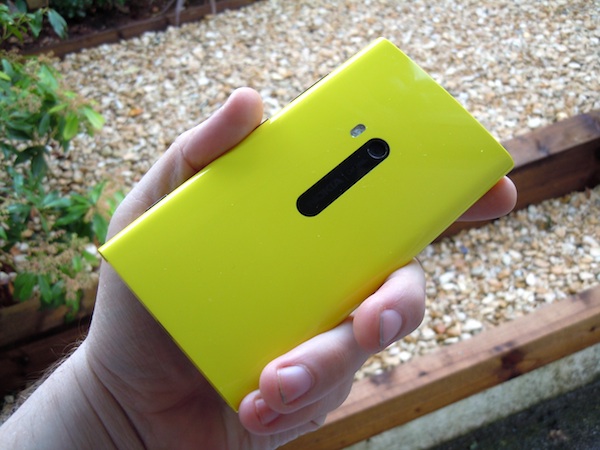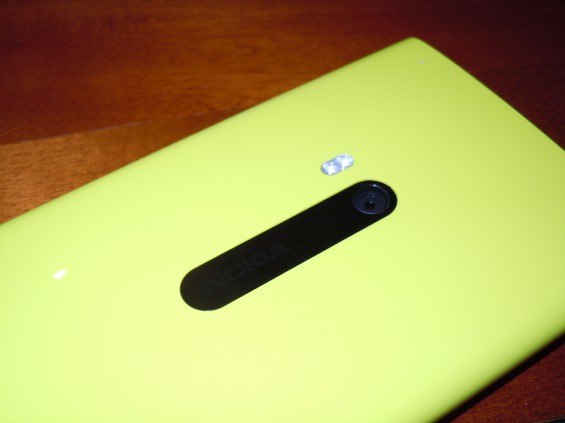 The PureView brand is a big part of the Nokia armoury and, whilst it's not a 41 megapixel lens like we saw on the PureView 808, Nokia have done some great work with the low light performance here. The camera allows more light to be taken in for longer, so the final image isn't blurred either.
Clever software is included – one of the best examples of this is 'Smart Shoot'. When loaded it takes a series of photos, finds the faces in the image and selects the best one. Below is an example video from Nokia showing how this works and what a difference it can make…
[yframe url='http://www.youtube.com/watch?v=ME5n9-RQnAo']
There is no xenon flash but there is a very bright LED flash included which does really help the camera capture some great photos.  So here are some example photos taken from the 920 camera….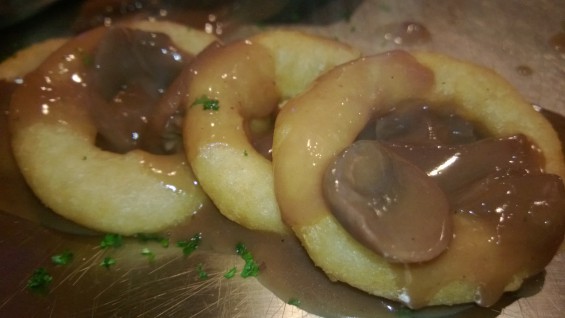 (Close up captures a lot of detail and matches colours really well)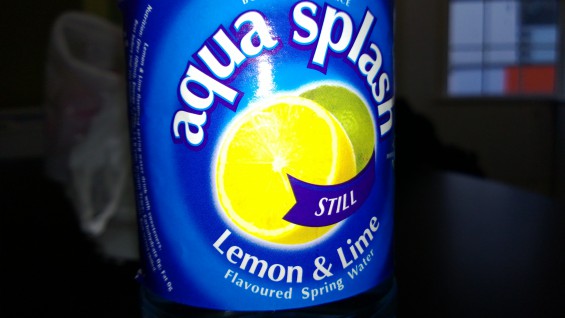 (Another close up shot this time in a poorly lit room, using the flash to help)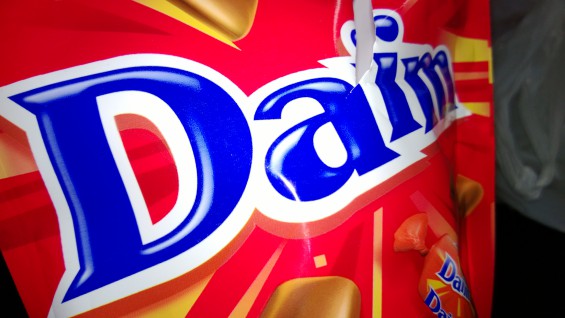 (Same poorly lit room as the photo above, very good colours once again which really stand out)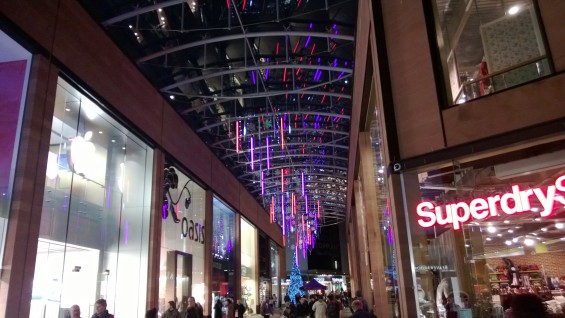 (Evening whilst shopping. Lots of christmas lights from different directions, notice no blur)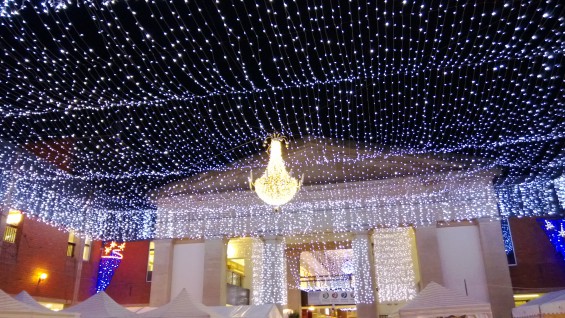 (Another evening shot this time a curtain of lights with a central feature. You can make out every single light)
——VIDEO TEST——
 Video is just as impressive from the PureView camera with image stabilisation in effect and the low lighting performance you can capture some fantastic videos on the 920. The only disappointing part is that you can't upload this direct to YouTube. This is something of a let down as it would be great to capture things on the move and then upload right from the phone.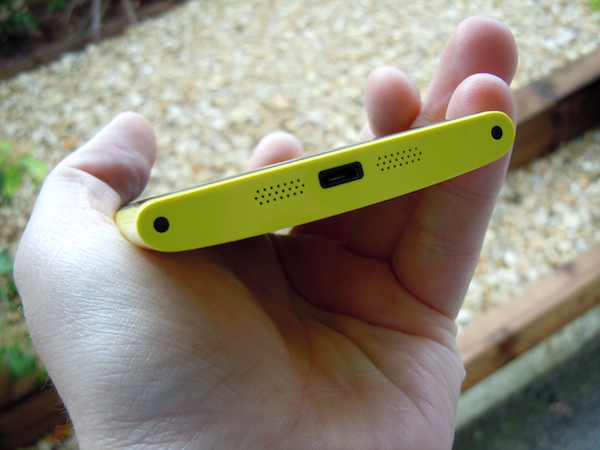 At the bottom of the phone in the middle is the microUSB port. This'll let you charge the phone and transfer data. To transfer data you'll need to use Zune for Windows or the latest version of Windows Phone Connector. This now supports the new devices and can be downloaded from the App Store.
To the left and right of there's two speakers. These are used for loudspeaker mode and also for playing music without a headset.  The quality of the sound was very impressive even at full volume.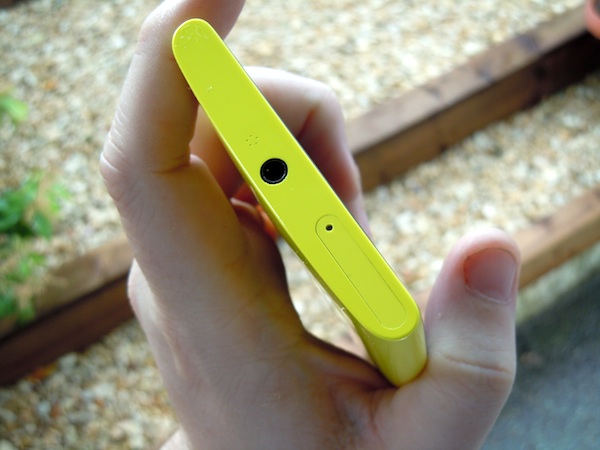 Insert a pin here to access your SIM card. It's worth remembering that the Lumia 920 uses a Micro SIM. This is found on a lot of handsets now and I was able to use a Micro SIM plus a Nano SIM using an adapter. This isn't recommended though as there's been reports of SIM card adapters getting stuck and causing damage.
The 3.5mm headset jack, when combined with the included headset, is absolutely fantastic!
Next to the headset port is a small circle of dots which are for noise cancelation when in phone calls and this also works really well.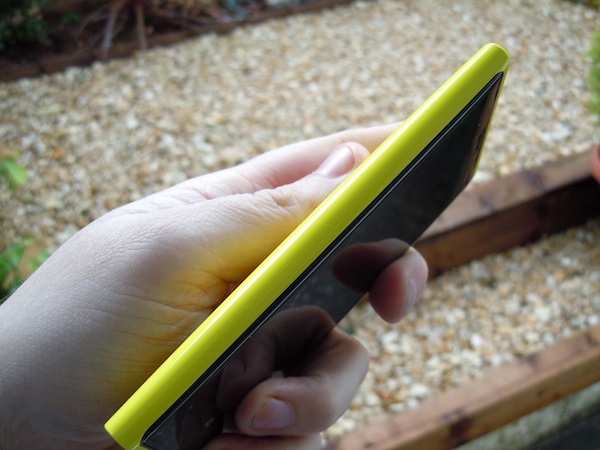 The left side has no buttons or things getting in the way, this is nice as not every side of a phone needs buttons. The gorgeous design used in the Lumia 920 means that you really don't want too many ports and buttons getting in the way.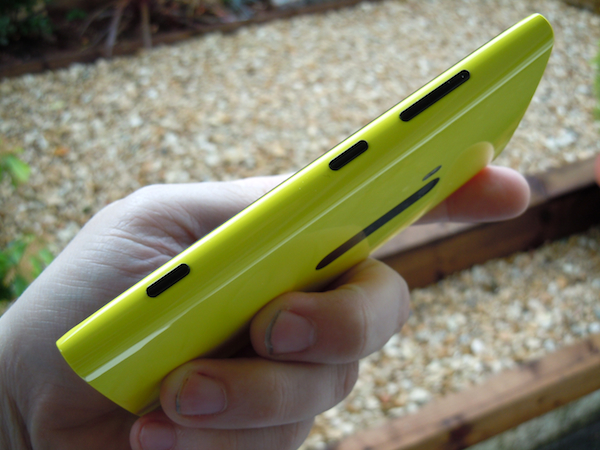 On the right hand side you have the volume up and down keys plus a dedicated camera button. Considering the camera is one of the main features of the 920, it's great to have this and helps keep your hands still for that all-important photo opportunity.
Between the camera and volume buttons is the on/off button which also puts the phone into standby mode to save power.
Final Thoughts
Having been a BIG Nokia fan for many years now, I was excited about what advancements they had made. Thankfully I wasn't disappointed. The Lumia 920 has some outstanding features. First of all there is the gorgeous screen.  This has to be one of the most impressive screens I have ever seen on a mobile phone.  Viewing photos or your standby wallpaper just looks amazing on the 920.
Second of all there is the PureView camera. Although not massive in megapixels, Nokia have done some clever things to boost low light shots. In some of the sample images taken earlier in the review you can see how clear all the colours are and in the light photos.
Whilst I really like the 920, the biggest downfall for me still it has to be said is the OS. Windows Phone 8 is a great move forward but some of the apps are still not up to par. There are quite a few big apps like Instagram which are not on this OS yet and I could see why people decide to choose Android or iOS instead.
Nokia have done a fantastic job here and have added so many features. If Microsoft can continue to improve the OS and Nokia continue producing hardware such as this, it's going to be an excellent combination.
Many thanks to Nokia who were able to loan us a device for this review.