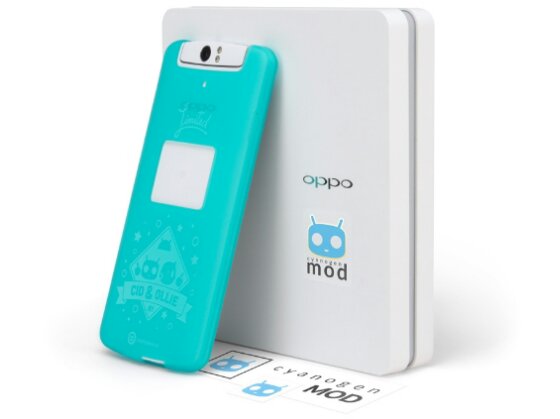 You want an initial impression of the Oppo N1 CM Edition? It's massive!
Seriously, that's the first impression everyone has of it. Let's get over that for now, because size isn't everything. No really, it isn't.
An impressive package
In fact, the initial impression I got of the N1 was of excellence. That wasn't down to the quality of the screen or speed of the processor, it was due to how beautifully packaged the phone was!
There are boxes within boxes, a couple of cases, and envelopes full of goodies (even a couple of CyanogenMod window stickers!), as well as the phone itself, of course.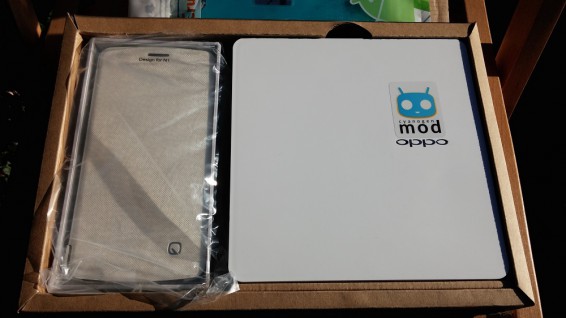 Camera
Apart from the size, the most obvious difference between the N1 and any other phone is the rotating camera.
The camera and dual flash make up a large chunk of the top of the phone, which pivots a full 270 degrees around the horizontal axis. This means that you can keep the screen at a comfortable angle, but take photos in pretty much any vertical direction. I'll let you know in the full review how useful this actually is.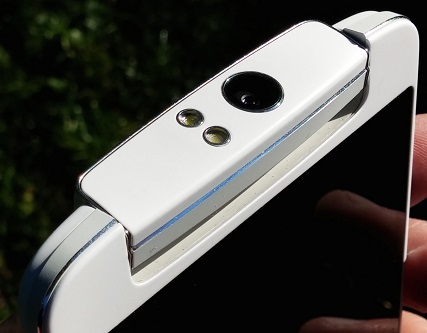 Build Quality
The build quality of the N1 is excellent, as I have come to expect from Oppo. In my review of the Oppo Find 5 I likened the build to that of apple products. Despite the lack of golden anodised metal, this hits the Apple benchmark once again.
I'm particularly impressed with the camera mechanism. I was worried that this would turn into a wagging pendulum within the first few days, but it really does feel like a quality piece of engineering that will last a good while.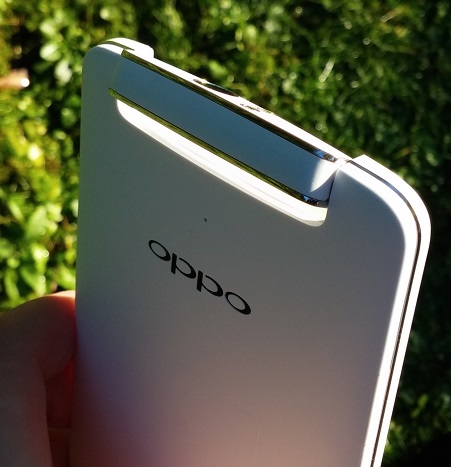 First boot
I'm sure I'm not the only one who associates the CyanogenMod graphic on first boot-up with simultaneous excitement and dread as to whether I've flashed a new ROM correctly or bricked my device, so when the logo appeared I had to temper my reflex fears!
Of course boot and basic set up was a breeze, and after a few app updates I was ready to explore.
The screen
5.9 inches of full HD is never going to be as stunning as a 5 inch full HD screen, purely down to pixel density. Nonetheless, Oppo has managed to fit an impressive display that's a joy to use.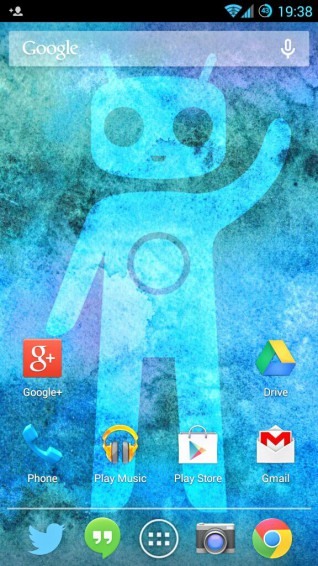 CyanogenMod out of the box, so what?
It's a good question. The point of CyanogenMod is that it takes stock Android, optimises it and adds some useful features and flexibility.
Pretty much all manufacturers heavily modify Android on their devices, making it look individual, but slowing it down and cluttering things up at the same time.
Which brings us to the most important first impression for me: speed. It's not the most powerful handset on the market, but it runs just as fast as my LG G2, which is far higher specced on paper.
Specs
Quad-band GSM/GPRS/EDGE support; penta-band 3G with HSPA
5.9″ 16M-color 1080p Super IPS LCD capacitive touchscreen with 373ppi
Android Custom CyanogenMod 10.2 ROM
Quad-core 1.7 GHz Krait 300 CPU, 2 GB RAM, Adreno 320 GPU; Qualcomm Snapdragon 600 chipset
13 MP autofocus camera, 207 degree module rotation; dual-LED flash; HDR, long exposure (up to 8 seconds)
1080p video recording @ 30fps with HDR mode, continuous autofocus and stereo sound
Touchpad on the back
Dual-band Wi-Fi ac/a/b/g/n, Wi-Fi Direct and DLNA; Wireless TV-out (Miracast)
GPS with A-GPS
16GB of built-in storage
microUSB 2.0 port, USB on the go support
Bluetooth v4.0
NFC
3.5 mm audio jack
3610 mAh battery
Accelerometer and proximity sensor
Active noise cancellation with dedicated mic
Premium aluminum and polycarbonate finish
O-Click Bluetooth Remote Control in the package
Flip case with O-Touch support
Limited edition CyanogenMod Cruzer Gel Case
Initial Conclusion
It big, it's got an odd camera and everyone who's seen it has laughed. Despite this (or maybe because of this), I'm loving the Oppo N1.
Have you ever bought something because you can't resist it, even though it's a bit mad and impractical? That's why I bought the N1 CM Edition. It puts a smile on my face.
Over the next couple of weeks I'm going to be living with the N1 as my main phone; using the O-Click remote, O-Touch back panel navigation, and rotating that camera module rather a lot, as well as delving into the CyanogenMod settings, resulting in a full review. Let's see if I've still got a smile on my face then.
If there's anything in particular you'd like me to test, just leave a comment below this article.
The Oppo N1 CM Edition is available in limited quantities from oppostyle.com