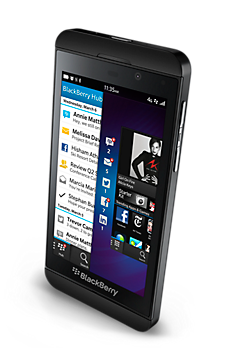 Bargain or relic? The Blackberry Z10 pay as you go version is now on sale at Carphone Warehouse for the incredibly low price of £159.99 (+£10 top up with whatever carrier you choose). This phone, still listed on Blackberrys uk site as £349, was the first touchscreen only device to run BB10, the most up-to-date version of the Blackberry operating system and we reviewed it here.
It is now available at less than half the recommended retail price and although released almost a year ago should still hold it's own amongst the current range of smartphones, maybe slipping into the top of the mid-range category due to only having dual-core rather than the more common quad core phones such as the Motorola Moto G. The phone is also capable of using 4g and so is still (in my opinion) a bit of a bargain and is available in both black and white variants from stores and the Carphone website here.
Would you be better off spending a bit more money and get the Nexus 5 or a bit less money and get the Moto G? Let us know in the comments field below.