In an event held in Sao Paulo, Brazil today Motorola announced the new Motorola Moto G.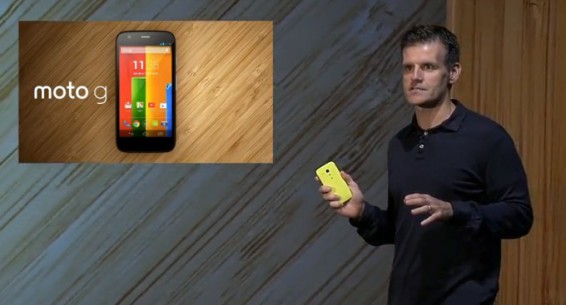 Curved back, edge to edge display, Corning Gorilla Glass 3, Waterproof nano coating.
4.5″ 329ppi 720p display
1GB RAM
1.2GHz quad core Qualcomm processor
1500mAh Battery
Android 4.3 Jellybean – definite upgrade to Android 4.4 by January 2014
Motorola Shells – removable backs, customisable with "active grips" and "flip shells".
Colour matched accessories such as headsets, wireless speakers & motorola powerpacks
Motorola Migrate
FM Radio
Dual Sim (in certain markets)
$179 no contract, unlocked
Charlie Tritschler, product manager said "It's a smartphone that has a premium experience but has a fraction of the cost"
Motorola are making much of the screen quality and the price, claiming that the display outperforms leading phones from other manufacturers and that you can get 4 moto g's for the price of one Samsung Galaxy S4.
Motorola have also announced that the moto g is based on pure Android and have claimed that the OS outperforms the Samsung Galaxy S4.  Work has also been put into the camera interface with no capture button.  Instead you simply touch the screen to take a picture.  Motorola are also giving 50GB extra Google Drive storage as part of the moto g package.
It has also been announced that the moto g will cost £135 unlocked and SIM free here in the UK.  This draws a significant line in the sand and lays down a huge marker which Samsung, HTC and Sony will be hard pressed to follow.
The Moto g goes on sale today in parts of Europe and Brazil however no word is yet available on UK launch dates, as soon as they are available we will bring them to you.