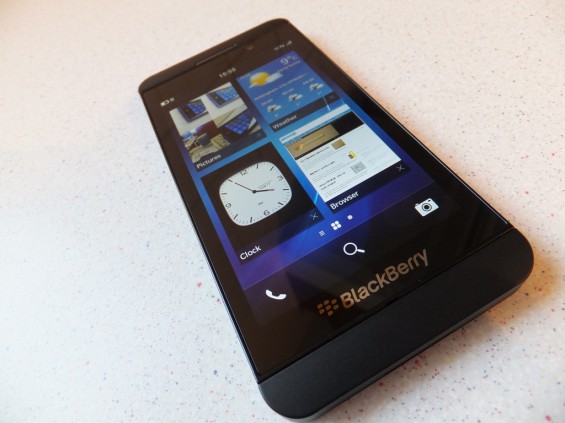 The BlackBerry Z10 is something quite different; it is something I can't quite put my finger on. Is it good? Is it bad? Am I indifferent? What it definitely is; is part of a last attempt (along with the Q10) by BlackBerry to regain their place in the top three smartphone manufacturers.
That top three topic is not really for discussion here though, I'll save that rant for the podcast.
I have been using the Z10 for a few weeks now and my learning curve has been pretty steep, as I have never used a BlackBerry device before. Upon turning it on I was asked to set up BlackBerry World accounts and set up my email accounts, at this point I was pretty happy with my experience. To really get a feel for it I ditched my Windows Phone and Android devices and used the Z10 for as long as humanly possible.
So to start the review off here are my amended good and bad points
Good Points
The size is the ideal size for usability and portability
Removable battery
MicroSD card
Solid construction and great build quality
The native UI is really fast and fluid
BlackBerry Hub once adjusted provides a great notification centre
Bad Points
BlackBerry World store has a lot of Android ports, some not so legit
Android ported apps are quite often sub par and feel disconnected from the OS
BlackBerry World store doesn't really differentiate between Native and ported apps
The Camera struggles in certain situations
Design
The BlackBerry Z10 is a great looking phone and in the hand it feels great, the rubbery mottled backplate really adds something special to it. I do find myself picking it up from time to time just to have a stroke.
The left hand side of the Z10 features the Micro USB port and the Micro HDMI port, which being on the side may annoy some didn't really annoy me that much.
The right hand side of the Z10 has the volume buttons and the mute button; the mute button took me a while to work out what it did. I thought it would work like the iPhone mute switch, it isn't, it's for media playback.
The bottom edge of the device has a nice big slot for you to wedge your thumb nail in to get the backplate off. It's nice to see as some Samsung devices have a tiny slot which is hard to get your nail in. This slot also houses the speaker. Which is quite decent and comfortably listening to music is possible.
The top of the phone features the power button, the headphone socket and a second microphone. Normally placing a power button at the top annoys me, being left handed I often have to adjust my grip to use the button. The size of the Z10 means I can operate all buttons with one hand and only a slight re-adjustment.
The top and bottom bezels and the edge of the Z10 look like they are made of metal, they aren't. It is a tough plastic. It should be said that these bezels at the top and bottom do add unnecessary size to the device. For a 4.2″ screen size the phone is pretty big.
Hardware
Here are the specs for the Z10:
Size – Height 130 mm / 5.11 in Width 65.6 mm / 2.58 in Depth 9 mm / 0.35 in
Weight – 137.5g / 4.85 oz
Volume Up/Down, Mute, Lock (for Power On/Off)
Display – Screen size 4.2″ diagonal 15:9 aspect ratio
Resolution 1280 x 768 resolution, at 356 PPI
Processor – Dual Core 1.5 GHz
Memory – 2GB RAM 16GB Flash
Expandable memory – Removable microSD memory card – slot under battery door (Up to 32 GB)
Micro HDMI for connection to your HDTV or projector
Battery – 1800mAH removable battery
Rear camera – 8 megapixel auto-focus camera, Back Side Illumination for better low-light performance. 5-element F2.2 lens. Dedicated ISP (image signal processor) with 64MB frame buffer. Flash, continuous and touch to focus, image stabilization. Enhanced Super Resolution Digital Zoom (5x)
1080p HD video recording, 4 DOF (Degrees of freedom) video stabilization
Time Shift mode for pinpointing and adjusting individual elements of your picture
Front camera – 2 megapixel fixed-focus camera, Image and video stabilization, 3x digital zoom. 720p HD video recording
Pre-loaded apps – BlackBerry® Hub, Contacts, BlackBerry® Browser, BlackBerry® Calendar, BBM, Text Messages, BlackBerry® World, BlackBerry® Remember, Docs To Go™, Pictures, Music, Videos, Story Maker, Facebook®1, Twitter®1, LinkedIn®1, Foursquare®, BlackBerry® Maps, Games, YouTube®, Voice Control, Weather, Clock, Calculator, Compass, File Manager, Box, BlackBerry® Connect for Dropbox, Print To Go, Smart Tags, Settings, Adobe® Reader, Phone, Camera/Video Camera/Time Shift, Setup, Help, SIM Toolkit, Search
Security – Password protection, screen lock, and sleep mode
BlackBerry® Balance™ offering dedicated profiles to keep work and personal data separate and secure
Network bands – Up to 4G LTE
Quad band LTE 3, 7, 8, 20 (1800/2600/900/800 MHz)
Tri band HSPA+ 1, 5/6, 8 (2100/850/900 MHz)
Quad band EDGE (850/900/1800/1900 MHz)
Wi-Fi® – 802.11 a/b/g/n, 2.4 GHz / 5 GHz
4G Mobile Hotspot
GPS – Assisted, Autonomous and Simultaneous GPS, Preloaded with BlackBerry Maps application. GLONASS Support
NFC – BlackBerry® Tag with NFC technology enables communication between BlackBerry smartphones and other NFC-enabled devices with a tap
Sensors – Advanced Sensors, Accelerometer, Magnetometer, Proximity sensor, Gyroscope, Ambient light sensor
Key points in the hardware are the 2GB of RAM which really helps keep the Z10 feeling fast regardless of the number of apps you have open. The MicroSD slot means that any media can be stored on the card instead of on the device. NFC makes the device a little bit future proof. Hardware wise BlackBerry have done a good job of combining components, the device feels quick through every app I tried out, including Beach Buggy Blitz, which seemed to be the most intensive game available at the time of writing.
Software
The BlackBerry Z10 runs the new BlackBerry 10 OS and the core elements are great. The messaging side of things is really handy once you set it up the way you want. By this I mean that you can choose which accounts appear in the main hub and which appear in sub-folders, by doing this my main hub wasn't quite so jammed full. When I first set the hub up I end up scrolling through hundreds of GTalk, SMS, Missed Calls, Emails, Facebook stuff and Mentions on Twitter. I was shocked by the amount of info it gathers. A quick delve into the settings allows you to pick which apps appear in the hub and which apps appear separately beneath the hub. I soon had the hub set for emails and nothing else.
Contacts
The contact management side of things is a joy to use, allowing contact joining, syncing with Facebook and Twitter profiles and also allowing you to pick and choose which accounts are displayed. Personally I found it a much nicer experience than on Android or iOS, although the Windows Phone People Hub will always be top for me.
Built in apps
BlackBerry have added a range of apps like a calculator, calendar, clock, compass, weather, browser, file manager with Dropbox integration, a word suite, an NFC tag app and a few others that are all native BB10 apps and they are all really nice.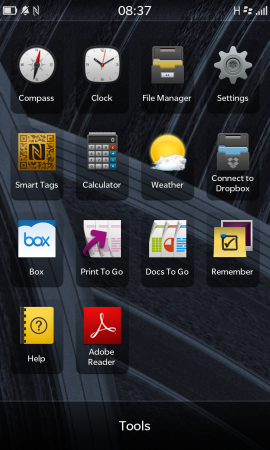 With some of them having a sort of widget status when they are minimized to the homescreen. I like to keep the clock and weather apps open to show their info at all times. You can minimize eight apps in this way. It is a really useful way of multi tasking.
Maps
The maps app is pretty basic, but offers not only mapping but a Sat Nav function as well.
The Camera
The camera is pretty handy at 8MP it is capable of taking some decent shots. Although as expected you can make take not so nice pictures. Such as in low light.
The camera uses auto focus and offers a few modes in the settings. You can switch to the front facing camera, you can choose between "Normal" "Stabilisation" and "Burst" modes and also you can choose between Auto, Action, Whiteboard, Night and Beach or Snow scenes. Lastly there are settings about the flash and aspect ratios of the camera as well. The camera time shift mode is a really nice feature to have, if you take a lot of pictures of people who are easily distracted whilst your preparing the shot, then you'll love this.
Here are some sample shots I took with the Z10.
Settings
Individual settings for apps feel a bit odd. Within an app you can swipe down from the top of the screen to access more info or settings for the app. Also some apps utilise a three dots icon somewhere within the app to access settings as well. Some apps use both methods, like the stock camera app. At times you may struggle to find how to control an app. Although this is part of the BB10 learning curve.
Multimedia
The BlackBerry Z10 has a decent speaker, so listening to music or video is perfectly do-able. The sound quality with a decent third party set of headphones is good as well, with no hiss. YouTube is browser based but has full screen options once the video starts. There is also a BBC iPlayer app that is a bit hit and miss.
The MicroSD slot lends itself to media. You can easily load up music via the BlackBerry media syncing program on your desktop.
The Lockscreen
The lockscreen is pretty useful, you swipe up from the bottom to unlock the Z10, on the left of the screen you get notification counters, showing you the totals of unread messages for each account. You can also access the camera from this screen, you press and hold on the camera icon for a few seconds and it will activate the camera. The only bad thing with the lockscreen is there is no way to quickly get to the messages from here. You have to swipe up to unlock and then swipe up again to get to the messaging hub. Just me trying prolong the life of my swiping finger.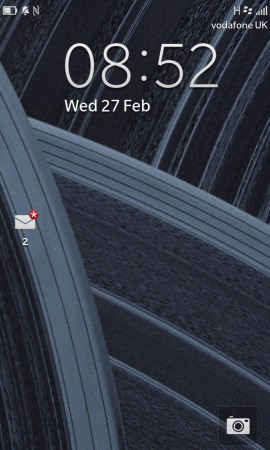 The App situation
At some point I need to mention the whole app issue. Yes BlackBerry came out with 70,000 apps on release day. But in the main it is a mix of soundboards, pirated Android apps, Android apps ported across at a higher cost or just really odd stuff. But in amongst it all are some really nice native apps, it's just finding them is a struggle.
Web Browser
The built in browser was good, offering a reader mode that strips any superfluous content from the site and just shows you the main content and images. Which in the main stopped me worrying about text wrapping. It did miss out certain elements such as tables or blockquotes.
Normal desktop mode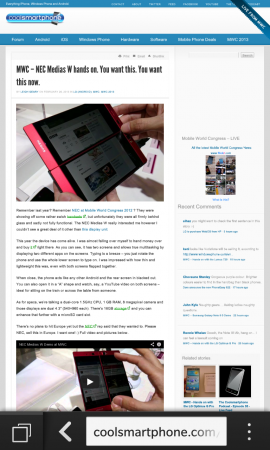 Reader mode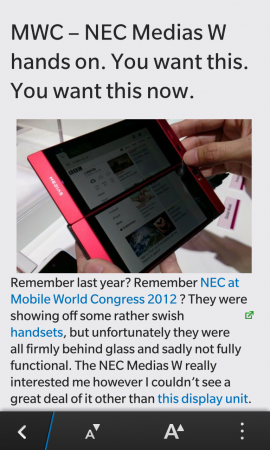 My app requirements
Once I had set up the device I set off to find some apps to test out. I wanted the following:
Facebook
Twitter
Instagram
RSS reader compatible with Google Reader
Podcast app compatible with Google Listen
Dropbox
SkyDrive
OneNote
Google Music
Instgram didn't exist, the RSS apps are atrocious Android ports, Dropbox is built into the file manager, Microsoft and Google apps are non existent. In the end I stuck with the stock Facebook app with its odd idea of what order I wanted my Timeline in and the basic official Twitter app. I found the BlackBerry Hub a decent method of handling mentions and replying to people on Twitter.
Overall BlackBerry World just wasn't doing it for me, part of me thinks I am too deeply immersed in Google and Microsofts ecosystems to be able to use another OS. Time will be a healer for the app situation though. Developers will update their ported apps to native ones and new developers will move to the platform. As a fan of Windows Phone I know this isn't going to be a quick process either.
Conclusion
Overall the BlackBerry Z10 is a pretty damn good phone…….
But, there is always a but. It is basically a first generation device and with that comes a certain inevitability to struggle. BlackBerry in my opinion need to slowly kill off the whole "Android apps" side of things, it is ruining what could be something special. Developers at the moment seem to be content to port their Android version and leave at that, that's if they can be bothered at all. Whether BlackBerry need to be bribing developers quite as badly as Microsoft and Nokia are with their fledgling OS.
Not that apps alone can make or break a device. But in this day and age, it is not just a phone, it is so much more. The Z10 is a great device that is just let down a bit by it's app store. I am quite interested in it though, I think when the second generation of BB10 devices arrive I might give it another go.
Lastly I should add, thanks to Vodafone for lending us the Z10. You can if you want head over to Vodafone here and buy one. Or not it's your choice.