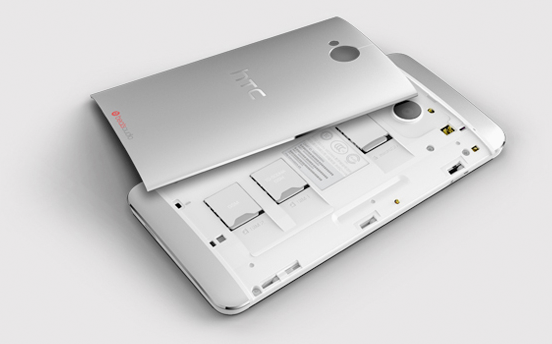 Hello you lovely lot. Back in May we mentioned the Chinese version of the HTC One which, unlike the version available everywhere else, has a microSD card slot. HTC stated at the time that there was additional space available in the Chinese version due to the radio bands used there, so they could fit a microSD card slot in
Fast-forward 6 months and yes, finally, we have an official announcement – the microSD-equipped HTC One is to be available in the UK. Not only that, but this new version has two SIM-slots too, so you can keep your work and personal SIM in the very same handset.
HTC state that they're targeting the business market, which has massive potential because BlackBerry is pretty screwed is becoming increasingly competitive.
The addition of a microSD slot has been designed to appeal to business travellers who tend to need to carry larger numbers of files for work, while they also want to carry more personal entertainment content while on the road.
If you want one, it's available for pre-order from www.officialhtcstore.com and, by the looks of it, it'll cost exactly the same amount as the normal version.
It's all the good stuff (HTC BoomSound, UltraPixel camera, IR blaster etc) plus an additional SIM and a microSD card slot to add a further 64GB of storage. If you bought one recently and are now screaming at the screen, I feel for you.
What? You've not seen much about the HTC One? Watch our full HTC One overview for details, and check out the press release below. Note, there's NO 4G in this version.