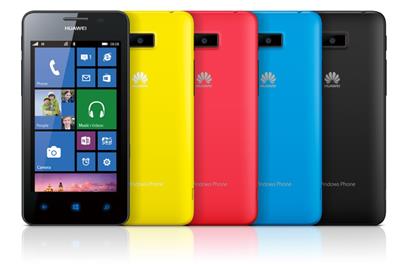 There are two things that really get the blood flowing here at Coolsmartphone Towers. One of them is new toys, and the other is bargains. Now, combine the two and the extra large bottle of smelling salts gets put on standby!
This time it's the new Huawei W2 that's had £80 lopped off its retail price down at ibood.co.uk.
If you're after a budget Windows phone then most people would recommend the Nokia 520 or 620, and they'd be right to do so, but Huawei have a good (if unpronounceable) name in the Windows Phone world, so if you like to stand out from the crowd this could well be the phone for you.
Here's how things stack up in the spec department:
Processor: Qualcomm MSM8230 Snapdragon dual-core 1.4 GHz Krait
GPU: Adreno 305
RAM: 512 MB
Storage Memory: 8GB
Screen Size: 4.3 inch IPS LCD
Screen resolution: 480 x 800 pixels
Data connection: EDGE, GPRS, HSDPA, HSUPA, UMTS
WiFi: 802.11A, 802.11B, 802.11G, 802.11N
5 Megapixel camera
Granted, it won't set the world on fire, but if we already know that Windows Phone 8 will run perfectly happily on a device powered by a marvelous mechanical mouse organ, so it's not going to be a slouch by any means.
If you're not tempted by the Android based Motorola Moto G, then check the W2 out at ibood for £119.99 including free delivery.
More on the Huawei Ascend W2 – Ascend W2 Gets colourful