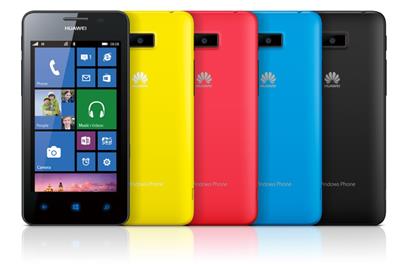 Meet the Huawei Ascend W2, a new Windows Phone 8 device available in China right now in a new UMTS version. The W2 will also be available in Russia and the Netherlands this month and in "other markets" after.
It's got a 4.3″ IPS WVGA LCD screen, 7GB of SkyDrive cloud storage and a dual-core 1.4GHz CPU. If you can get one, there's a range of colours available – red, blue, black and yellow.
Expect this to be fairly cheap when / if it does arrive in the rest of Europe or America. We'll be keeping an eye on the roll-out and will let you know if it turns up over here. Kevin Ho, President of the Handset Product Line, tells us..
Building on the popularity of our first Windows Phone 8 device, HUAWEI Ascend W1, we created HUAWEI Ascend W2 so value-savvy people don't have to compromise on great technology. HUAWEI Ascend W2 provides an enhanced visual experience and impressive stand-by time, and can be customized inside and out with splashes of colo(u)r.
Click on for the fuller press release.