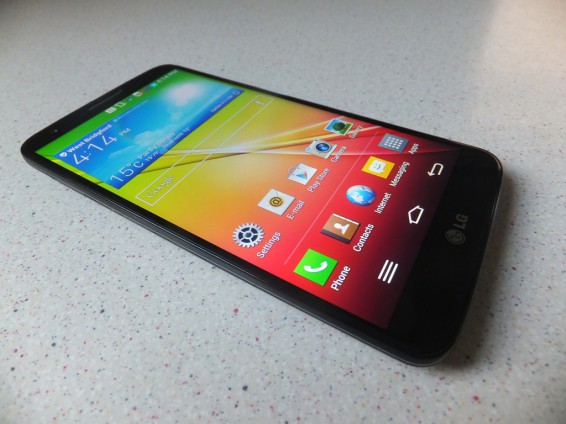 On Thursday pretty much everyone in Coolsmartphone Towers bought themselves a Nexus 5. Listeners of Podcast Episode 69 will already know that I didn't, and that's because I had bought an LG G2 that got delivered just as the Nexus 5 was launched!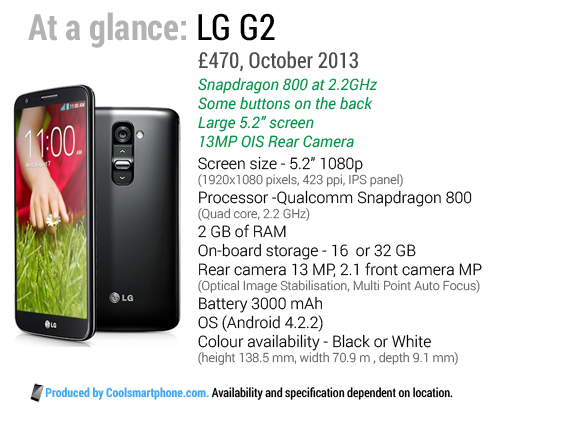 One of the reasons I bought the G2 was James' excellent initial impressions article. Something that's often levelled at sites like ours is bias, so I thought I'd independently add my thoughts to James'. As such, I'm not going to cover common ground and this article should be read after his. If you haven't already then I'll meet you back here in 5 minutes…
James' LG G2 Initial Impressions article
…good, eh? Now it's my turn.
Good Points
Amazing screen quality
Thin screen bezel
Tap to wake/sleep
Size of chassis
Battery life
Bad Points
No Micro SD slot
Overall finish and feel
Too much skinning
Earphone socket on the bottom
The Screen
I'm a pixel whore, to steal a phrase from our very own Mark Peters, and the screen is the first thing that has to impress me with a phone. My opinion was that the OPPO Find 5 had the best screen on the market. The G2 now holds that honour. Its clarity, contrast and sharpness is utterly stunning, and at 5.2-inches it's larger than the OPPO's too.
Due to the increase in screen size I was expecting to have that slightly awkward thumb stretch when pulling down the notification tray which is inherent on phablets, but there's no such trouble here. This is due to the fact that the chassis is actually very small relative to the screen size. The miniscule bezels either side make this an almost edge-to-edge display, and the top and bottom surrounds are minimal too.
Overall the face of the device is faultless.
Build Quality
This is where James and I differ in opinion. A G2 without branding could easily mistaken for a Samsung device, and not just because of the looks; its back is a shiny slab of cheap plastic that's already slipped out of my hands several times. It can be flexed around the rear buttons and doesn't fit perfectly flush with the SIM card tray. I would have thought Samsung had patented that design by now.
Don't get me wrong, the LG is a solid enough phone which sits well in the hand and really looks the business, but it's not built like an iPhone, Nexus 4 or OPPO Find 5 for that matter!
Software
It's not a Nexus, so I knew it would have some skinning, but man this skin is thicker than the top of a day old bowl of custard.
James has covered this pretty well in his article, but it's worth mentioning that there are some really nice touches amongst the bloat: the popup that displays an arriving text message in a bubble at the top of the screen no matter what app is running, the Quick Memo note taking app, and the IR blaster integration are well thought out and very useful.
Above all, however, is the fact that double tapping the screen wakes the phone, then puts it back to sleep again. Aside from the screen itself I think this is my favourite thing about the phone so far!
Battery Life
This isn't a long term test, I'll grant you, but when I turned the G2 on for the first time at about 10pm on Thursday night it had 94% charge. I am writing this with the phone next to me at 11:30pm on Friday night having set it up, made a couple of calls, installed loads of apps, streamed our podcast over 3G, chatted on What's App, and read a thousand or more tweets. I have not yet charged it and it still has 44% battery left!
That's impressive for any smartphone, but just considering the 2.2GHz processor, screen size and density, and the fact that I have three email accounts and Twitter checking for messages virtually constantly, I'd say it's outstanding.
Conclusions
I've had the G2 just over 24 hours, but I'm already impressed. It's got an epic screen, it's scorchingly fast and the battery life seems awesome. That's the tick list for my perfect phone, but then again, I'm just not feeling the love for it.
Maybe it's the horrible plastic case or the elephantine skin. Perhaps it could be the back mounted buttons that I haven't gotten used to yet.
Maybe it's the time of year, because the last time I felt apathy for a great phone was when I got my Nexus 4 almost exactly a year ago. I never grew to love that phone like I had the Galaxy Nexus, but I hope the G2 grows on me, because there's a lot more to it than just a pretty face.