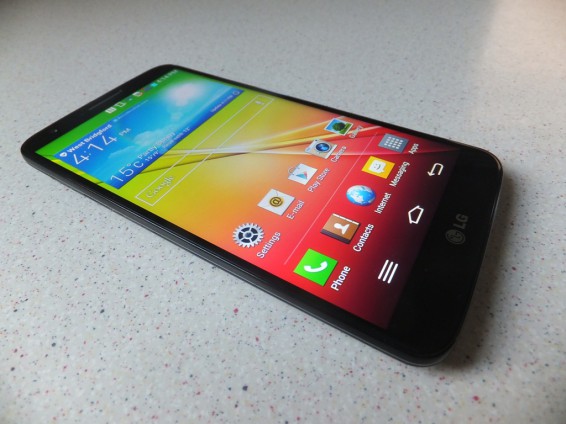 The LG G2 has a tough market to compete in, the high end Android arena has a lot of big players in it currently. We have HTC, Samsung and Google all with devices around about 5″ so the G2 will draw lots of comparisons.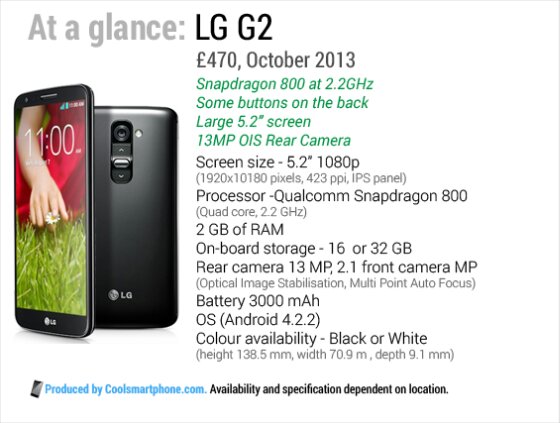 I've only had the G2 for a few hours now so this is the ideal time to bring you my initial impressions, starting as always with my good and bad points.
Good Points
Great feel in the hand

Great screen quality

Great build quality
Decent camera

Tiny bezel around screen

Sound quality is amazing with headphones on
Bad Points
No Micro SD slot

No Wireless charging

Software additions are a minefield to navigate
Only about 10 GB free out of the box on the 16 GB model
Design
The LG G2 has a great look to it, from the front that look is all about the tiny bezel at the edge of the screen, the front of the device is uncluttered thanks to the onscreen soft keys. The back of the device is where all the action is, the sides curve in towards the edges creating a nice curved device that feels great to hold. The speaker, headphone port and Micro USB port are all positioned along the bottom edge which makes the rest of the device seem tidy.
Then you get to THAT button arrangement in the middle of the backplate and yes dare I say it I like it, it looks like it is going to be a nightmare to deal with but it is really quite intuitive. When the device is off you can long press the lower button to open the camera app and long press the top button to open Quickmemo an LG supplied note taking app.
Hardware
The specs are every bit as high end as you'd expect
Chipset – QualComm Snapdragon 800 2.26 GHz Quad Core

GPU – Adreno 330

Android 4.2.2 (Jelly Bean)

Display – Full HD IPS Display, 5.2 inches, 1920 x 1080 pixels

Internal Memory – 2GB RAM/16GB or 32GB eMMC

Camera – 13 MP Rear with Optical Image Stabilisation 2.1 MP Front

Battery – 3,000mAh Li-Polymer (Embedded)

Dimension – L x W x D (mm) 138.5 x 70.9 x 9.1

Weight – 143 g

Radio – 2G (GSM/EDGE), 3G (HSPA+42Mbps/HSPA+21Mbps), LTE (SVLTE, CSFB, CA, VoLTE RCS, MIMO)

2G Network – GSM 850 / 900 / 1800 / 1900

3G Network – HSDPA 850 / 900 / 1900 / 2100

4G Network – LTE 900 / 1800 / 2100 / 2600 / 850

NFC

Infrared blaster

24bit x 192kHz Hi-Fi Sound

USB SLimport for video out and USB OTG

Miracast
I think the screen and the processor are the highlights in the spec list, they really make the device something special. Finding the IR blaster on the top was a pleasant surprise also, not finding a Micro SD Slot was disappointing though and not finding wireless charging compatibility was also a sad moment.
Software
LG have shipping their skin on their devices for a while now and the latest version of this is rather sprawling and it stretches into the furthest corners of the device. Nothing is sacred and pretty much every stock app has been skinned, which once you've got past the different layout or colours you realise that what they've added is quite useful. Like a popup messaging box, speed dials in the phone app, fancy clock widgets on the homescreen it's very reminiscent of my Galaxy Note 3 really. In fact some additions are a  bit too Samsung inspired like the LG version of Smart Stay which keeps the screen on when you look at it.
Like with my Note 3 I'm going to stick it out and keep the stock launcher on and get used to what LG have done before I go trying to turn it into a Nexus style device.
Camera
The 13 MP camera with it's Optical Image Stabilisation on paper should be one of the best Android cameras about, the Note 3 camera doesn't have OIS, the HTC One Max doesn't have OIS so it should be fun seeing what I can get it to do. Here are a few shots I managed to get before it started raining again.
Initial Conclusion
My initial conclusion is that the LG G2 is an amazing device, with quite a few quirks in the software and over the next few weeks I'll be seeing what does what, how to turn things off, how the camera performs, if the rear buttons start to annoy and whether I use it more than my Galaxy Note 3.
As this is my initial impressions this is where we hand it over to you. Do you have any questions about the G2? Do you want something testing out? A specific app testing? Then let us know in the comments below and we'll do out best to help. The full review will be in a few weeks time.