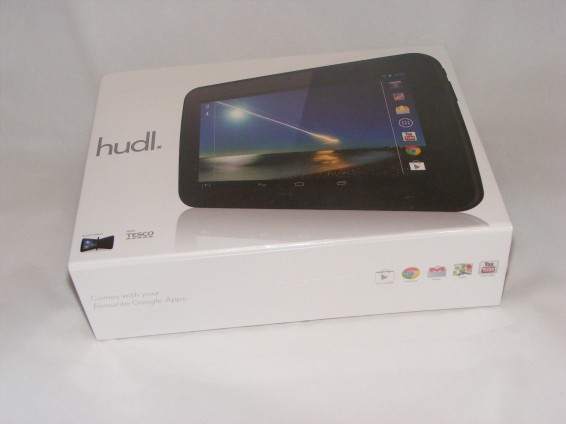 It would seem that they are all jumping on the bandwagon.  It started with Amazon and the Kindle Fire who had the place to themselves until Tesco came along with their Hudl and it was announced yesterday that Argos are to start selling their own version of an Android 7" tablet.  Retailers simply cannot help themselves and it would appear that they think a good way to promote their brand is by launching a seven inch slab of Android inspired hardware to the world complete with their own apps.
The retailer branded tablets are usually cheap (£99 from Argos apparently) and sometimes cheerful so where does the Hudl fit in?
Recently I wrote a first impressions of the newly released Tesco Hudl 7" tablet and so, having had a while to use it  here is my full review.
Hardware
£119.  Think about that for a moment.  When digital photo frames launched with their poor displays and small internal memories they still cost in the high hundreds of pounds.  Now, here we are just a few short year later and we have a proliferation of 7" tablets to choose from some good and some bad.   As far as build quality is concerned and specs are concerned the Hudl falls firmly into the reasonable camp.
7 inch (diagonal) IPS LCD
1440 x 900 HD resolution
242ppi
Scratch resistant, anti-smudge glass
10-point multi-touch screen
16GB internal storage
2MP front facing camera
3MP rear facing camera
1.5GHz A9 Quad core processor
Micro USB (up to 48GB cards accepted)
MicroSD Card slot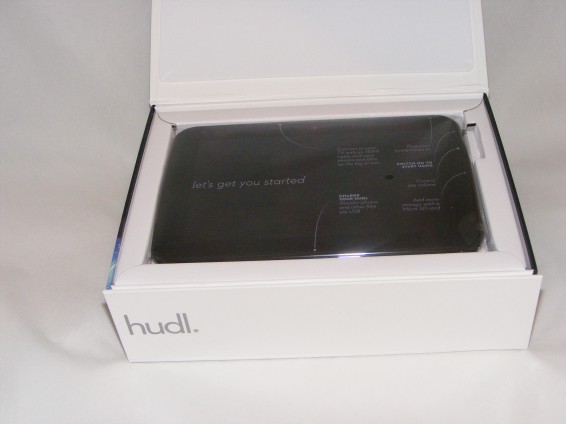 The inclusion of the MicroSD card slot and an HDMI out port are major plus points for the Hudl.  The television adverts seem to make clear that the target market is the family and the main usage is as a media device and therefore the inclusion of both was obviously a must.  The device feels fairly sturdy, well thought out and put together.  Designed to be held in landscape mode, the HDMI  and headphones ports are on the top edge, power, volume and SD card slots along the right edge and the USB port is on the bottom.  The rear sees the  speakers on either side of the device, the Hudl logo and the rear camera.
With full HD screens all the rage, the Hudl is not going to win any awards either for resolution or clarity however everything has to be balanced against the price point.  If the device were £300 then the screen would be unacceptable however at the price being charged the screen is actually ok, it is HD after all.  I personally found it a little dim and washed out however when the brightness was turned to full things became a little better.   In terms of viewing media it copes well, watching movies was handled quite easily and the viewing angles are quite respectable too.  In terms of sound the Hudl is no slouch with audio being reproduced at more than reasonable volumes without distortion.  Battery life is quoted at 9 hours and I certainly have no need or reason to query that.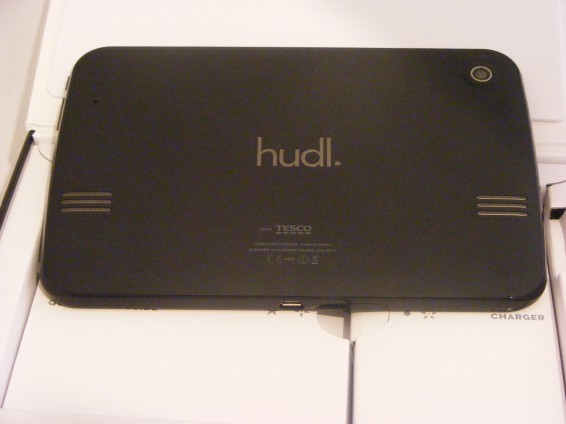 The camera is exactly what you would expect.  Low light performance with no flash will never produce great results and lets face it, apart from iPad owners at the Olympics who uses the camera on their tablet as a serious photo taking device? Outdoors or for the kids taking pictures it is acceptable however the serious user should look elsewhere.
Software
The Hudl comes preloaded with almost stock Android 4.2.2.  The only concession that Tesco have made is the inclusion of an omnipresent [T] logo in the bottom left hand corner that serves as a shortcut to the Tesco app and services.  All of the standard Google apps are present including full access to the Play store, maps, Play music, books, magazines, Chrome, Youtube and Keep.  It is a given that Tesco would include their own apps and these serve to mark out Tesco's target market.  Blinkbox, Blinkbox music, Clubcard TV and the standard Tesco shopping apps (store locator and groceries) all show that the tablet is aimed at the whole family.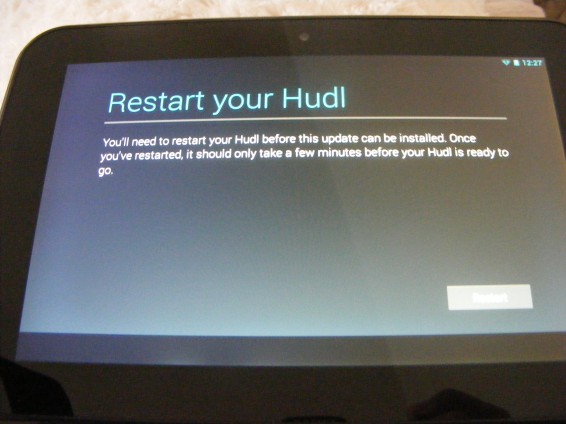 The Hudl performs well with little to no lag when opening the apps but with a quad core processor this is to be expected.  With no skin (such as HTC's sense or Samsung's Touchwiz) to worry about the device performs at a reasonable speed, streaming without delay and I have noticed no slowdown in the couple of weeks that I have had it.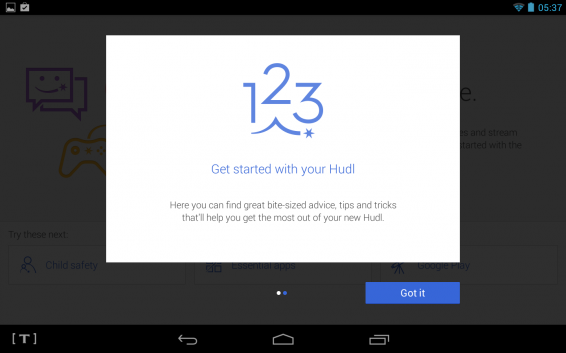 With a stock keyboard, camera and just about everything else Tesco have kept it simple.  Whilst stock Android is clean and efficient it could never be classed as the most intuitive OS and bearing in mind that the Hudl is aimed at the family, some could struggle with what precisely to do with it or how to properly use it.  To this end, Tesco have included a getting started guide which shows how to use the homescreens, add widgets and other various nuances of the Android OS.  It also has a chapter of child safety which is great as I get the feeling that a lot of children will end up using the device.
Conclusion
The key element for the Hudl is it's price point.  With good build qualities, a solid no nonsense OS and good performance the Hudl is actually comparable to the original Nexus 7 and on its own merits is a very reasonable device.   Whilst the Nexus 7 was aimed at bringing  a good quality Android 7" tablets to the masses the Hudl's mission is entirely different.   With the way it is advertised it is clearly aimed at the whole family from grandma to the little ones and at £119 Tesco will no doubt sell the Hudl by the bucketload.  The Hudl obviously isn't designed to replace your laptop or home PC or even Mum and Dad's iPad and it certainly won't achieve that.  What it will serve to do however is give a good account of itself for first time tablet buyers or for the kids wanting to watch a bit of Peppa pig or Fireman Sam.
Overall, the Hudl is a good choice for those wanting to let their kids use a tablet or for those that are first time dabblers in the tablet market. If however you want an iPad like experience or are a serious power user then you would certainly be better served spending a little more money.
Tesco Hudl 7" Tablet
Design - 6.5
Hardware - 6
Software - 8
Screen Quality - 4
Battery Life - 7
6.3
An acceptable tablet for the kids or the non serious user however the not so great screen colours let it down somewhat.