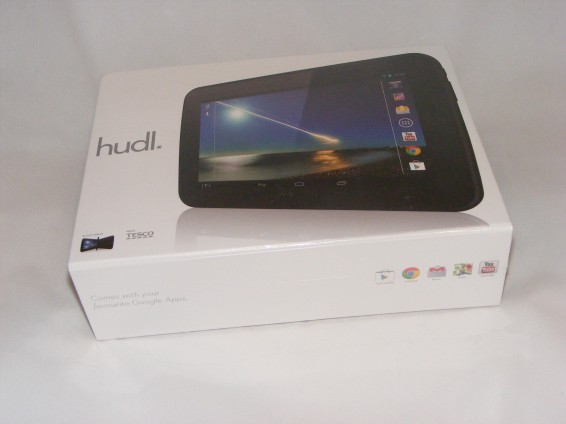 Tesco have worked quite hard in the recent past to increase their digital offering.  They have bought Blinkbox for video streaming, We7 for music streaming and Mobcast for digital books.  They have created Clubcard TV and merged their acquisitions in order to create an all in one streaming service that falls under the Blinkbox banner.
The supermarket chain have also created a suite of apps to compliment their online home shopping site and launched them across iOS and Android.
It is becoming apparent that they are viewing the digital age as a massive opportunity to increase profits and so to help to fulfil the potential they have launched their first own branded tablet with which to deliver all of this acquired content, step forward the Tesco Hudl.
The Hudl is a 7″ Android 4.2 Jellybean powered tablet which launched on Monday.  We have managed to get our hands on one and these are my initial impressions.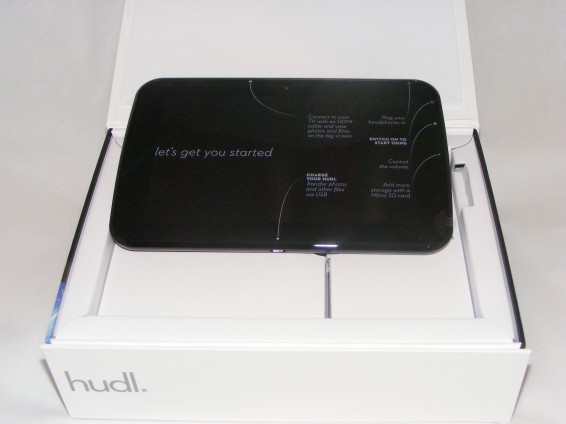 Good Points
Price (£119)
No annoying customised skin
HDMI out as standard
Build quality
Not So Good Points
Screen design
Display not as bright as it could be
Volume / Power Button placement
Design
The Tesco Hudl kind of falls between two stools as far as the design is concerned.  It feels solid, it doesn't creak under pressure and the back is a pleasant polycarbonate with well placed finger grips to stop slippage when held in landscape orientation.  From the front however it looks just like any other cheap Android tablet.  A massive bezel meets a very slightly raised edge which makes the screen feel rather small when compared with the device as a whole.
The Hudl is clearly designed to be used in a horizontal orientation, the power and volume buttons  as well as the MicroSD slot are on the right hand side when held this way and the front camera is then at the top.  The HDMI out port and the 3.5mm jack are then on the top edge.  The USB port is on the bottom.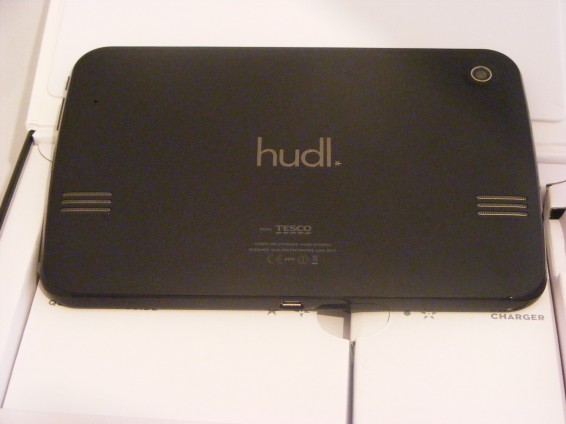 Hardware
7 inch (diagonal) IPS LCD
1440 x 900 HD resolution
242ppi
Scratch resistant, anti-smudge glass
10-point multi-touch screen
16GB internal storage
2MP front facing camera
3MP rear facing camera
1.5GHz A9 Quad core processor
Micro USB (up to 48GB cards accepted)
MicroSD Card slot
As a whole the Hudl seems to perform very well.  The few videos that I have watched have played with no issues, the unit suffers from little to no lag and for the price the screen is perfectly good.
The inclusion of a MicroSD slot is excellent particularly as the device is clearly aimed at the media playing market even though the screen is perhaps not as bright as it could be.
Software
The Hudl is as near to stock as can be without actually being stock.  There is a suite of Tesco icons pre-installed comprising of Blinkbox, Blinkbox music, Clubcard TV, Tesco Groceries and a store locator.  These are all individual apps that appear to have been designed specifically for the Hudl.  In the bottom left corner of the screen next to the back, home and recent apps icons is a [T] logo which when pressed opens an app which gives direct access to all of the available Tesco services from Tesco Wines to their own brand clothing range.  The app is even designed to fit in with the Android design scheme however the [T] cannot be removed.
This is the only variation on the stock android that has been made to the Hudl and it's probably for that reason that there is very little lag when opening apps or browsing etc.
The standard suite of Google apps are provided including full access to the Google Play store.
Initial Conclusion
The Tesco Hudl so far appears to be rather good value for money.  Despite the fact that it is not the best looking tablet available, it appears to be a good solid device that is aimed at a particular market.  Further use will ascertain how well it stands up to day to day usage and that will be detailed in my full review which will follow shortly.