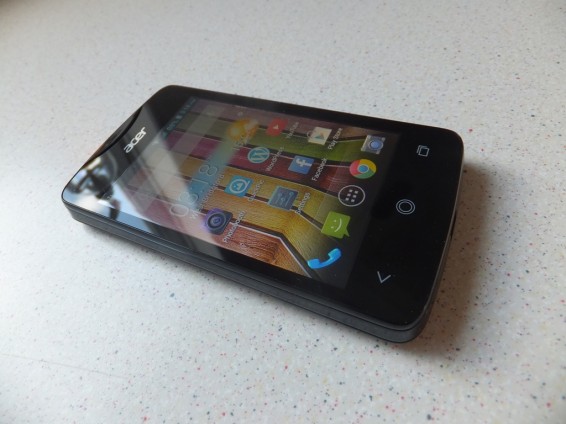 Small things have a place in life, small phones definitely do too. Not everyone wants a huge device and not everyone wants a super complicated device covered in widgets and shortcuts.
Good Points
DTS Audio
Small and compact
Several different launchers designed for kids and the elderly
Dual SIM
Micro SD slot
Removable battery
Bad Points
Two point multi touch makes using the screen a drawn out chore
Screen is usually covered in fingerprints
Camera very basic with no flash
Full size SIM cards
QVGA display
MediaTek SOC GPS issues
Fiddly top mounted power button
Design
The Acer Liquid Z3 Duo feels quite nice and quite solid too. It has one of those nice soft touch coated back plates so it sits nicely in your hand, the small size helps also. You get the usual selection of buttons and ports on the Z3, volume on the right, power on the top, headphone socket on the top, Micro USB on the bottom, DTS Audio branding on the rear along with a speaker and the 3MP camera on the back also. The Z3 does share some of the design features found on the E2 and the S1 that I've reviewed recently. Mainly with the capacitive buttons beneath the screen and the curved earpiece.
All of the current Acer Liquid devices have a nice look, feel and are all quite solidly made.
Hardware
Spec wise the Liquid Z3 is pretty basic, but for the price it is quite good offering almost everything you'd want.
Android 4.2 Jelly Bean
Dimensions – 109 x 60 x 10.4mm
Weight – 120 grams
Dual-core MediaTek A7 1 GHz processor
3.5-inch display QVGA 320×480 160 dpi
Internal Memory – 4 GB +Micro SD slot
RAM – 512 MB
3-megapixel camera
Dual SIM card slots
HSPA+ (up to 21 Mbps)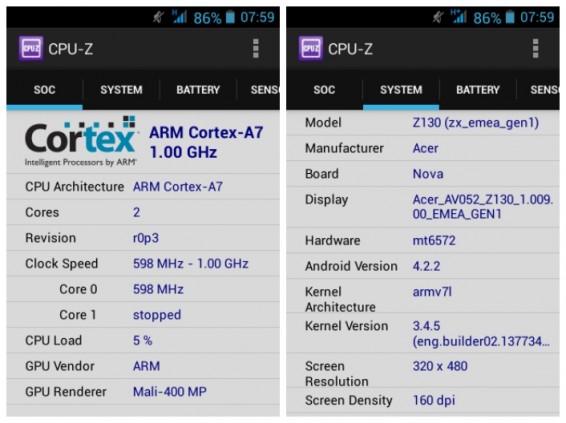 The hardware is as expected really for a sub £100 phone. MediaTek chips, 512MB RAM, low rated camera, small internal storage and a small low resolution screen. Acer are going to have to do something special to compete. Especially when this low priced market is in my eyes dominated by the Nokia Lumia 520 which offers similar specs and price.
Acer have at least left the internal memory alone. You get just under half of the internal memory to install apps.
The chips inside the device are all excusable low price components, which don't hinder the experience. In fact the Acer z3 is quite fluid. The screen however being only 2 point multitouch really does hinder the device though, it's a shame.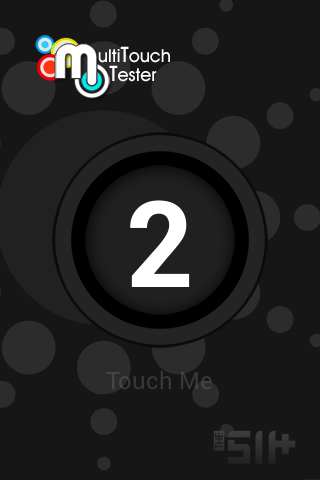 The MediaTek SOC does cause problems with GPS though, it seems as though some hardware manufacturers fail to wire up GPS properly and as such the GPS doesn't work. Which is a shame.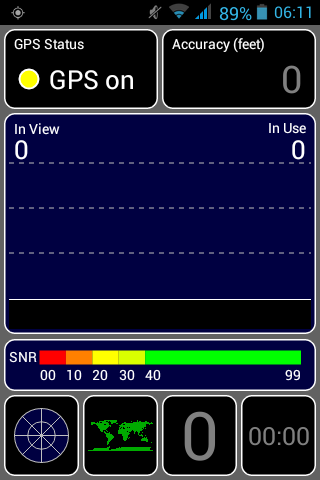 Software
Acer have a history of tinkering with the software on their Android devices. They have gone from the absurdly cluttered Acer Liquid Metal several years ago, to the glorious almost stock S500 Cloud Mobile right up to this years Liquid E2, S1 and Z3. The thing is that Acer can never decide what to install on each device, they don't really have their own thing. They don't have a "Sense" or "TouchWiz", they just add stuff to the stock launcher and hope it works. With the Liquid Z3 they actually seem to have put some thought into it.
So who buys budget phones?
They must have asked themselves at some point. I see it as the young (or their parents as a present for them), the elderly (or their young as a present for them) or people like me wanting a second phone to take on holiday. Acer have decided to target all three of those groups with this one phone.
So how would they do that?
With different launchers that's how. Acer have installed five different modes on the Z3 to cater for all users.
Basic mode
Senior mode
Keypad mode
Classic mode
Default mode (stock Android)
Basic Mode
This mode is pretty basic, allowing you six shortcuts to your favourites. The buttons at the bottom allow you to access your messaging, send a quick text home and access the settings.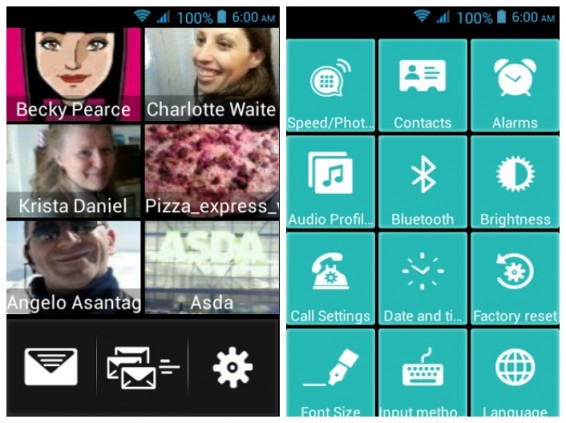 senior mode
This mode allows a few more features, with three shorcuts for favourite contacts.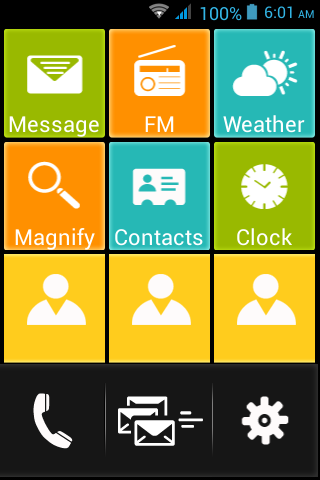 Keypad mode
This mode has a keypad onscreen at all times, to enable quick dialling of numbers.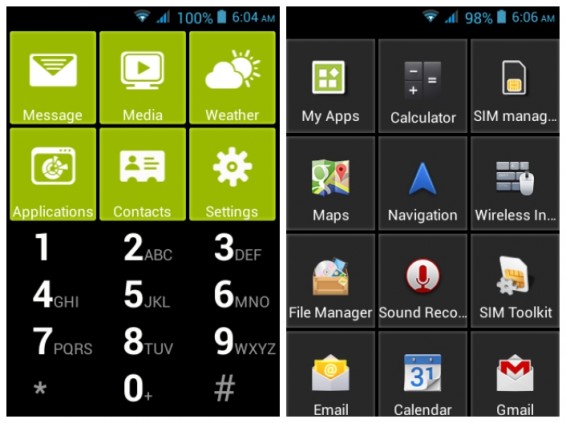 Classic mode
This mode has a few more options, with most tiles taking you into folders of apps.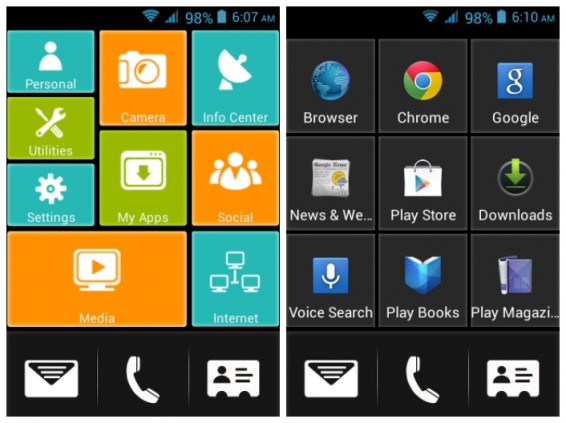 Default mode
This mode is just the standard Android launcher, where you can apps and widgets to your homescreen.
This is the normal Android mode, that is the out of the box default. Based on Android 4.2. All of the Jellybean features are present. So Google Now and Lockscreen widgets are all present. Overall the different modes are a great idea but they are a little disjointed. Take sending a SMS as an example, your gran unlocks the device, hits the nice large SMS icon and then is moved into the normal Android messaging app with the normal Android keyboard which on a 3.5-inch 2 point multi touch display is basically unusable. How quickly before she hands you the phone back and asks for her old Nokia back?
Other notable stuff
Benchmarking
The Liquid Z3 benchmarks similar to the Samsung Galaxy S2.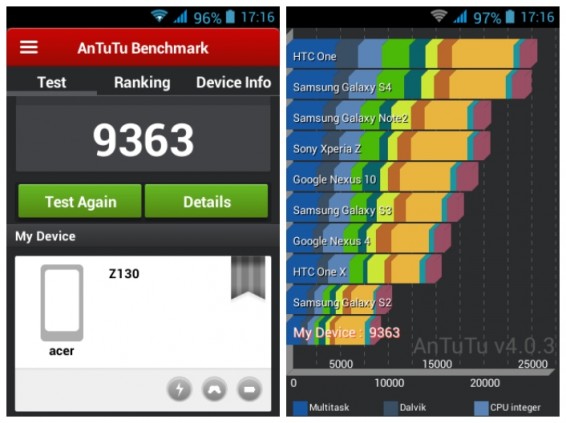 Camera
You an basically only use the camera when there is sufficient light. Low light is unusable as there isn't a flash. Even in normal light you often get slightly out of focus shots. For me it was just pointless including it. For kids or the elderly they might not mind the quality though.
Conclusion
Overall the phone has a purpose, in fact it has two purposes. Scratch that it has three. Those three things are for kids, for the elderly or for budget travellers. But even for those three types of user there will be compromises. Once the user has moved past the launcher they are back into the normal Android environment with all of its different control methods.
The person I can see getting on with the Liquid Z3 is someone like me who wants a second or third device to take on holiday or hiking or mountain biking. Shove it in a pouch and then shove it in your luggage and then get a local SIM card when you arrive in another country and you're sorted. As long as you've installed SwiftKey or something similar beforehand to make typing slightly easier.
You can get the Acer Liquid Z3 Duo from a few different retailers, it currently costs about £79. If you don't need a Dual SIM device then I'd suggest you check out a Nokia Lumia 520.
Acer Liquid Z3 Duo - Review
Design - 6.5
Hardware - 4.8
Software - 6.5
Camera - 3
Screen Quality - 4
Battery Life - 5
5
A useful little Dual SIM phone at great price. But the hardware is compromised just a little bit too much.