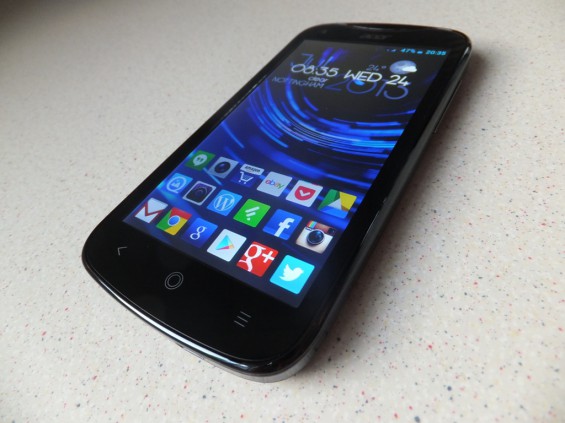 Now and again a phone comes along that impresses me. It's normally when the price, design, specifications, software and something special all combine to make something great. I've been using the Acer Liquid E2 for a few weeks now and am I impressed?
Yes, but there are a few buts
After having the Liquid E2 for a few weeks now I've found a few great things and I've also found a few things have really started to bug me. So here are my amended good and bad points.
Good Points
Decent price
Dual SIM variant available
Decent sound quality
Micro SD slot
Removable battery
Solid build quality
Quad core CPU
Decent zero lag camera
Volume button works as camera shutter button
Software tweaks to stock Android
Bad Points
5 point multi touch screen
Screen a bit dull
Average Battery life
Fingerprints on screen
Full size SIM card
Awful split partition internal memory
Slight focusing problem with the camera in certain conditions
Design
The Acer Liquid E2 has quite an understated design, available in either black or white. I got the black version and it looks quite nice.
The front of the device has a few features. Under the screen the soft keys for home, back and menu, also there is the microphone hole.
At the top of the screen there isn't much, with just the front facing camera, a sensor of some sort, a fancy red grill ear piece and a small notification light.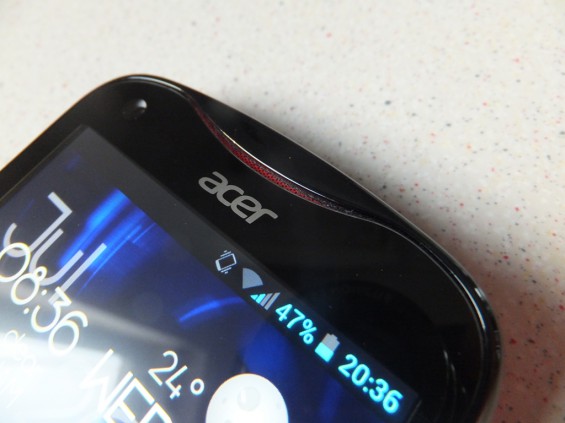 The edges of the device have a variety of buttons and ports, volume on the right, power on the top, headphones on the top and then the USB charging port on the bottom. The edges also have a nice curve to them, a but like the Galaxy S3.
The backplate is a little bit different, the closest I've seen is the Acer S500 Cloud Mobile which has a similar rear metal speaker grille. You also get the zero lag camera, the flash and a secondary noise cancelling microphone on the back as well. The backplate is made of plastic covered in that soft touch stuff that is popular these days.
Hardware
System: Android 4.2 Jelly Bean

Processor: 1.2 GHz / Quad Core

Memory: Internal: 4 GB / RAM: 1 GB / Slot type: microSD / Max. slot capacity: 32 GB

Display: 4.5″ / IPS / Resolution: 960 x 540 pixels / 245 ppi

Camera: 8 Mpixels with Autofocus and zero shutter delay

Flash: LED

Video: 1080p full HD

Front camera: 2 Mpixels

Network: 3G: 900/2100 MHz / GSM: 850/900/1800/1900 MHz

Wireless: Bluetooth: 3.0 / Wifi: IEEE 802.11 b/g/n

Connection: Jack 3.5 mm / micro USB

GPS: aGPS

Sensors: Accelerometer, Ambient Light Sensor, Digital Compass, Proximity sensor

Battery: 2000 mAh

Battery life: Standby time: > 450 h / Talk time: > 9 h

Weight: 140 g

Dimensions: 131 x 68 x 9.9 mm
The Acer Liquid E2 has a decent spec for the price, a dual core CPU and 1GB of RAM really mean that the Liquid E2 doesn't lag at all. There are a few hardware choices that do let the Liquid E2 down though.
The worst of which is the internal memory. It comes with a 4GB memory chip, it is partitioned into two smaller partitions. A 2.35GB partition and a 1.65GB partition. It uses one for apps and stuff and the other for media etc and some apps if it feels like it. When you have a memory card installed as well you have three storage areas for the device to think about when installing apps. Some developers code for internal memory, some code for SD Card if available (the pretend SD Card internal partition sort) and some developers code for actual SD Cards if present (such as games developers). On the Liquid E2 you get less than 1GB usable for apps out of the box which I soon used up. After two weeks of use and installing apps I was getting the storage warning notification regularly. At one point it refused to sync anymore until I deleted some apps.
Out of the box

After a few days of usage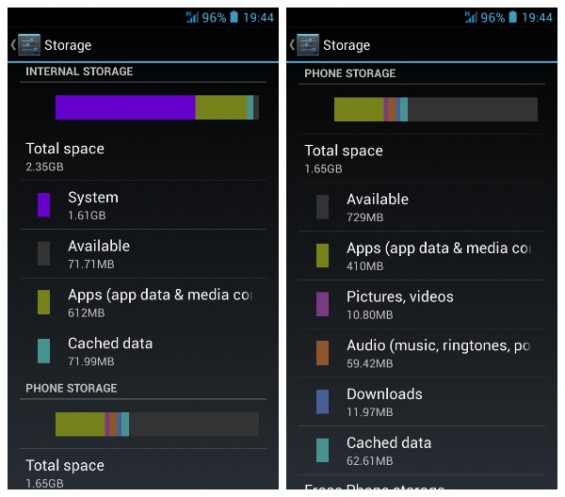 The other problem is with the screen. Just for once it isn't to do with viewing angles either (they are quite good actually). The problem is that it is a five point multi touch screen, which sounds ok but when you start typing at any speed characters start to get missed and in some games it misses touches. The screen also is a bit dull, with it needing to be on full brightness for normal day to day stuff.
Benchmark wise the Liquid E2 comes out slightly lower than the Galaxy S3. Which for a budget quad core device is quite impressive.
Battery wise the Liquid E2 last me from about 5am until about 2pm on average, that is with about five email addresses going, RSS constantly, Music, Web browsing, A LOT of Twitter action and some "shut in the gents toilet gaming action". It was about average for modern day phones, it is a removable 2000 mAh battery so you should eventually be able to buy a spare.
Software
The Liquid E2 runs Android 4.2.1 which means a lot of the latest features such as Google Now and lock screen widgets work without a hitch. Acer have chosen to use what looks like a stock Android build on the Liquid E2, which they have done, it's just they've tweaked most of the core apps. Such as the launcher widgets, the phone app, the messaging app, the lockscreen, a nice standby screen and the camera app and then they've bundled a few other apps as well.
The messaging app has added smileys, a nice threaded view, shortcuts to the contact or to ring the person, plus there is also a popup message window as well.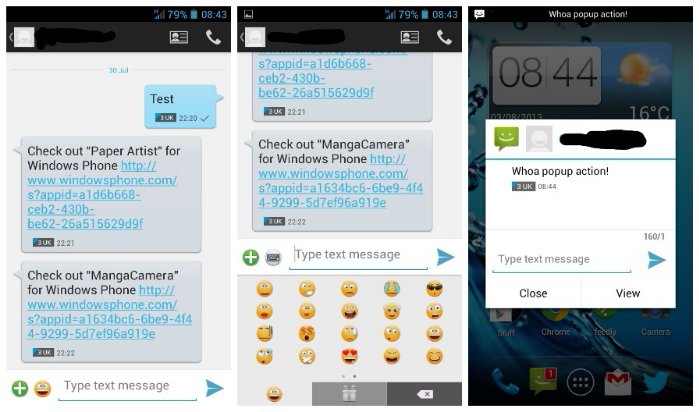 The phone app is pretty much stock Android, apart from the fact it has smart dialling built in.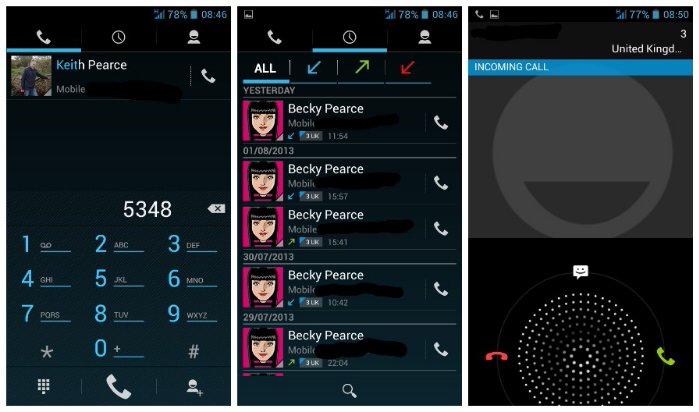 The launcher has a range of clocks and weather widgets, plus all of the normal ones.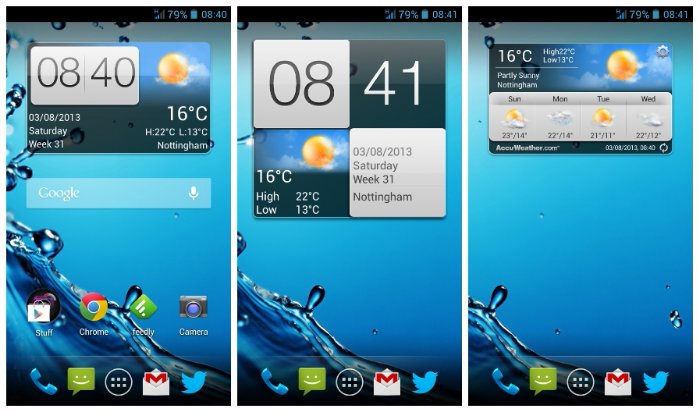 The notification drop down is pretty much stock with a few extras like Audio Profiles added.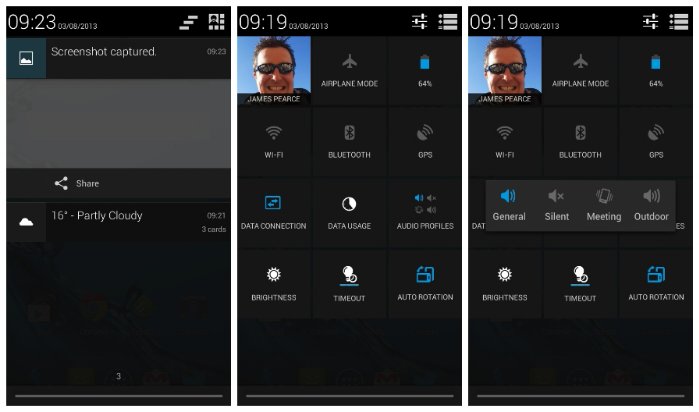 Camera
The camera has an 8 MP sensor with a zero lag shutter. To take a photo you can use the onscreen shutter button, the volume keys or press and hold the screen to focus and then to capture. The great thing though is that burst mode is turn on in the normal mode so you can easily snap 10 shots of the scene to make sure you get the right shot. In normal lighting conditions the Liquid E2 takes some pretty decent pictures. In low light it struggles without a flash, mainly down to focusing issues.
The zero lag shutter is useful and also it is the cameras Achilles. Let me explain, imagine the scene, you and your Liquid E2 are sharing a moment on top of a mountain, you want to take a picture to savour the memory, you hold the camera up, decide not to wait for the camera to focus and press the shutter button, done, you have your photo. Repeat that scenario if it was too bright, a bit dull or a bit dark and the photo probably wouldn't be focused. Sometimes the camera wouldn't have focused in time before the shutter button was pressed leaving you a slightly out of focus shot, this is especially a problem in low light.
The camera app has a huge number of settings, modes and scenes. The modes offer a range of extra functionality such as HDR orAuto Scene Detection. The other modes are:
Modes
Normal
HDR
Face Beauty Mode
Panorama Mode
Multi Angle View Mode
Auto Scene Detection Mode
Smile Shot Mode
Best Shot Mode
EV Bracket Shot Mode
Here are some sample shots from the camera
The Speakers
You can't really miss the dual stereo speakers on the back of the phone. They add to the design of the phone, but quality wise they aren't astounding. Yes they're better than normal phone speakers but no where near as good as the HTC One Boomsound speakers. The DTS branding on the back refers to the DTS Audio Codec, which is a software equalizer function much the same as devices with Dolby or Beats audio. When it is turned on audio sounds fuller, it is a nice addition, you can of course use the graphic equalizer on top as well to truly adjust the sound to your needs.
Conclusion
In conclusion I really liked the Acer Liquid E2, it felt like a tweaked budget Nexus device. The elements Acer have added to Android are really quite useful.
Acer could fix the biggest problem of storage space by sending out a firmware update to combine the two partitions, it would wipe the users data but it would benefit them in the long run.
The other problem with the screen quality won't really get spotted by most people,  unless they plan on using the Liquid E2 as a huge gaming device, then this isn't really the phone for them. The dual SIM variant will be incredibly useful as a holiday phone, with your normal SIM and a foreign SIM for data.
The Acer Liquid E2 is currently available for about £182 including VAT. Three are meant to be stocking the Liquid E2 soon, in the meantime you can get it from Expansys who have the dual SIM variant here for £181.99.
Acer Liquid E2 - Review
Design - 7.5
Hardware - 6.5
Software - 7.5
Camera - 7
Screen quality - 5.5
Battery life - 6.5
6.8
Well built, solid feel, stock ish Android 4.2.1, budget pricing, decent performance, dual SIM version available. Device let down slightly by average battery life, dull screen and split internal memory that hampers app installation.