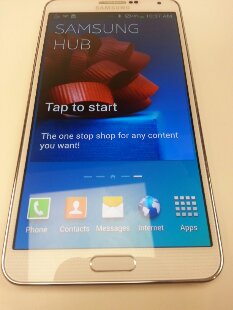 So we have a couple of bits of news following the revelation that the Samsung Galaxy Note 3 will be locked down to the region it's sold in. Firstly, it seems that there is a way around this, and that's to..
a) Put a local SIM into the handset first.
b) Then swap it to a foreign SIM if you intend on going overseas
Samsung have now furnished us with an official statement on all this, and it confirms this is the intended behaviour. Basically they're ensuring that phones aren't bought and then shipped overseas for a profit (y'know, like many eBay listings). So, if you do want to use your handset abroad you can, but you need to put a local SIM in first.
In order to provide customers with the optimal mobile experience in each region including customer care services, Samsung has incorporated the 'regional SIM lock' feature into Galaxy Note 3 devices.

The product is only compatible with a SIM-card issued from a mobile operator within the region identified on the sticker of the product package. When the device is activated with a SIM card issued from the other region, the device may be automatically locked until it is released at the dedicated service center.

Once a device is activated normally, the regional SIM lock is automatically released. Users can enjoy the roaming service as usual and can use other region's SIM card when travelling.

The regional SIM lock has been applied to the Galaxy Note II and Galaxy S4 devices through a software update in selective markets.

The regional SIM lock does NOT affect the device's features and performance. Users can continue to enjoy all the advanced features of our products.