In a somewhat interesting turn-up for the books, it appears that the European version of the new Samsung Galaxy Note 3 will only work with European SIM cards.
Clove have posted a picture of the sticker that appears on the box of the phones that they have in stock. It advises users that the phone will only work with SIM cards from a selected group of countries.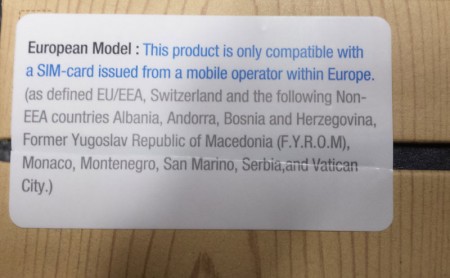 So if you are planning on doing some travelling to America, Africa, Asia or anywhere else and usually use a local SIM to avoid roaming charges, be aware that whilst the phone will work with WiFi and for emergency calls you will not be able to make normal calls whilst overseas. Clove are currently only selling the Note 3 to European customers to avoid disappointment.
Ian was impressed with the phone after his brief hands-on todayearlier and several other members of staff at Coolsmartphone towers have their eyes on one as well. We will let you know if this applies to all suppliers as soon as we find out.
Update:
Samsung Germany have put out a release advising that all devices manufactured after end of July 2013 in the following models S2, S3, S4, Note, Note 3 and S4 mini will be locked to a region of countries. If the phone is not activated before shipping abroad then it will work fine but if use a local SIM will need to get it unlocked first but this will unlock it permanently. The locking is being done an MCC (mobile country code) system through a Customer Software Customisation (CSC) whitelist of countries.
I find it a bit bizarre that the Note 2 isn't included, or doesn't seem to be, but that's what Google Translate tells me.
Source: Clove
Update source: All about Samsung (in German)