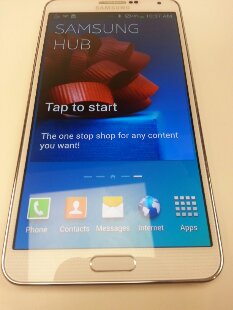 Today I nipped to the local Three store to obtain a SIM card,. While there I was just making general enquiries about the Galaxy Note 3, the guy serving me said that the Samsung retail rep was in the store and they should be told release dates today.
At this I mobbed introduced myself to the rep and managed to prize the Note 3 from him.
Here's my thoughts. .
Firstly let me apologise for the photo quality. I was trying to do it all "sneaky like", but with the Note 2 is not that easy. I don't know if the Three staff were happy but Nathan (the Samsung rep) was more than happy. In fact he was taking pictures of me taking pictures.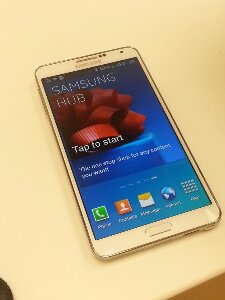 The actual device size? It's more or less the same size as my Note 2, but with a smaller bezel and therefore a larger screen. Oh that screen! It's awesome. The pictures do not do it justice. It's crystal clear, pin sharp and nice and bright with really deep colours. The device is more Note 1 or Galaxy S2 shaped, and the "fake leather" does feel like leather (although the rep said this was not the finished version, which feels even better), so that's me fooled.
The S-Pen can be inserted into the device anyway round (no more jammed pens if little ones get hold of it), and has clever features, like the ability to hand-write a phone number in a note, but call it straight from there.
I also drew a circle around the Flipboard widget and the whole article was then posted into a note.
The rep did say that devices were arriving in the UK as we speak, so hopefully not long till they are available …
Do I want one. ? …. I do now ….