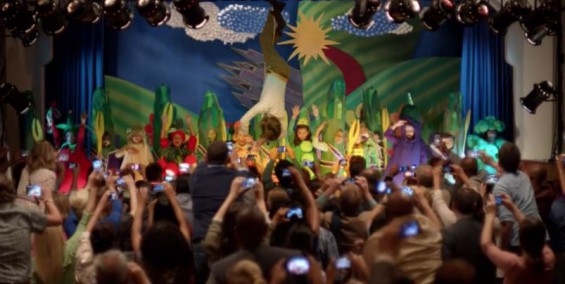 So, as we mentioned yesterday, the Nokia Lumia 1020 is being offered by various companies and they're falling over themselves to tell us about their particular deal. Clove are selling it for £588 SIM-free and you'll get a free wireless charging pad, wireless charging cover, camera grip and tripod. Next, Phones 4u want you to know about their pre-order deal, which includes a free camera accessory pack and 6 months Netflix subscription worth up to £175. There's a free wireless speaker worth £120 if you go for a 4G plan. They have various deals, including a £37 per month plan which needs a £29 up-front payment. Three are also selling the device for £549.99 on Pay As You Go.
Now, if you're interested in this phone you can have a look at our full hands-on, but we spotted a rather interesting Microsoft advertising campaign which pitches the handset directly against the iPhone 5s.
As we've seen, the Lumia 1020 is priced at £549.99 on Three PAYG and the iPhone 5s, albeit the 16GB version (the 1020 has 32GB), will be £549. It's a tough pitch, but Microsoft / Nokia don't appear to be afraid of offering the Lumia at the same price-point. Their advertising campaign shows the one major advantage that the Lumia has over the iPhone – that camera.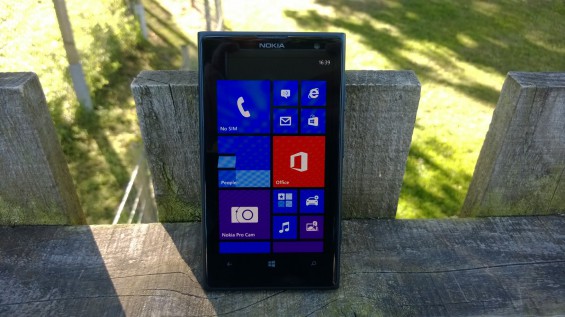 The advertisements show how the Lumia 1020 performs better at a childs play. Parents are shown stepping over each other to get a decent shot on their iPhones and other devices. Then, at the back, there's a couple with a bright yellow Nokia Lumia 1020. They simply take one shot and zoom in without losing any quality. Basically, Microsoft want you to choose the Lumia 1020 over the iPhone 5s because it has a better camera, it has a better camera and it has a better camera.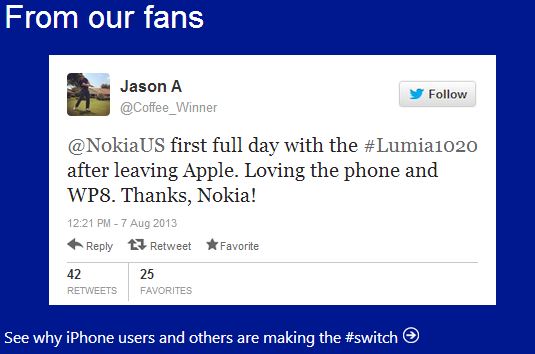 The mail we received last night also shows what the Lumia 1020 fans are saying, and they feature Coffee_Winner (Jason Allison), who loves taking photos. Until recently he posted photos from a Nikon D3100 but has now switched to a Lumia 1020. More of his photos appear here and the more recent ones have been snapped from the Lumia 1020. We've pinched a couple of his shots below.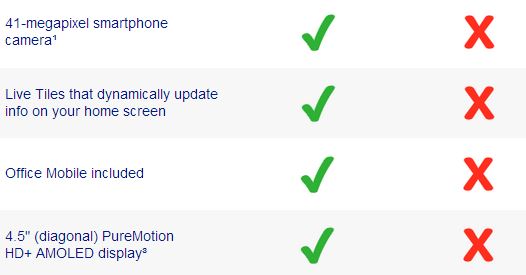 They do also point out a few other plus points including that it has… eeerrrr.. a 41 megapixel camera, Live Tiles that update and a 4.5″ PureMotion HD screen. Ahh now, let's just pick up on that point shall we? Yes, the Lumia 1020 has a 4.5″ PureMotion HD+ AMOLED display compared to the 4″ Retina screen on the iPhone 5s, but that Lumia screen is 768×1280 pixels (332 ppi) compared to the 640×1136 pixel (326ppi) iPhone 5s resolution. It's kinda picking at flies a little.
Oh, and the Lumia 1020 has Office Mobile.