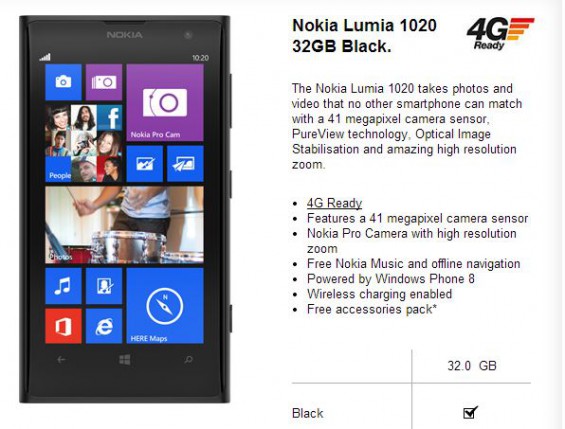 Pricing for the new Nokia Lumia 1020 has been revealed on Three and, if you're thinking of buying it on Pay As You Go, it'll be a rather large chunk of money up front. The handset is priced at £549.99, and we assume that it'll still be locked to Three for that price too. Now, consider for a moment the 16GB iPhone 5s. It's arriving on September 20th and, according to the Apple UK website, it's £549, oh and for an extra £15 you can get 300 minutes, 3000 texts and unlimited data on Three for 30 days… and it's unlocked.
Now, I know I'm going to start an OS war here, but seriously, who's going to withdraw £549 and buy the Nokia Lumia 1020 over the iPhone 5s? I'm guessing that the numbers are going to be pretty small. Still, if you're in the minority then the Lumia 1020 has a 4.5" AMOLED WXGA (1280×768) screen, 1.5GHz dual-core CPU, 2000mAh battery and that 41 megapixel PureView camera. You can also get it on contract with prices starting from £34 per month and a £69 up-front cost. For that you'll get all-you-can-eat data, 500 minutes and 5000 texts.
Yes, the Lumia wins on camera quality, but I doubt that'll be enough to persuade punters to buy it instead of the iPhone 5s.