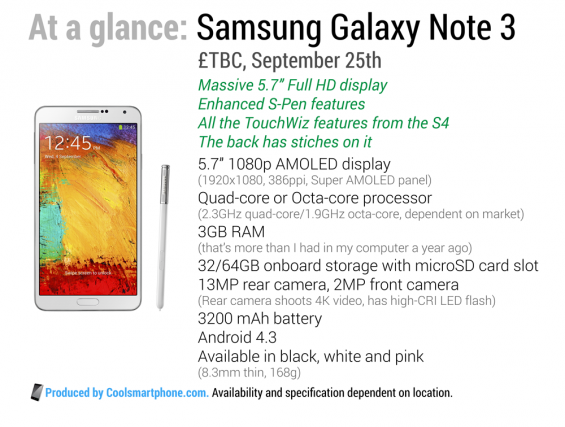 So, you know all about the Samsung Galaxy Note 3, you know that it's good. Phablet? Yes, of course. A 5.7″ Full HD Super AMOLED (1920×1080) screen, 13 megapixel rear camera, 2 megapixel front, 3GB of RAM and Android 4.3 Jelly Bean.
Powered by a 2.3GHz quad-core CPU it also has WiFi, NFC, GPS and Bluetooth 4.0 along with that S-Pen of course.
Now, the people at Phones 4U have chipped in to tell us that you can order the Note 3 with them and receive a free wireless speaker. Not only that, but you'll also get a flip case worth £39.99 AND £100 off the new Samsung Galaxy Gear smartwatch.
Seems a bit of a deal doesn't it? Now, we should note that in order to get that £120 wireless speaker you'll need to plumb for a 4G plan, but it's still a bit of alright.
The new Samsung Galaxy Note 3 will be available for upgrades and new contracts from free on £47 a month on contract, and will be available from Wednesday 25th September 2013.