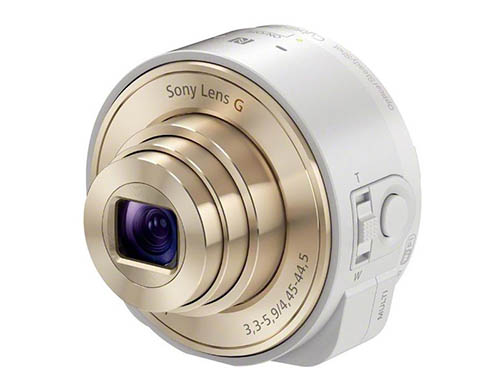 Several weeks ago we reported that Sony were to release some camera attachments for smartphones that would couple high end optical technology with any Android or iOS device, making the need for a phone such as a Samsung Galaxy S4 Zoom a thing of the past.
These add-ons now have a name: The Smart Shot. Not only that, but they'll come in black and a white and 'champagne' combo (guess they're aiming at the iPhone with that one then!).
Other points of interest are that they will have their own independant image stabilisation, they will connect using either wi-fi or NFC, the image/video will be stored on the Smart Shot as well as the phone, zoom can be controlled by either device, and it'll all be controlled via its own app (rather than the phone's camera software).
The small DSC-QX10 will have a 1/2,3 inch 18 megapixel CMOS sensor and f/3,3-5.9 lens (similar to a decent compact camera), whilst the larger DSC-QX100 will have a 1-Inch 20.2 MP Exmor R sensorwith a F1.8 Carl Zeiss Vario-Sonnar T lens with 3.6x zoom, which is the same as used in the Sony RX100MII (a serious bit of point-and-shoot tech that retails for about £700).
US pricing is said to be $250 for the DSC-QX10 and $450 for the DSC-QX100. If that converts 1:1 across the pond – as it normally does – then they're going to be an extremely hard sell. If I had a £550 smartphone (such as the iPhone) and add a £450 lens then I'd expect to get picture quality of a professional standard. I maybe a cynic, but I can't see that being the case.
The Smart Shots will be officially revealed along side the Sony Xperia Z1 at IFA in Berlin on 4th September.
Sources – Sony Alpha Rumours and Digicame-info (Japanese)