Sony make a lot of the cameras on their phones, but now they have gone a step further with lenses that clip onto various phones.

There are two lenses rumoured which are both G lens branded; this has become synonymous with quality in the digital camera world. The first has an RX100M II sensor with Zeiss optics, this has a 1″ sensor size and is the same lens used in the Nikon 1 camera system, this is the longer of the two lenses in the picture below.

The other lens (the one in the first picture) will feature an 1/2.3″ 18 megapixel CMOS sensor with a 10x optical zoom.
The lens is magnetically attached to your phone and then communicates via a WiFi connection with initial pairing carried out by NFC. This then allows you to use your phone as the viewfinder for the camera module which has its own lens system and memory card slot so you don't need to worry about running out of phone memory. The lenses are said to be compatible with Android and iOS.
The last image is quite interesting as it not only shows the new lens but also the Honami phone.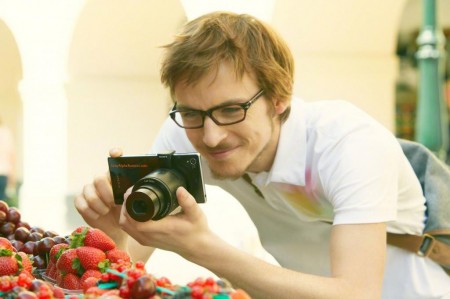 Xperiablog spotted this and asked for a higher resolution image, this shows the camera in the top left with the G lens branding, silver edges and the same glass back as found on the Z and Z ultra. The headphone socket is open but as the phone is still IP57 rated, this should be using the same technology as on the Z ultra.

We should hopefully find out more information about the lenses at the IFA conference on the 4th September along with full details about the Honami.
Source: Sonyalpharumours
Last picture: XperiaBlog