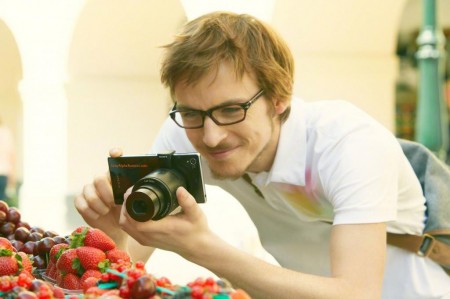 Earlier in the week we posted an intriguing article about a pair of clip-on 18MP optical zoom Sony camera attachments for mobile phones. We spoke about them at length on the podcast and couldn't decide whether they were practical, silly, a hoax, or all three! Today we've got more details, and it looks like they're real. The jury's still out on the rest of it though.
The leak is basically the schematic breakdown page of the instruction manual, but it does answer quite a lot of questions. Take a look: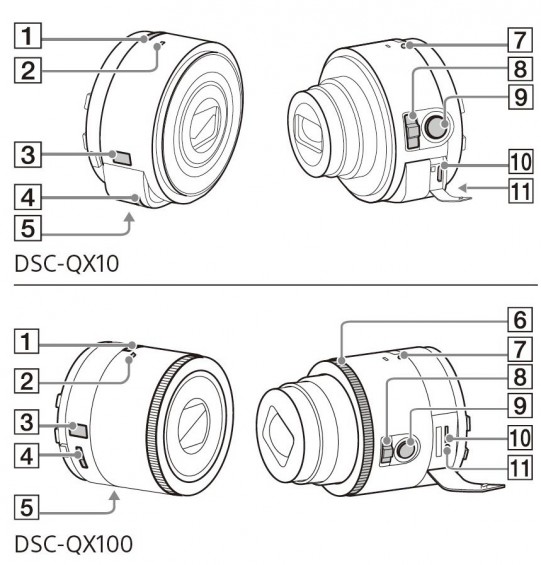 1) Power Button
2) Microphone
3) Display Panel
: Indicates that the card is not inserted
: Indicates the remaining battery charge
4) Hook for belt
5) Tripod
6) Ring Control (DSC-QX100)
7) The power / charge / movie
Green: Power on
Orange: running charging
Red: running video
8) Zoom lever
9) shutter button
10) Multifunctional jack
11) RESET button
Dimensions (standard CIPA)
DSC-QX100: 62.5 mm × 62.5 mm × 55.5 mm (W / H / D)
DSC-QX10: 62.4 mm × 61.8 mm × 33.3 mm (W / H / D)
Weight (standard CIPA) (including battery pack NP-BN, "Memory Stick Micro")
DSC-QX100: approx. 179 g
DSC-QX10: approx. 105 g
Power Supply: Rechargeable Battery Pack NP-BN
Power consumption (during shooting): 1.1 W
There are a few things worth highlighting, some bad, some good:
Firstly, James mentioned on the podcast that one thing that could cause issues is if they mess up the memory card compatibility. Guess what? They're only compatible with Sony's own Memory Stick Micro. Oh dear.
Next up is that they seem to be pretty much self contained, with power, memory, microphone, shutter button, zoom control, and even their own status display. It looks like the only thing the phone will be doing is acting as a viewfinder and maybe doing some editing and cloud syncing.
Something that really grabbed my attention is the tripod attachment; so useful, yet pretty much absent from all mobile phones. Also, the "multifunctional jack" looks suspiciously like a microUSB port. Let's hope it isn't proprietary.
The more I see of these little optical attachments the more I want to play, but they look far 'smarter' than I was hoping, meaning that the price is likely to be prohibitive. Unless I'm mistaken it looks like it'll be back to the Samsung Galaxy Camera for me.
It looks like these are going to be officially announced on the 4th September, along with the long awaited Sony Honami i1 (and its real name!). Oh, the Samsung Galaxy Note III is also announced on the same day, so watch out because these may get drowned in other news.