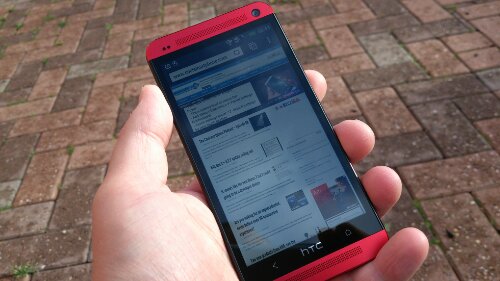 Morning all. I've got two bits of good news for you today. First, it's Friday. Secondly, we've got a beautiful red HTC One for review. Yay!
Now, I'll let you into a secret. Come, follow me around the back of the Coolsmartphone servers and we'll have a quick chat over a cup of tea.
See, Phones4U sent us this on the understanding that we review it. "Yeah! Absolutely! We'll review it, no problems", we said, whilst knowing full well that we'd actually already reviewed it way back in March.
Awkward.

So you know about the Zoe system that puts your snaps into a funky montage. You know about the BoomSound stereo speakers that don't go "Tss Tss Tss Tss" and you know about that Ultrapixel shooter and Beats Audio tech.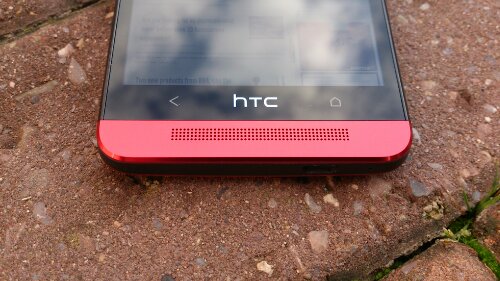 It's chiseled from a single piece of metal and has an interactive TV guide, infrared TV remote and "Sense Voice" for improving call clarity.
Oh and by the way, we particularly love how HTC promotes the Sense Voice system…
The world doesn't include a volume knob.
…no, no it doesn't, but there's plenty of other knobs in the world. Plenty. You know who you are.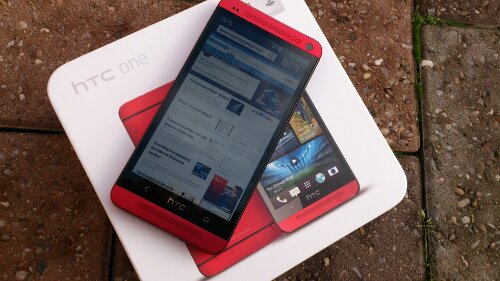 So here's the HTC One you know and love (with the quad-core 1.7GHz CPU, 4.7″ full HD screen, 2GB RAM, GPS, WiFi, NFC, DLNA, 3.5mm audio port and either 32GB or 64GB of storage) … but in Glamour Red. It's exclusive to Phones4U but, if they ever ask you, tell them that you read a detailed and interesting review on Coolsmartphone. Don't ever tell them that we just borrowed it merely to take lot of up-close photos… no.. don't do that.

To be honest I'm quickly becoming a fan of the red colouring, although you'd have to decide to go cover-less if you really wanted to show it off.
Here's those headphones we highlighted on the HTC One mini review. Rather nice they are, and thanks to them being red they now match 🙂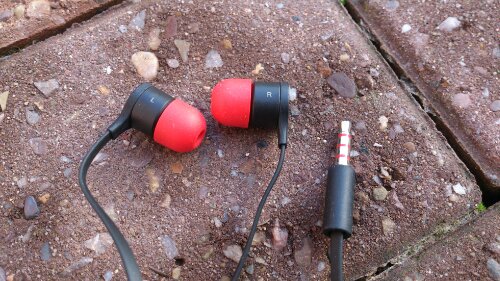 The upper section has the front facing camera, sensors and earpiece. When you rotate the phone around this becomes your left speaker. That BoomSound tech means that you get a clearer and louder sound through these.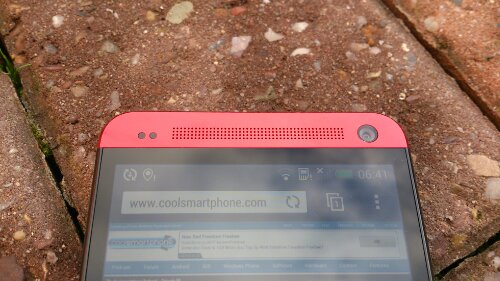 The rear panel is also used to show of the Beats technology..

To the left, the micro SIM tray..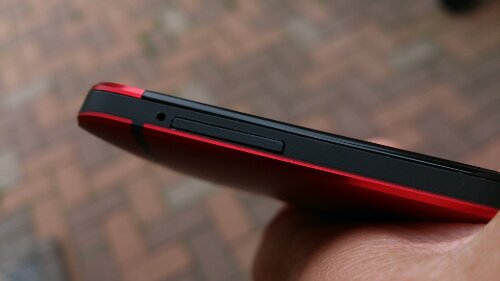 …to the right is the volume control…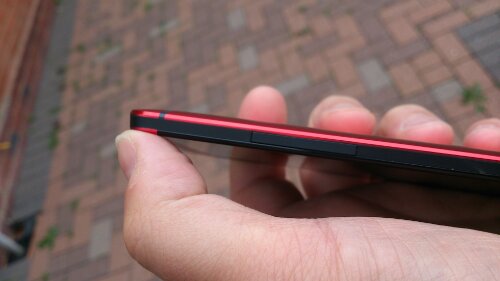 ..and up top the power button / IR port and 3.5mm audio port…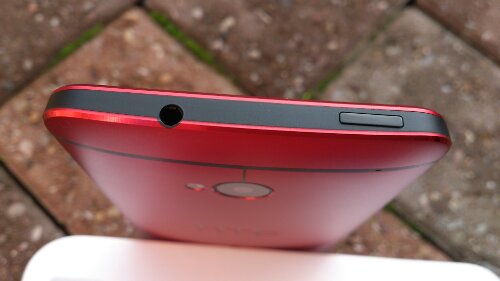 At the bottom end, say hello to the microUSB port. You can see the curve on the handset here. Oh, and you can also see the scar on my hand where I fell over drunk years ago. 🙂

All in all, I'm liking the red version of the HTC One. The phone is already brilliant, but the lovely red shade really makes you stand out from the crowd. I approve. 🙂