Sliced down a little in size and specs, but still an epic smartphone which is well worth your consideration.
Overall - 8.8
The HTC One is the best handset that HTC have made, in my opinion at least. Now they've shrunk it down, but only a little bit.
Whilst writing this review I've shown this new HTC One mini handset to three HTC One owners and they're all pretty impressed with it, but if you do decide to purchase one you'll be losing a bit more than just a few millimeters..
The on-board storage is cut down to 16GB from the 32GB (or 64GB) on the HTC One, the screen is now 4.3″ 1280×720 (instead of the 4.7″ 1920×1080) and the CPU is a dual-core 1.4GHz instead of a quad-core 1.7Ghz. The camera around the back is still the same 4 Ultrapixel shooter though, and the WiFi, Bluetooth, GPS, OS and GUI is what you'll expect to see. There's a specs comparison and a photo comparison if you're looking to fully compare the two.
Oh and one thing I've learned fairly quickly from those HTC One owners who have seen this device. They wouldn't swap. Why would they? The HTC One is simply brilliant and has everything plus the kitchen sink in there. See, it's not just the reduced size that will sell the HTC One mini. It's the fact that it'll be cheaper than the HTC One, and you'll still get a lot of the HTC goodness – HTC BoomSound. Check. Beats Technology. Check. HTC Zoe and that Ultrapixel camera. Check.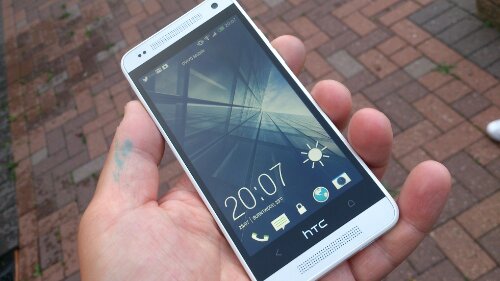 Outside
The HTC One mini hasn't lost any style or strength in the diet. The screen definitely looks taller and yes, it seems to carry the same orientation and size as the iPhone 5 (even though it's not… quite). The screen is vivid and clear, with the new HTC Sense interface bursting out onto the display – almost floating on top.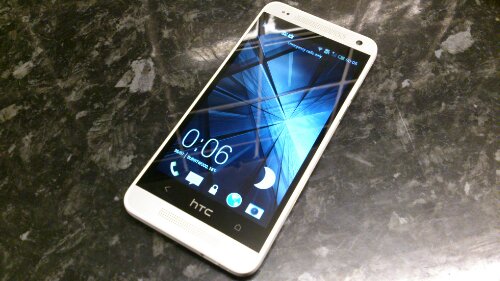 Made from polished metal alloy it's definitely cool to the touch and I enjoyed being able to control it with just my thumb, which stretches easily across the screen.
There's a great video below which will give you a tour around the phone..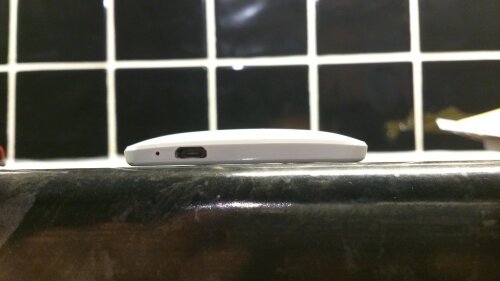 The phone tapers off to a point as you look at it from above and below, so it looks really thin and only gets bulkier in the centre. The right side has the audio up / down buttons which are easy to locate. This handset is white obviously and the buttons here are a silver colour.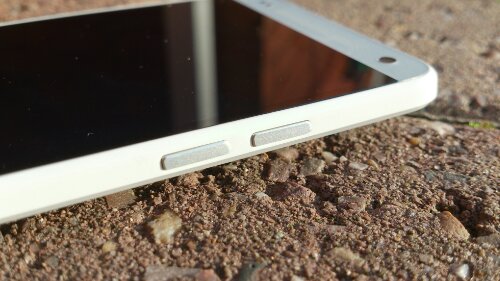 As you look at the phone from the front you'll see the front-facing camera, earpiece (with those precision-drilled holes which also doubles as one of your stereo BoomSound speakers) and the light / proximity sensors.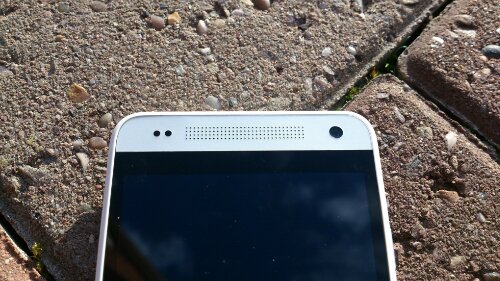 The speaker down the bottom doesn't act as a microphone though, that's on the lower end of the device and sits right next to the microUSB port.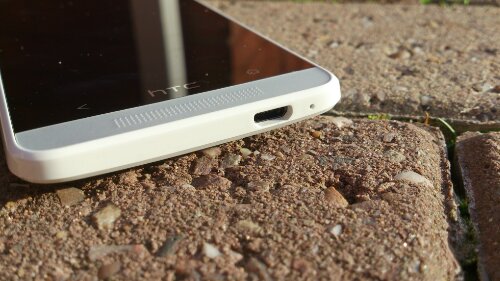 Held in the horizontal orientation you can see the two speakers either side of the screen. They "project" the sound at you and, as we saw on the One, these will provide you with a sound quality far, far better than any other phone speaker. No longer will you have to stand in the shower whilst trying to determine if that "Tss tss-tss-tssk Tss tss-tss-tssk…." is actually your favourite tune or not.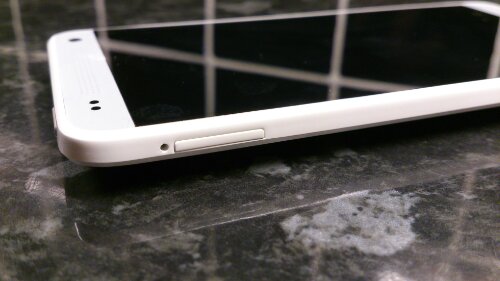 The left side is pretty minimalist, with only a pop-out tray for the microSIM. You'll need to get a pin to push the tray open and insert your SIM, but to be honest you'll probably only do that once or twice.
The phone looks and feels simple and clean. The screen has a small amount of black border around it, but the dark silver surrounding that is more noticeable and gives the phone a polished feel.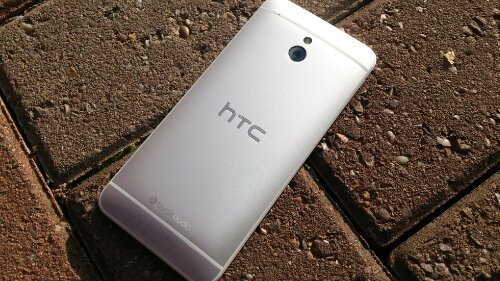 At the back that ultrapixel shooter and flash sit perfectly in the middle near the top. The Beats Audio logo is splashed across the bottom as is the larger HTC logo. Two thin bands sit above and below.
I should also take a moment to point out the headphones. Whilst these aren't branded as "Beats" they look really good. The pre-release box we had contained these red and black earphones. The cables are the tangle-free variety and the red colouring continues on the plug itself. I've got to say that that the headphones improved the sound on other handsets too. Really good quality.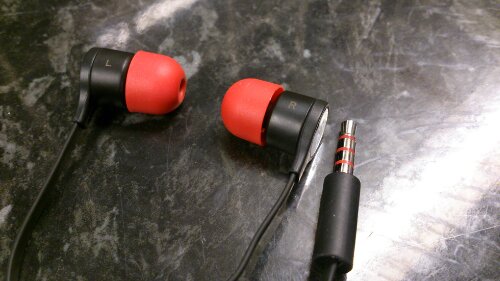 Obviously the Beats Technology improved responsiveness and clarity through the headphones, but you can really hear the difference using the in-built stereo speakers. Turn off the Beats system and, suddenly, everything sounds pretty rubbish.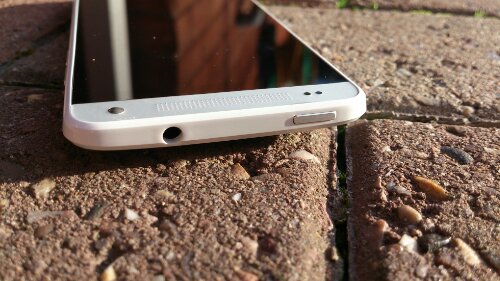 Up top, next to the 3.5mm audio port you'll be plugging those headphones into, there's the power button for waking your device. Here you'll notice that the IR "blaster" isn't present, and that's one of the features you'll be missing out on should you choose the HTC One mini over the bigger HTC One. It's a sensible omission though.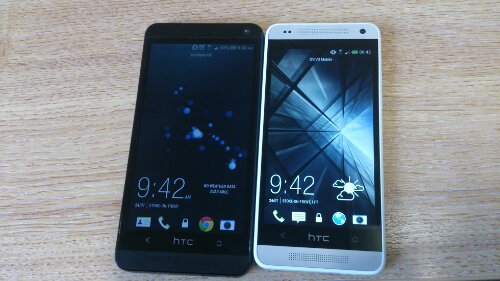 Inside
HTC Sense, in this most recent version, is both simple and quick. The interface is chunky, friendly and slides around on rails.
Let's start with the lock screen. There's a lot of quick-links into frequently-used apps like the web browser, text messaging and the camera. Yes, you've seen this on other handsets, but .. I don't know, there's a style and sleek design about this interface. That lock screen also gives you a lot of information at a glance – the time, the weather, your location, date, temperature, battery level, signal strength and email / texts or updates. All this on one screen, whilst still remaining uncluttered.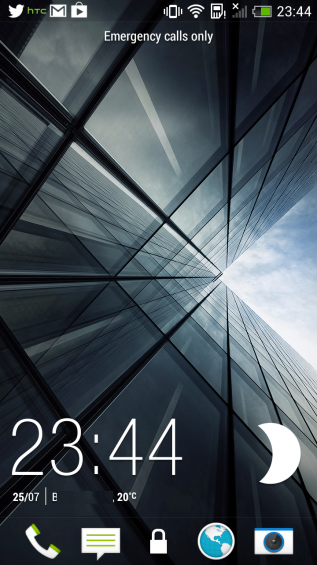 The BlinkFeed interface has, dare I say it, a Windows Phone feel to it. Large, friendly pictures and thumbnails arrive onto your screen after you've logged into your Twitter or Facebook feed. You also get to choose your favourite topics and cetegories which will get displayed within the BlinkFeed system.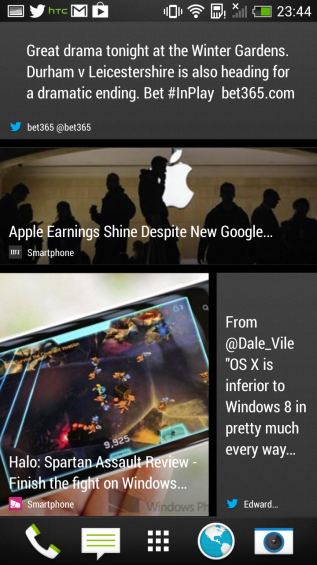 It's the neatest and best looking social media stream that I've seen for a long time, although I still found myself wanting to put RSS feeds in. Here you'll see pictures uploaded to Twitter displayed behind the tweet. It really brings Twitter alive and, although it's not showing all of your Twitter friends in a big list, it's beautiful to use and look at.
The browser is the usual excellent web app and, on this dual-core processor, things still zip along nicely even on hefty content-heavy sites like.. err.. this one. Double-tap to zoom in to a formatted and readable version, or zoom to your preference with your fingers.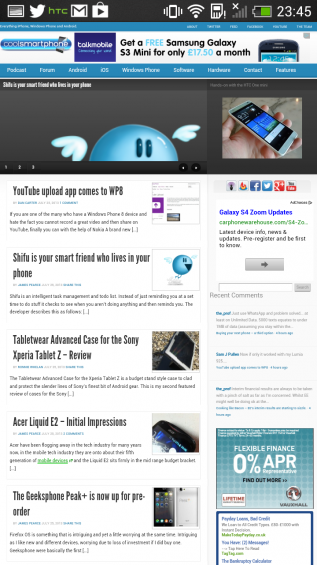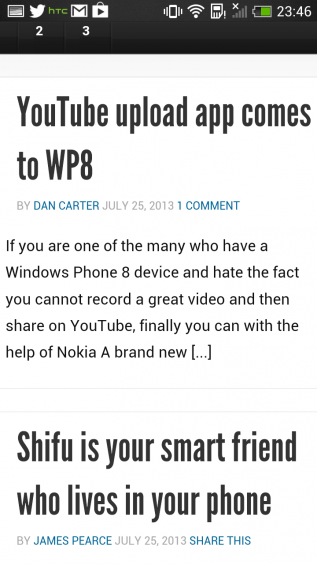 You can, as with most apps, share content directly form the app. Here you can add bookmarks, turn the Flash player on or off and open a new tab, which makes managing your browsing easier.
Other apps include the Dropbox cloud-storage system – great for storing your pictures and videos. When you buy the HTC One mini you'll get 25GB of space free for two years.

The entire Google suite is here of course, so YouTube, Gmail, Google+, Maps, Navigation, Play Movies, Talk, Play Magazines, Play Music and Messenger to name just a few. There's also the Play Store to open up a whole world of additional apps that you can easily find and download from the online catalogue. If you're just after using your POP3 account then it'll do that too, and there's a "Kid Mode" fo make things more age-appropriate for children.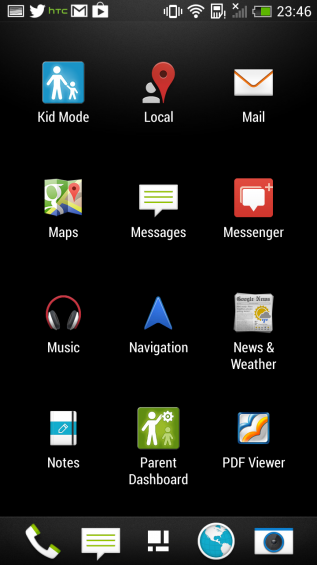 The HTC One mini also includes a Flashlight for those all-important moments when you need to find your shoes in those dark mornings. An FM radio is available when you plug those lovely headphones in and a SoundHound app helps to detect those tunes.
This being Android, your contacts, calendar and tasks will all be synchronized with the mighty Google cloud and you can easily update them through the GMail portal on any computer. The dial-screen also has all the usual intelligence and will grab your call history, favourites and contacts – automatically filtering names and you enter numbers and giving you the option to text directly from the call screen if you wish.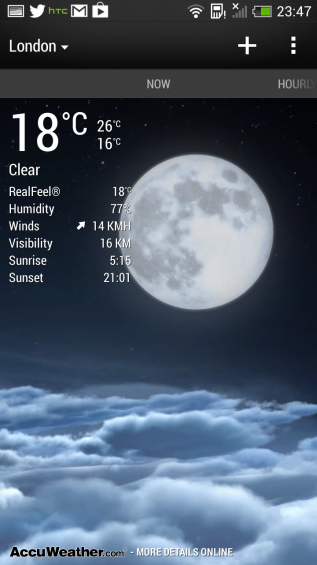 HTC Sense really wouldn't be HTC Sense if that beautiful weather app wasn't there and, yet again, it's a gorgeous experience. Beautifully animated screens show you the weather and you can easily switch to a specific location or have it track you via GPS. HTC have also ensured that HTC Watch is pre-installed, which gives fast access into a range of movies and video content. A search option is also available.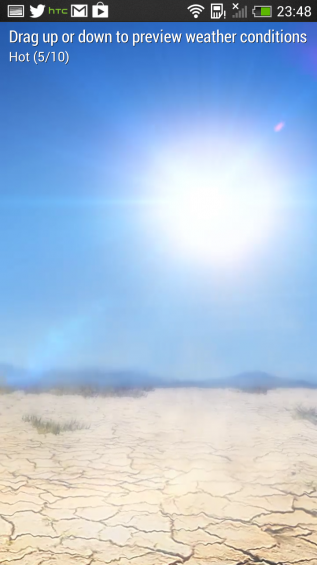 Want to hop around apps quickly? No problem. You can effectively ALT+TAB around your open applications, and there's preview shots so that you can easily hop back to the app you were using.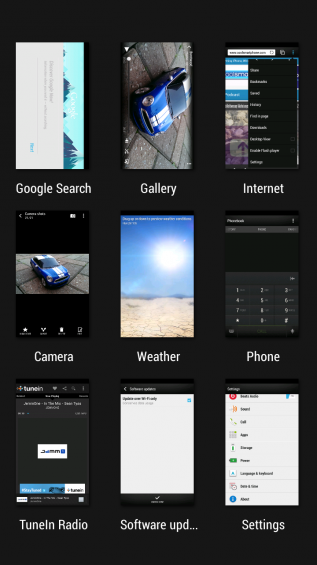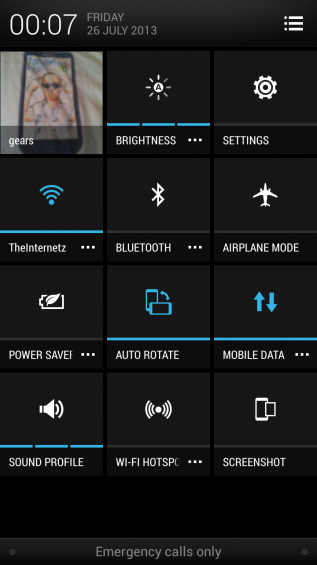 You can also quickly tweak your settings easily from the notification bar at the top. The options are sorted into a nice grid and it's just a matter of whacking the appropriate button. The Bluetooth can be switched on or off, as can the WiFi and that always-incorrect "Airplane mode", which should of course read "Aeroplane mode".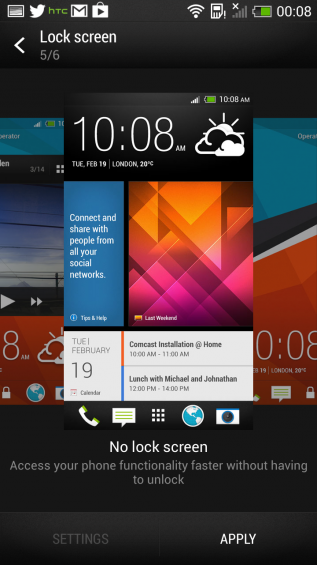 The settings section is friendly and easy to navigate. It really helps to quickly personalise your phone. The wallpaper, ringtone, notification, alarm, lock screen and other settings are simple to find and use.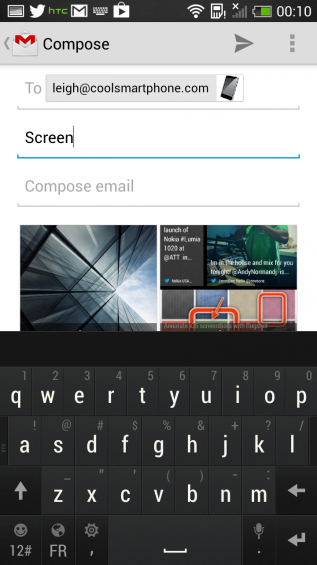 The keyboard also has stacks of settings, and you can either type normally or use the Swype-style sliding-finger data entry. I prefer the latter, and it certainly gives you some extra speed when typing. There's a tutorial if you get stuck.
Camera
I love the Zoe system. Sure, it's not to everyones taste, but I'm a big fan. Take some snaps, shoot some video and it'll blend it all together into a fun montage video which you can watch later, save or beam out to your TV via DLNA.
The camera also has other clever technology which lets you remove unwanted objects, create sequence shots and compose a video with slow-motion movies. A system called "Alwats Smile" ensures that everyone in your group is smiling, even if they weren't when you pressed the shutter.
I've taken a number of photos with the ultrapixel shooter and, it's fair to say, they all came out rather well indeed.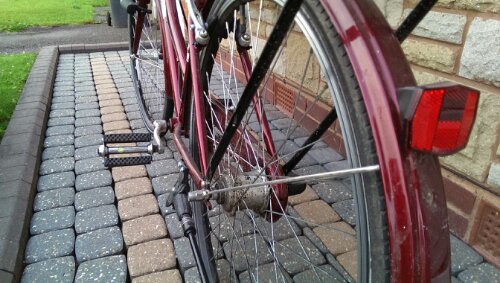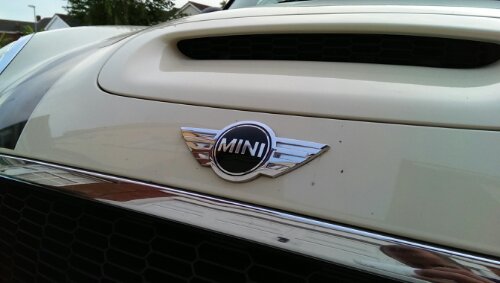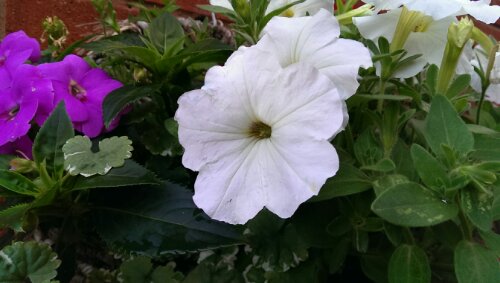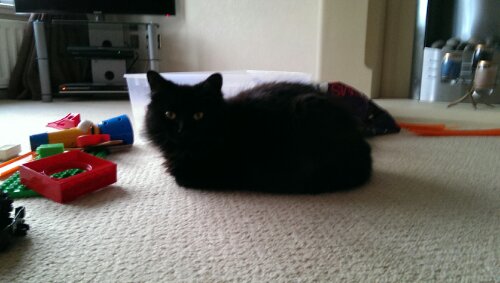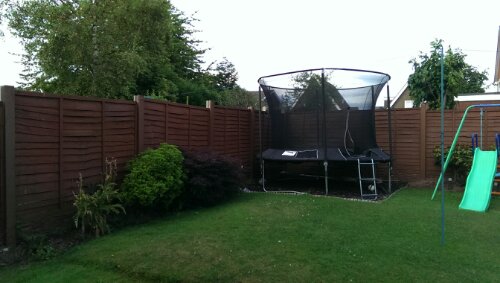 Conclusion
A slightly smaller screen, no IR blaster, a slightly slower CPU, a bit less storage. They're all pretty sensible things to change when shrinking down the One and reducing the price point.
If you've got the money and want the best of the best, I'd still say that the HTC One is the handset to plumb for, but the HTC One mini performed well and had the same stellar build quality. In truth it's not a great deal smaller than the bigger brother, but many of the cool features are still on-board and the HTC Sense / BlinkFeed interface still sparkles with the dual core CPU.
The BoomSound tech, when coupled with Beats, really sets this handset apart for me. I love those external speakers and, somehow, I love them even more on this diminutive device. Crystal clear sound, and with the headphones even better.
The interface is slightly different to other handsets – there's less icons per screen but this helps to deliver a polished and approachable interface. Outside, the design is both clever and strong plus feels very good in the hand.
We should flag the 16GB storage. We should also touch on the non-removable battery, but for a lower price point this will really shine and I'm becoming a huge fan of HTC kit once again.