Sometimes I try to hide it, but quickly people realise that I have a bit of a "thing" about phones and, invariably, I get asked lots of questions.
"What phone should I have next? Is this one any good?"
This. This I get asked a lot. Once I saw how impressed an iPhone-loving colleague was with the Samsung Galaxy S4. He asked my advice…
"Should I switch?"
I stuck my neck out. I said yes. He used his new Galaxy S4 for 6 months, but in the end went back to an iPhone. He doesn't speak to me much any more.
Usually I stick to simple bits of logic. If you bought yourself a Samsung Galaxy S3 and loved it, you're going to love the S4. If you bought an iPhone 4 then you're going to love the iPhone 5. So, when someone else showed me their lovingly-kept HTC Desire and asked what to upgrade to, I instantly told them to look at the HTC One. It is, without doubt, a fantastic handset and I pointed to our hands-on demo video of the phone as a reference point.
Luckily he loved the new phone and, just as he did with the classic HTC Desire, he wanted to keep it in good condition. The cover he bought for it has really impressed me. Some people love those "flappy ones" and some people like understated ones. This one, however, was designed by HTC themselves .. and it shows. It's cheap, well made and – most important of all – doesn't spoil the look of the phone. In fact, this one (at least in my opinion) actually adds a little something to the design. I love the red section at the top. There's more HTC One cases available on the same site, but I'm definitely a big fan of cases that don't spoil the look of a phone.
Here's the case I'm mumbling about..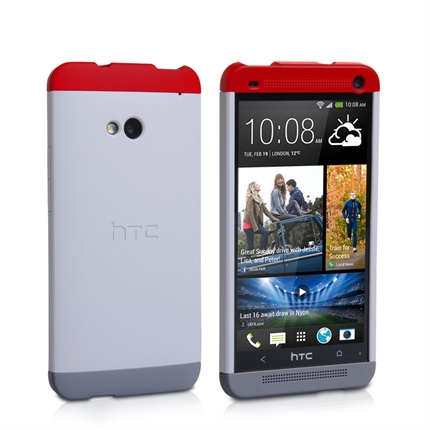 With phones costing many hundreds of pounds, we've all resigned ourselves to simply having to protect our handsets, but I'd love to hear what cases you've chosen and why. Are you one of those care-free cover-free dudes or a super-industrial case fan? Personally I've never used covers, and my endless insurance claims are a direct result of that, but after seeing more cool and better designed covers, I'm starting to change my mind.
Oh and yes, I think I've already made my choice 😉