I've been a T-Mobile customer for a couple of years now, and overall I've been pretty happy with their service. Crucially, the plan has unlimited data with a 'fair usage policy' – which turned out to be 500MB.
Naturally, being a blogger, I go over that limit within a few days of each new month and receive a text message informing me that my data from now on will be 'restricted'. This is an arrangement that I'm fairly happy with, considering what I pay for the contract (despite the fact that it was advertised as unlimited).
So, as per usual, this month I received my text informing me about my data usage. It was slightly different from usual: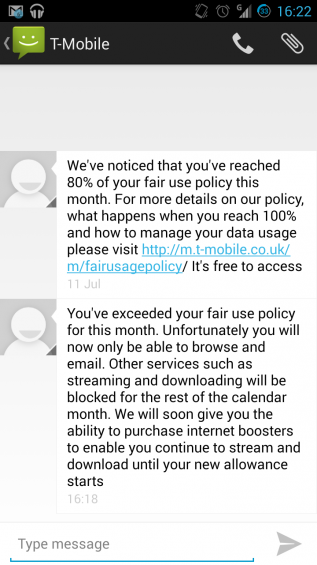 I'd like you all to focus on the last part of the text:
We will soon give you the ability to purchase internet boosters to enable you continue to stream and download until your new allowance starts
It turns out that T-Mobile will soon want me to pay to use my data allowance I've already paid for. I understand that mobile networks need to find new ways to make money – from being squeezed on EU roaming charges to consumers wanting more for their money, the networks have to find ever-more ways of raising more money to fund infrastructure upgrades and reward shareholders. However, in my eyes this policy goes too far, especially considering that the plan was originally advertised as unlimited.
Does this new plan go too far, or do you think it offers a reasonable deal for data-impoverished users? Let us know.