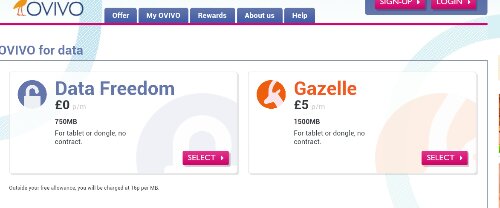 Remember Ovivo Mobile? They're a virtual mobile network running on top of the Vodafone masts and have an interesting proposition. You pay £15 for one of their SIM cards and then, on some of their plans, you pay nothing else per month. Nothing.
We did a feature on this fairly recently but, if you want just data and no calls or text (say, for a tablet or dongle of some description) then they do that too.
Their Data Freedom and Data Gazelle plans have just received a boost, with the no-contract plans now offering 750MB of data for nothing per month (Data Freedom) or 1.5GB of data (Data Gazelle) for a mere £5 a month.
You can get more details on the data-only offering here, or head to their site if you're after calls and texts too.
It's this cheap / free because an advert is shown at the start of your browsing session and then again after 10 minutes or so, but it doesn't mess with any of your apps. Have a watch of our Ovivo Mobile feature for more detail on how it works.
Oh, and if you're on a Freedom, Ibis or Rhino package you'll now receive 50, 100 and 200 extra messages respectively.
Thanks to Paul Sleight for the tip-off.