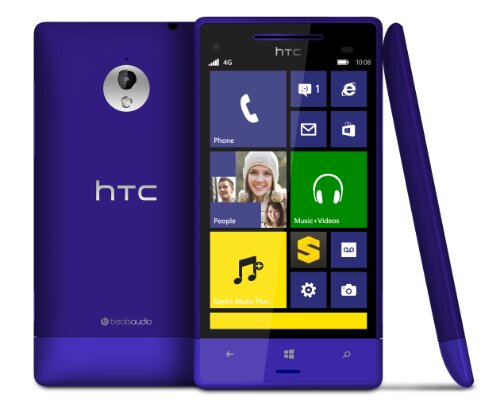 HTC look to have taken some parts from their excellent Android-powered HTC One here. Meet the 8XT. It's powered by Windows Phone 8 but has dual front-facing stereo speakers, Beats Audio and BoomSound technology like the HTC One.
Available from "later this summer" it'll go for just $99.99 after a mail-in rebate. It has an 8 megapixel main camera and a further front-mounted 1.6 megapixel shooter. That main camera at the back has a f/2.0 aperture, which gives better low-light shots. You can also do those fancy mutli-shot bursts too. The 8XT also has a 1.4GHz dual-core CPU, 1GB RAM, 8GB ROM, a microSD, 4.3″ display, WiFi, Bluetooth, GPS and a 1800mAh battery. It'll run on the 4G LTE network offered by Sprint in the USA.
You may remember the earlier Windows Phone 8X that we reviewed. HTC have continued the design of that handset (which won them the Red Dot Award for Product Design) but the use of "Windows Phone" in the actual name has been dropped. No more Windows Phone 8X (which was a little confusing), this is the HTC 8XT.
Sprint will also be carrying the Samsung ATIV S Neo, another Windows Phone 8 handset, and are promoting their unlimited 4G LTE network.
If you want more info go to sprint.com/windowsphone to register your interest.