HTC have been making fantastic hardware for many years now, and when paired with a high quality operating system you really can get the ideal phone.  Microsoft have now announced the release of their new Windows Phone 8 operating system and this is at the heart of the new HTC 8X.
This new system from Microsoft has taken the best bits from the older version 7 and improved it in big ways, especially around the unique Live Tile system which lots of users have grown to love.
So, when we had the chance to get hands on this new device to test it out, I must admit I was very excited.
[yframe url='http://www.youtube.com/watch?v=wcl66VkhooQ']
Now onto the specs….
Windows Phone 8
8 Megapixel Camera
DC-HSDPA 42Mb/s
HSUPA 5.76mb/s
1.5Ghz Dual-Core Processor
Bluetooth, WiFi & GPS
16GB Storage
1800mAh Battery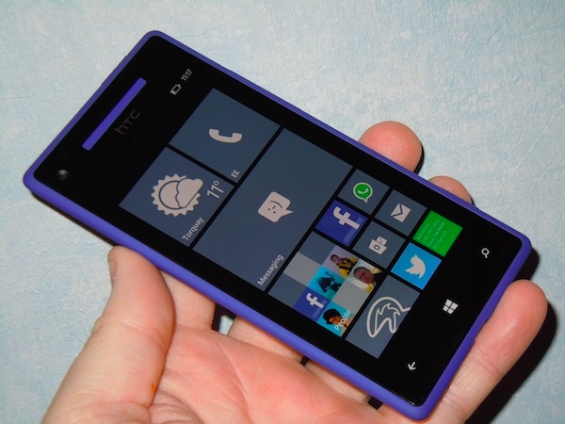 HTC haven't just created one phone here – it's a range due to the many different colours you can get. We were sent this very nice purple one, there's the traditional black as well as a red and rather interesting yellow.
With 16GB of on board storage you have all the memory you need, which is a good thing considering the 8X does not have any expandable storage.  Processing power is also pretty beefy with a dual-core 1.5Ghz running everything with 1GB of RAM. Even when loading large apps, the 8X didn't slow down or crash. The performance was one of the best things about this phone, offering blazing fast operation either in applications or the main live tile system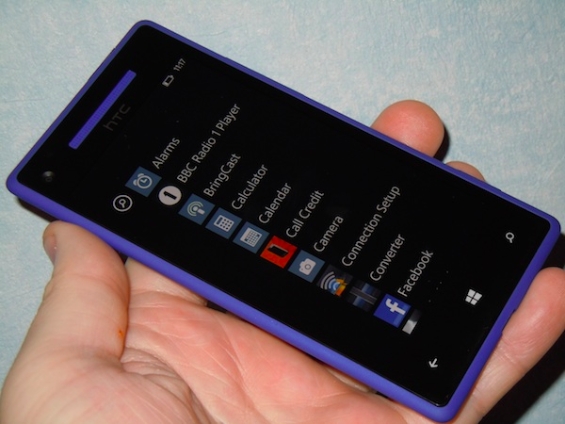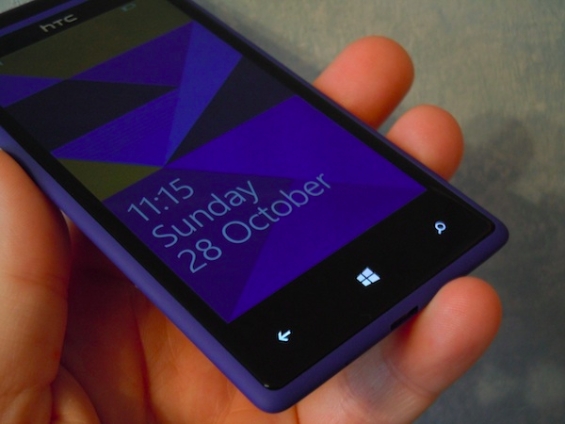 On the front of the 8X up top is the large speaker which matches the colour of the rest of the phone (whatever you decided to purchase), in this case a nice purple.  To the left there's the front facing video calling camera and, at 2.1 megapixels with HD resolution, it is perfect for anyone who likes to do video calling over a wide range of apps including Tango and Skype.
You then have the very large and absolutely stunning screen at 4.3 inches with a resolution of 720 x 1280 and an impressive PPI of 342 which just makes the content appear perfect when viewing.  This applies to web browsing with super sharp text, photos to show off the best detail and even the live tiles look pin sharp.  Easily one of the best displays seen on a mobile device today.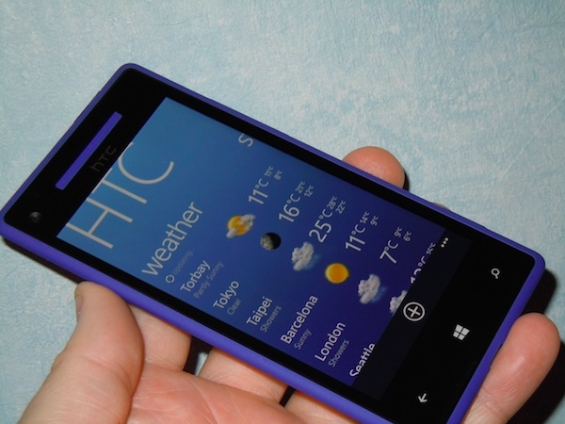 Below the screen you have the three main navigation buttons used to browse through Windows Phone 8.  There's a back arrow which will take you back a screen or, if you hold onto it you get the multitasking view allowing you to easily move between all your open apps.  You then have the Windows key to take you back to the main screen no matter what application you are in. If you hold onto this you get a voice option appear which lets you do things like make calls with just your voice.  Finally, the search button which takes you to the Bing search option. This includes the option to search music you are listening to or to use the camera to see what you are looking at.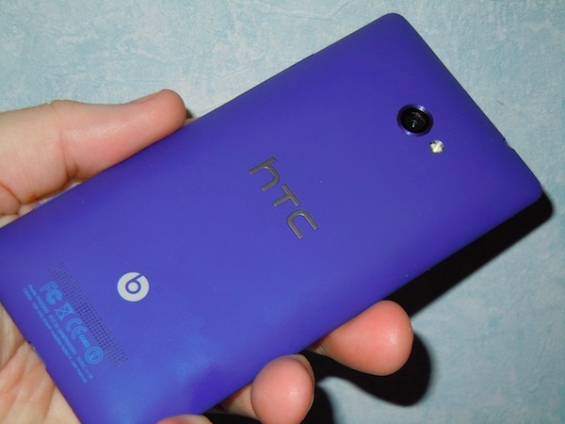 On the back you have an 8 megapixel camera with full 1080p resolution video recording.  With an aperture of 2.0 the 8X is also very good at low lighting photography if that is what you use the camera for.
At the bottom there a Beats logo because the 8X has very impressive audio quality powered by the company. This sounds even better if you have a set of their headset. Luckily I do, so was able to test this out and was really impressed.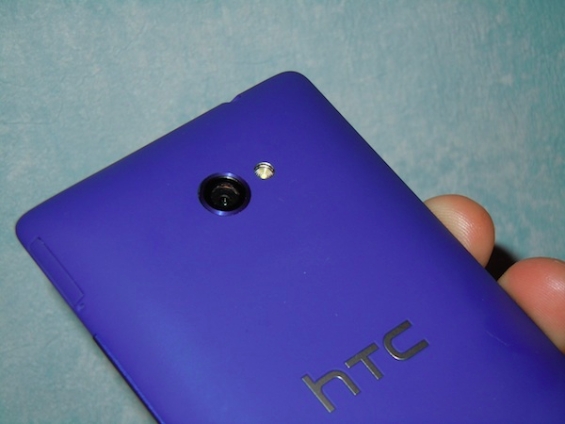 The camera on the HTC 8X is 8 megapixels as mentioned before. It also has an LED flash to improve those low-light photos you might take. Some example photos can be seen below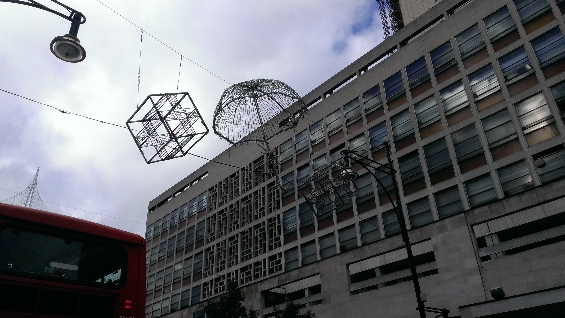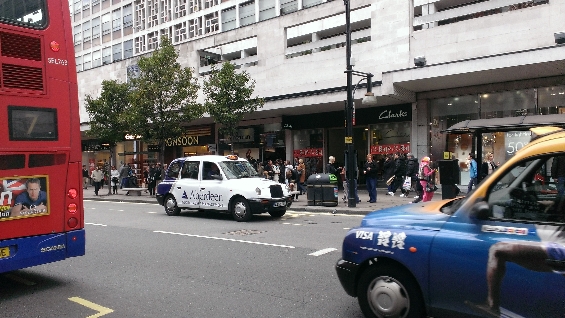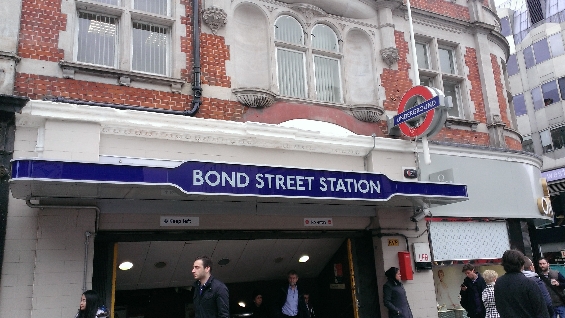 [yframe url='http://www.youtube.com/watch?v=Yrxq94roPzQ']
Video is another strong area of the 8X with both the front facing and rear cameras being able to capture 1080p resolution clips. There's 16GB of built-in storage so there's no worries about running out of space.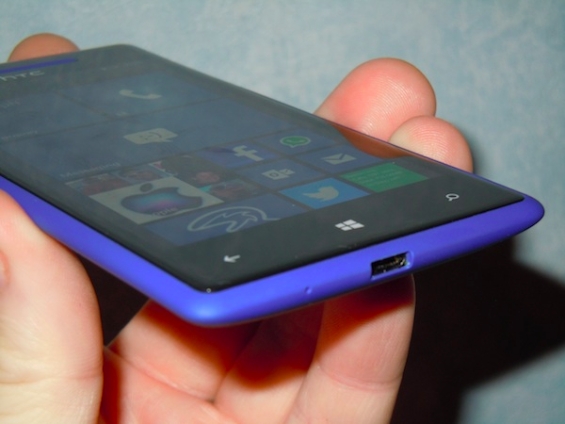 The bottom of the phone has the microphone hole and the Micro USB port which is used for transferring content using Zune on Windows. Hopefully a Mac version will be available for the new operating system as when trying to use the older Windows Phone 7 Connector software we were unable to transfer any content and needed to resort to Bluetooth to send over the photos and video taken on the camera. The Micro USB port is also there for charging the internal battery.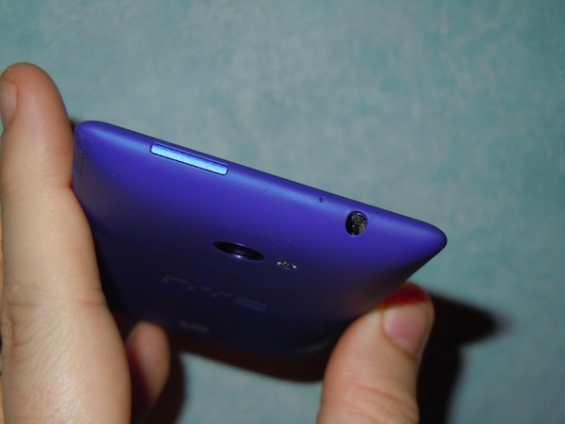 On the top you have the 3.5mm headset jack which can be used with your own headset or the one supplied. However plug in a set of Beats and you get the best audio quality possible as the 8X has the Beats software included.  In testing the difference in quality was easily noticeable and if you have between £60 and £300 spare to get a good quality headset for use with this device then Beats is a great choice.
Next to the headset port is the on/off button which also puts the phone into standby.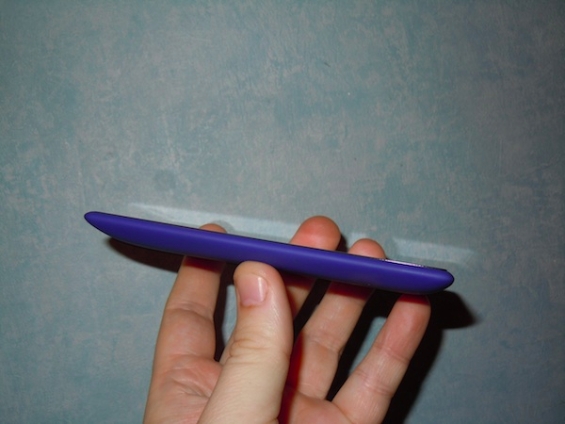 The left side has no buttons at all, very plain but with the purple finish and gorgeous design this is not a bad thing.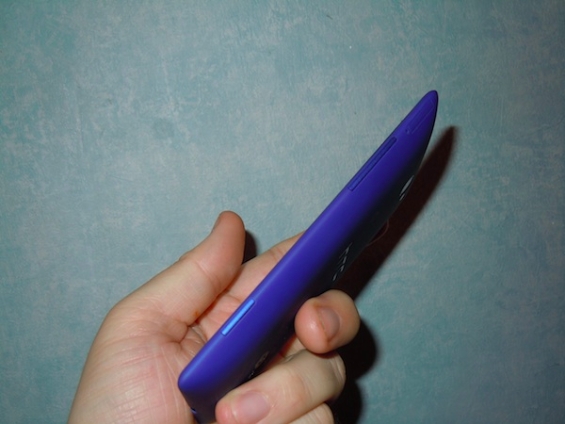 On the right hand side you have the volume up and down keys as well as a dedicated camera button which is great to see once again on a new phone and really helps with taking photos as you can hold the phone like a traditional camera in two hands to keep it steady.
Above the volume keys is the sim tray which has a small hole next to it which using the supplied pin lets you put in the Micro SIM card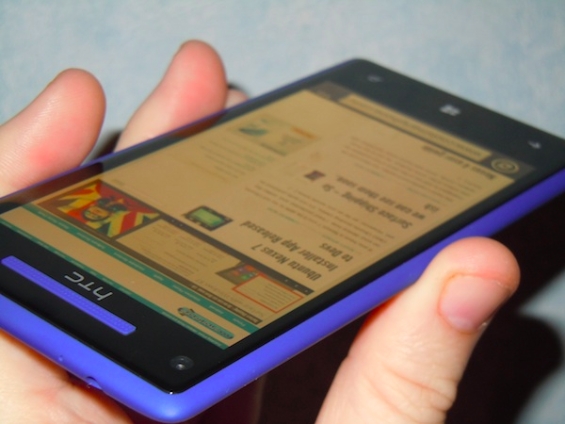 Final Thoughts
Due to the such high demand for this phone we only had a very limited time to test it and to give our initial thoughts.
However even in that short time there were some key points which really did stand out
The range of colours lets you make your choice personal to your taste and makes a change from just black or white
The screen is absolutely stunning with high resolution and high PPI you get one of the best screens out today
The new OS with resizable tiles is great and lets you make the phone easier to customise
The HTC 8X is going to be a flagship phone for WIndows Phone 8 and it is easy to see why.  Costing around £400 sim free you are getting a very good phone for your money and in a time when the market is full of Android devices, this new version of Windows Phone makes a nice change and I fount myself really enjoying what it had to offer.
Many thanks to HTC who were able to loan us a device for this review.