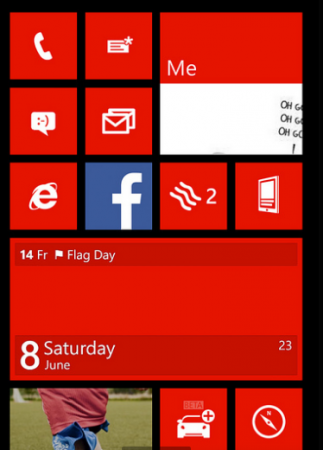 It could have been a contender, had it made it in time. The notifications centre in Windows Phone 8, that is. This is normal in software development – tight shipping dates means that features have to slip from a release and may or may not make their way in future updates.
 Thanks to an eagle eyed Reddit member who bought a Lumia 920 off of eBay, he noticed that everything wasn't quite as he'd expected. The phone had a developer build installed. Naturally, you're getting the testing programs which, according to the information from The Verge, always begins with the letter Z. The real cream in the cake was the notifications centre button located at the top row in the middle. There are a ton more screenshots located on flickr which also seems to include the Help/About screen.
I don't know if its a hoax, but its the sort of thing that could well be true if a Microsoft employee were to dump his 920 in favour of the slimmer sleeker Lumia 925 (or 928 if you're a Verizon user). Its highly unlikely that this will go out as a general update by itself, so the expectation for me would be that the update would drop at the same time as Windows Blue, aka Windows 8.1. That's also borne out by one of the apps, the Here Drive app, being called beta blue. Bit of a non-too-subtle hint really.
Source: ChinaMan28 on reddit and Adnokr via The Verge