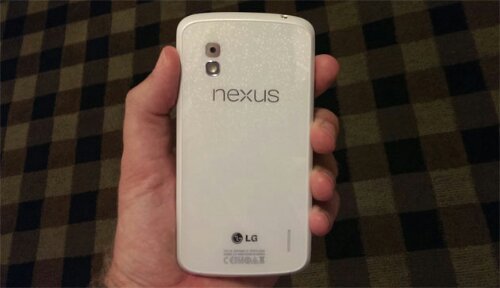 Time once more for White Nexus 4 News! Yes, another one has been spotted, this time at Google IO.
There were no announcements made about the white Nexus 4 during Google's keynote at IO, but one was seen on the premises by Taylor Wimberly from Android and Me.
He was able to confirm that it's identical in every way to a 16GB black Nexus 4, except it's white. It was even running Android 4.2.2 (unlike the one seen at the Qualcomm stand which was on 4.2).
Taylor's source revealed that the white Nexus 4 would be launched in the Play Store on 10th June, although it's not clear whether that's just in the US or whether the rest of the world is getting in on the act.
The very same source said that Android 4.3 will also be released on new devices as of 10th June. It's only going to be a small incremental upgrade, apparently, although exactly what's new is still unknown.
I think it's safe to say that, if this is true, all compatible Nexus devices will start receiving 4.3 updates on that same date.
Still no mention of that yummy looking cake though…
Source – androidandme.com