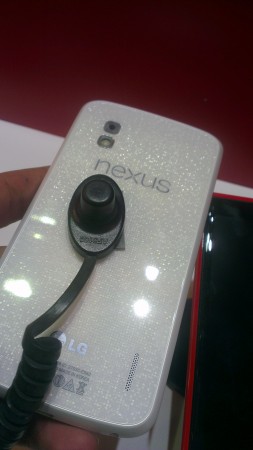 When I started reporting on the White Nexus 4 I was only really interested in a nice piece of cake. Now I feel it's my duty to keep everyone abreast of the subject, and with that I bring you today's edition of White Nexus 4 News.
Firstly I need to apologise. Well no, Ervin Sue needs to apologise, but I'll take some of the blame. You see, I ran a story about Ervin buying a White Nexus 4 off of a trade-in website. It turns out that that he's a little toe-rag who'd used a very convincing backplate to dupe us into thinking his black Nexus 4 was in fact white. Please accept my apologies on behalf of Ervin.
Right, now on to some more white Nexus 4 news (with a little more trepidation this time!).
There is currently a conference going on in Dubai called The Mobile Show Middle East. Fellow tech bloggers TechView.me are over there right now, and have come across a nice little surprise in the Qualcomm booth. In the video below you can see what is believed to be a genuine white Nexus 4. Well, when I say white, it's still got a black front and bezel, but the back is all white and sparkly. See what you think.
At almost the same time as that appearing there was a post over on the Verge forums with pictures of the very same phone:
Apart from the colour there is only one thing that stands out about this phone, which is that it's running Android 4.2, not 4.2.2. This is probably not significant in any way, but there you go.
Real or not, it is an odd thing to find in a processor manufacturers booth at a show.
There's a good chance that these sightings may be explained in the Google I/O presentation, after all, a white Nexus 7 was given away to each of the guests at last year's I/O. Either way, coolsmartphone will be live blogging the event, so if you want to know all the breaking news just check back with us later.
I wonder if there'll be cake there…